China Tour from Mumbai
SG01-INTL: 13 Days Tour of Mumbai - Beijing - Xi'an - Shanghai - Mumbai
Tour Type:
Independent Travel
Accommodation:
11 nights, nice 3-star hotels
Meals:
11 western buffet breakfasts
Highlights:
Must-see sights in China - Mutianyu Great Wall, Forbidden City, Terracotta Army
Cruise on the Huangpu River to take in the impressive skylines of Shanghai
Experience the unique Chinese culture and the exquisite natural splendour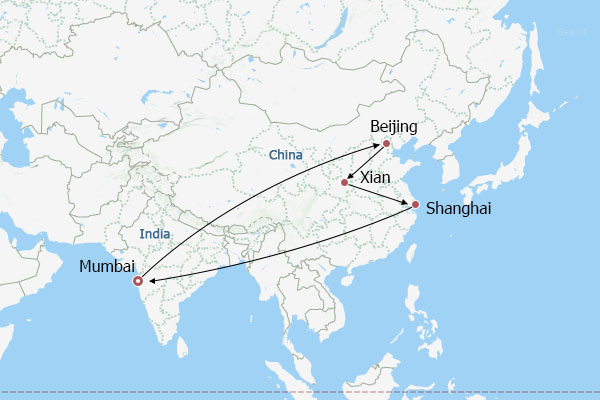 There are four direct flights from Mumbai to Beijing per week, on every Monday, Wednesday, Friday and Sunday.
The whole flight takes about 6.5 hours. You can book an appropriate one based on your travel schedule.
On your departure day you will head to airport by yourself.
After arriving at the Capital Airport, you can take a taxi to your hotel first. We suggest you the 3-star Holiday Inn Express Temple of Heaven, located at No.36 Nanwei Road. The taxi fee is around CNY120.

We advise you spend the remainder of the day wandering around to familiarize yourself with surrounding bus stops, subway stations, restaurants, markets, and stores to make a preparation for your following days.

Accommodation Suggestion: Holiday Inn Express Temple of Heaven
Forbidden City, Beijing
Our suggestion for today is
Tiananmen Square
,
Forbidden City
,
Jingshan Park
, and
Hutongs
. From your hotel, you may walk back to Taiping Street and turn south to find the stop of bus no. 59. Take that bus to Tiananmen East and you will see the Tiananmen Square and
Tiananmen Tower
at the two sides of the road. Behind the Tiananmen Tower follows the Forbidden City. A general visit to this large imperial palace complex usually needs 3 hours. We advise you buy a map or rent an audio guide at the entry gate so as to avoid losing your way or missing some major spots. You should pay CNY40 for each device with a deposit of CNY100.
Finishing the visit at the north gate, the Gate of Divine Prowess, you may find a restaurant nearby to replenish yourself and have a rest. Then, you may step into the Jingshan Park, which is opposite the Gate of Divine Prowess. Climbing up to the top of the Jingshan Hill, you will gain a splendid panorama view of the Forbidden City.
After that, you may pay a visit to
Prince Gong's Mansion
or some other celebrities' former residences in the Hutongs in
Shichahai Area
by taxi. Though the scenic spots inside Hutongs are mostly closed at around 17:00, you may still relax in a bar, cafe, tea house, or restaurant, or rent a rickshaw to have a true taste of old Beijing.
At the end of your tour, return to your hotel by taxi with a cost of CNY30.
The
Great Wall
is a must-see in Beijing, and we recommend the most famous
Badaling
for the first timers, which is the most popular and best-maintained Great Wall section. If you prefer a less touristy section, our recommendation is
Huanghuacheng
, the only Great Wall section in Beijing even in China that blends with mountains and lakes. As it is located far away from the city and there is no direct bus, we advise you join in a special one-day tour arranged by Beijing Hub of Tour Dispatch at Xuanwumen. You can take bus 102 or 603 at Taiping Street bus stop and alight at Xuanwumen Wai. Then, walk north for 280 yards to find the parking lot of the tourist bus near the Exit B1 of Xuanwumen Subway Station. The cost of the one-day tour is CNY160/per person, including the admission fee to the Great Wall and the round-way bus ticket. However, it is only available from early April to early October during weekends and holidays. On ordinary days, you may consider chartering a car for your trip to Huanghuacheng at a cost of CNY200~600 according to the car type. For your convenience, TravelChinaGuide can arrange a private one-day tour upon your request.
Great Wall of China
The schedule we recommend for today is to visit the
Summer Palace
in the morning. For the rest of the day you can tour around the
Old Summer Palace
and the nearby Peking University.
After breakfast, please take a taxi to the Summer Palace at a cost of CNY70. Normally, you need around three hours in the park. You are recommended to get out from the northern gate of the palace and have lunch in a nearby restaurant. Then take subway line 4 from Beigongmen Station to Yuanmingyuan via 2 stops; get out of the station from Exit B, you will arrive at the southern gate of the Old Summer Palace.
After around two hours' visit, you may walk east along West Qinghua Road for 300 yards and turn south into Zhongguancun North Road; go down the road and turn west at the Lakeview Hotel to find the northern gate of Peking University. It should be a special experience to have a meal in the canteen of the university together with the students. Also, various shows are performed in the Centennial Memorial Hall in the evening, including operas, music concerts, dramas, and dances. Take a taxi for your return trip at a cost of CNY60.
Terracotta Army
This afternoon, you may take a high speed train to Xian. Please check out of the hotel but store your luggage at the front desk. You can still have a chance to visit the nearby
Temple of Heaven
and Qianmen this morning. You are suggested to get up at 6:00 to experience the real life of local people, especially the middle-aged and senior. They often start their daily life in the park of Temple of Heaven by doing morning exercise, such as square dancing, Tai Chi, sword practice, and Beijing Opera practicing. To view this live show, you may walk 830 yards eastwards along Nanwei Road to enter the park from the western gate.
After three hours' visiting, you can take a taxi to Qianmen with a fare of CNY20 to stroll around and do some shopping on
Qianmen Pedestrian Street
and the nearby
Dashilar Street
.
Around lunch time, you can enjoy some authentic Beijing food around there, such as the roast duck at Quanjude and Bianyifang Restaurants, mutton at Yitiaolong Restaurant, and Shaomai at Duyichu Restaurant. After lunch, hail a taxi back to your hotel to collect your luggage at least 2 hours ahead of the train's departure. Please pack some food, as your supper time will be spent on the train.
As for the trains, you are suggested to take one that leaves for Xian at around 15:00. You are advised to book the tickets in advance by yourself or via TravelChinaGuide. Your valid ID certificate like passport is needed for the reservation. When you arrive at the train station, you can either collect the tickets at the vending machines or the ticket offices using your passport. Usually, the checking service will start 15 minutes ahead of the departure time and the boarding gate will close when there are only 3 minutes left. Please pay attention to the announcement and make sure you catch the train.
After nearly 6 hours' train ride, you will arrive at Xian North Railway Station. The Ibis Xian Hotel on Heping Road is recommended. You can take subway line 2 from the North Railway Station to Beidajie. Then, hop onto a taxi to the hotel with a fare of CNY10. By the way, the last train of subway line 2 departs from the railway station at 23:15, so you don't need to worry about missing it.
There are many restaurants available around the hotel for you to have a simple dinner. After that, you are suggested to go to bed early for you are going to have a full itinerary tomorrow.
Accommodation Suggestion: Ibis Xian Hotel
Your first destination for today is
Terracotta Army Museum
. In front of your hotel, you can take bus 14, 30, or 40 from Huaxia Bank to Xian Railway Station. There is tourist bus no. 5 (306) on the east square of the railway station, leading to the museum. You will spend around 1 hour on the way and the ticket price is CNY7. After visiting the museum, we advise you have lunch at one of the nearby fast food restaurants, such as Subway, KFC, King Coffee, or Dicos.
Your next stop is the
Banpo Museum
. You can take bus no. 307 at the parking lot in front of Terracotta Army Museum. Get off at Banpo Transit Hub and walk backwards to Banpo Road; head south for 300 yards, and the museum is on your left.
After that, back to the alighting point and hop onto bus 307 or 401 to the
Big Wild Goose Pagoda
(Dayanta). You may try some local food near the North Square of the Big Wild Goose Pagoda. After supper, you can spend some time on the square enjoying the beautiful night scenes and magnificent music fountain show. Grand Garden of Shaanxi Folk-custom, to the west of the Big Wild Goose Pagoda, is also worth visiting. There are sculptures demonstrating the Eight Strange Folk Customs in Shaanxi and other distinctive features of the city.
When feasting both your eyes and stomach, go back to the hotel by taxi with a fare of CNY20.
Xi'an City Wall Park
The well-preserved ancient
City Wall
is also a must for a trip to Xian. One of the entrances, Heping Gate, is 400 yards south of your hotel. You can take a morning walk to the Wall after breakfast. Once you climb up to the top, you may either walk or rent a bike to have a full view of the city. In order to know more about the cultural relics of this historical city,
Ancient Cultural Street of Shuyuanmen
and
Forest of Stone Steles Museum
at the foot of the south gate are good choices for your next excursion.
After that, you may head north along the South Street to the
Bell Tower
, and then walk west towards the
Drum Tower
, behind which you will find the
Muslim Quarter
for souvenir shopping and sampling tasty local snacks.
It can be hard to get a taxi around the Bell Tower, so we suggest you go back to your hotel by bus 7 or 606. The bus stop can be found to the east of the Bell Tower and you should alight at Huaxia Bank.
We'd like to recommend a visit to
Shaanxi History Museum
before you take a high-speed train to Shanghai in the afternoon. You are suggested to take the bullet train G1938, which departs at 15:12 and arrives at 21:26. So you still have enough time to explore more scenic areas in Xian. Check out of the hotel after breakfast, and store your luggage at the reception desk. Then walk southwards from your hotel to take bus no. 30 at Huaxia Bank; alight at Cuihua Road and head westwards for a few yards to find the entrance to the museum. Entry to the museum is free, but visitors still have to queue for the free tickets with valid identification such as passport. If you spend CNY20 on a ticket of the special exhibition hall inside, you can enter the museum without waiting in line.
After staying there for 2 hours, on the opposite of the museum across the road, you can still take bus no. 30 back to your hotel to retrieve your luggage. Before setting out to Xian North Railway Station, you may prepare some snacks because you are going to have supper on the train, as the food provided on board may be not up to your taste. When everything is ready, take a taxi to the North Train Station, which may cost you about CNY50 and take about 30 minutes on the way. The seat space on the bullet train is similar to the economy class on an airplane, and the seatback can be adjusted to a comfortable angle according to your need. After a 6-hour long rail trip, you will reach Shanghai Hongqiao Railway Station in the evening.
Upon arrival, you are recommended to check in the Seventh Heaven Hotel at No.627 East Nanjing Road. From the railway station, you can take the subway line 2 or line 10 to East Nanjing Road. Take the Exit 4 and walk westwards for 400 yards, you will reach the hotel. Have a good rest for the next day's sightseeing.
Accommodation Suggestion: Seventh Heaven Hotel
Shanghai Bund
After having breakfast, you can start your self-exploration with the
Shanghai Museum
. From your hotel, walk 600 yards west to the People's Square, and head south along the Middle Xizang Road to find the museum on your right. No admission fee is required, but you have to queue to go through a security check. The recommended time for a visit is 2 hours.
Next, you may go to
Lujiazui Financial and Trade Zone
to feel the charm of Shanghai as a dazzling metropolis. Go back to People's Square subway station to take line 2 to Lujiazui; get out from Exit 6, and you will see the towering
World Financial Center
,
Jin Mao Tower
, and
Shanghai Tower
to your east. There are viewing floors in the three skyscrapers for you to have an extensive view of Shanghai and the
Huangpu River
. Among them, you should not miss the chance to challenge yourself by going through the transparent sightseeing bridge, which is on the 97th floor of the World Financial Center. You must feel as if you are walking in the air. You can also pay a visit to the
Oriental Pearl TV Tower
to the west of the three buildings.
After that, you may walk southwest to the western end of Dongchang Road to take a ferry across the Huangpu River. After disembarked, you can walk northwards to start your exploration along
the Bund
. When today's tour is over, walk west along
East Nanjing Road
to your hotel.
As it is less bustling in the morning, we suggest you go to the
Longhua Temple
first, which is said to have a history of 1,700 years. You may take subway line 1 at People's Square Station and transfer to line 12 at South Shaaxi Road. Then use Exit 3 of Longhua Station and walk south to find the entrance to the temple.
Shanghai is famous for housing buildings of western architectural style of the 1920s. Besides the Bund, the Former French Concession is also a fantastic place to catch a glimpse of the once prosperity of this city. Take subway line 12 from Longhua to South Huangpi Road of line 1, with a transfer at South Shaanxi Road; get out from Exit 1 or 2 and start your exploration to the Former French Concession. There are a galaxy of bars, tea houses, cafes, restaurants, stores, beer or wine shops, art galleries, and historical buildings, including
Xin Tian Di
,
Tianzifang
, Former Residence of Zhou Enlai, Former St. Nicholas Russian Orthodox Church, and
Former Residence of Sun Yat-sen
. For specific hiking route, please refer to the third day's itinerary of our independent tour
B-107A
.
After enjoying yourself there, and take a taxi back to your hotel.
Today you can pay a visit to the
Yuyuan Garden
and the bazaar surrounding it. You may take a taxi to get there at a cost of CNY15. After 2 hours' sightseeing in the garden, you may roam around the nearby
City God Temple
and
Old Street
, where many time-honored restaurants, local snacks stands, as well as local crafts stores are gathered.
If time permits, you can also pay a visit to
St. Ignatius Cathedral
in Xujiahui District. Walk westwards to South Henan Road to find Yuyuan Subway Station. Take subway line 10 and transfer to line 1 at South Shaanxi Road. After one stop, get out from Exit 3 of Xujiahui and walk west to find the church.
Xujiahui brims with restaurants with a variety of flavors and grades. You are suggested to have a good meal in one of them before returning to your hotel by subway line 1 or by taxi.
Your China tour from Mumbai comes to a happy ending today. After a pleasant breakfast at the hotel, you will leave for Shanghai Pudong International airport (PVG) by yourself. It is suggested you take a taxi which will generally cost about CNY 200 and take around 1.5 hours. There is no direct flight back to Mumbai from Shanghai, so we suggest you make a connenction in Hong Kong. The whole flight will take around 11 hours. We wish you a happy and enjoyable journey home.

This trip can be customized to meet your individual needs!
Why Travel With Us
Itineraries you may also like: