LJ04: One Day Tour to the Jade Dragon Snow Mountain
Jade Dragon Snow Mountain
Free Cancellation

24-hour Before

Today, your professional guide and driver will pick you up from the lobby of your hotel in downtown Lijiang at the appointed time. After greetings, we will set out on this 1-day private Lijiang tour to the Jade Dragon Snow Mountain.
Upon arrival, we will first spend a few minutes at Ganhaizi (the Dry Sea Meadow), viewing the boundless prairie and looking up at the magnificent Jade Dragon Snow Mountain. After that, we will take the ropeway to reach the Spruce Plateau on the hillside, which is regarded as the best place to shoot the spectacular scenery of the snow mountain. You will also enjoy a splendid show, the Impression Lijiang, performed on an open-air stage against the snow mountain.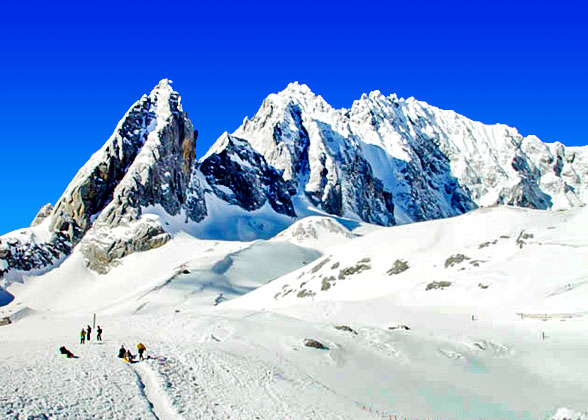 Jade Dragon Snow Mountain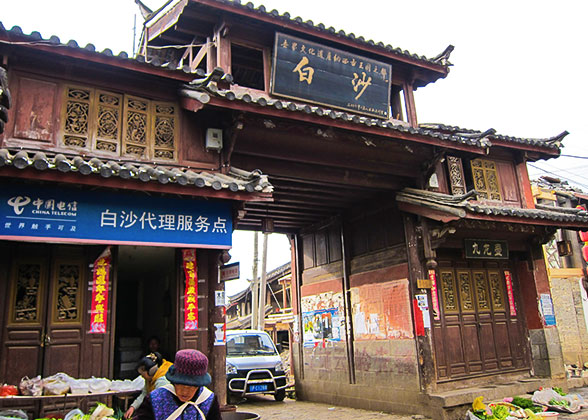 Baisha Village
After lunch, your Lijiang day trip will be continued to the Baisha Village to admire the famous Baisha Murals which took more than 300 years from the Ming Dynasty (1368 - 1644) to complete. Then we will conclude the day with a lamasery, the Yufeng Temple. Your guide and driver will transfer you back to your hotel at the end of the day.
Meal: Lunch
Our Friendly Tip:
The receipt of the Lijiang Old Town maintenance fee is required when visiting the Jade Dragon Snow Mountain. The fee has been included in this Lijiang 1 day trip. We will pay the fee for you in advance in exchange of the receipt. If you're interested in the Black Dragon Pool, please keep it well as you can visit this spot for free with it.
Jade Dragon Snow Mountain
The Jade Dragon Snow Mountain is considered the holiest mountain in the local Naxi minority people's mind. There are 13 rolling peaks covered with snow and glacier ice all year round. With the company of your guide, you are able to have a full view of the mountain while strolling on the meadow of Ganhaizi, and also capture the best scene of the snow mountain at the hillside Spruce Plateau, which is an alpine meadow embraced by lush spruce forests.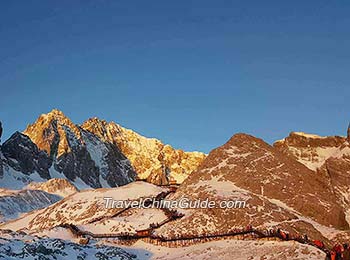 Jade Dragon Snow Mountain at sunset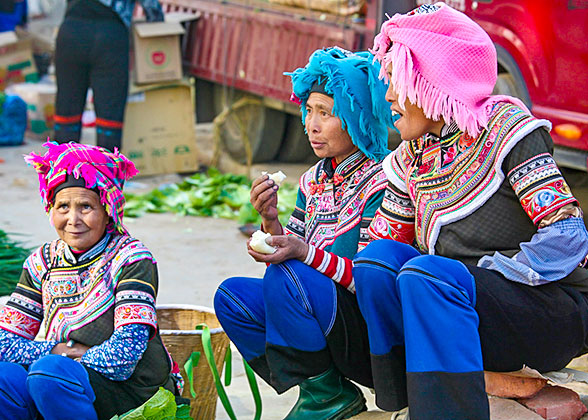 Blue Moon Valley
Impression Lijiang
With the holy Jade Dragon Snow Mountain as the backdrop, the Impression Lijiang is the only large show with real landscape performed during the daytime. More than 500 local villagers put on a splendid singing and dancing show on an open-air stage at an altitude of 3,100 meters (10,200 feet), demonstrating distinctive customs and culture of the Naxi minority in front of the audience.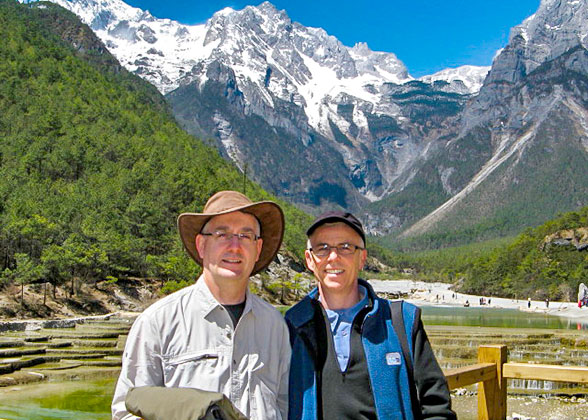 Jade Dragon Snow Mouintain
Baisha Village
As the original settlement of the Naxi People in Lijiang, Baisha Village has well retained the Naxi culture. You could not only experience the relaxing and leisure rustic life here, but also learn about the Dongba Culture through the famous Baisha Murals, which were painted for over 300 years from the Ming Dynasty to the Qing Dynasty, with religious subjects of Buddhism, Taoism and Lamaism.
Prices (US$ Per Person)
1 person

$333

2 persons

$250

3 persons

$250

4 persons

$210

5 persons

$210

6 persons

$178

7 persons

$178

8 persons

$178

9 persons

$178

10+

$155

Price Includes
Private English-speaking guide
Private driver & air-conditioned vehicle
Lunches as itinerary specifies
Entrance fees to tourist sites
Price Excludes
Hotel accommodation with breakfasts
Tips or gratuities for guide and driver
Itineraries you may also like:
The above routes do not meet your requirements? Please click
Tailor My Trip