LJ06: Tiger Leaping Gorge Day Tour from Lijiang
Lijiang - Tiger Leaping Gorge - Lijiang
Free Cancellation

24-hour Before

Your guide and driver will pick you up from the lobby of your hotel in downtown Lijiang at about 09:00, and then escort you to the Tiger Leaping Gorge by a private drive. En route, we will stop at the First Bend of the Yangtze River, where the turbulent river takes a 180-degree turn, forming a V-shape bend. After some free time to shoot the spectacular scenes, we will head to the nearby Shigu Town for a short visit.
After lunch, we will set out to the upper part of the Tiger Leaping Gorge
for the hiking tour
. Upon arrival, you will first take a 15 to 20-minute walk along the plank road to the viewing platform on the valley floor. Strong currents of the Jinsha River roar through the narrow valley, with waves slapping against the rocks. Please have your camera ready to capture this splendid view.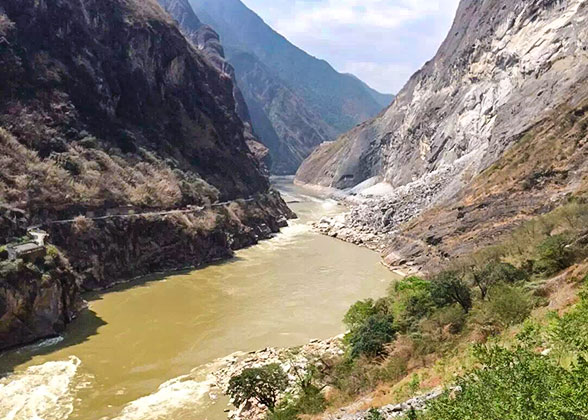 Tiger Leaping Gorge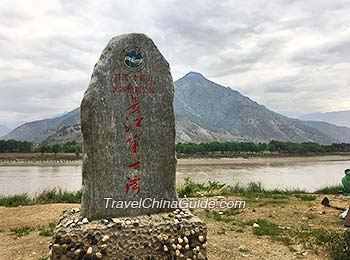 First Bend of the Yangtze River
You will have 1~1.5 hours plunging into the great scenery of the gorge. After that, return to the parking lot under your guide's company. Then a 1.5-hour private drive will take you back to your hotel in Lijiang. This 1-day private Lijiang tour will come to an end at this point. We sincerely hope you have had a great time with us.
Meal: Lunch
The Upper Part of Tiger Leaping Gorge
The Tiger Leaping Gorge is one of the deepest valleys in the world, drawing a natural boundary line between the Jade Dragon Snow Mountain and the Dongba Snow Mountain. The turbulent Jinsha River rushes through the gorge and drops 7 times along the way with a fall of 210 meters (690 feet) in total.
The whole Tiger Leaping Gorge is divided into three sections: the upper section, the middle section, and the lower section. Today's Ljiang to Tiger Leaping Gorge 1 day trip will lead you to have a 1.5~2 hours' exploration of the upper section, located at the mouth of the Jinsha River. At the narrowest point, you will see a giant rock of 13 meters (43 feet) high seated in the middle of the river, abruptly cutting the torrents into two branches. Meanwhile, the surging waves crash against the rock with a tremendous roar. A special viewing platform was built there for visitors to fully appreciate the grand scenes and take pictures.
There is a popular legend about the stone that a fierce tiger once jumped through the Jinsha River from the Jade Dragon Snow Mountain to the Dongba Mountain with this giant rock as the springboard. In this way, the locals call the stone the 'Tiger Leaping Rock' and even name the whole gorge this way.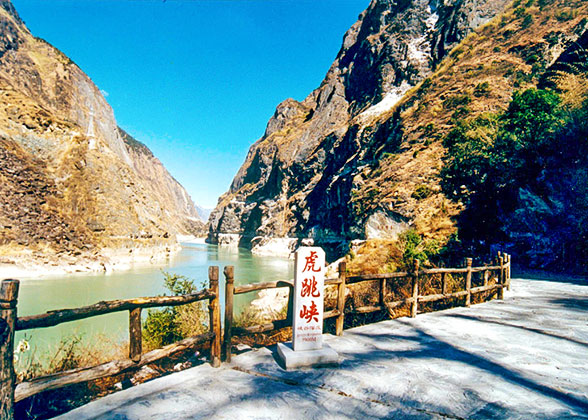 Tiger Leaping Gorge
Prices (US$ Per Person)
1 person

$316

2 persons

$210

3 persons

$210

4 persons

$162

5 persons

$162

6 persons

$122

7 persons

$122

8 persons

$122

9 persons

$122

10+

$97

Price Includes
Private English-speaking guide
Private driver & air-conditioned vehicle
Lunches as itinerary specifies
Entrance fees to tourist sites
Price Excludes
Hotel accommodation with breakfasts
Tips or gratuities for guide and driver
Itineraries you may also like:
The above routes do not meet your requirements? Please click
Tailor My Trip