LJ03: 2 Days Private Hiking of Tiger Leaping Gorge
From
$309
per person
Free Inquiry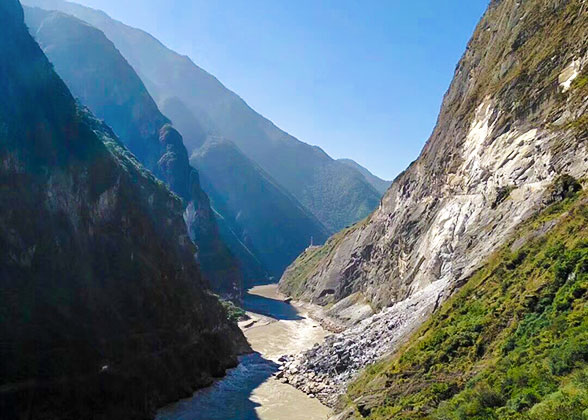 Tiger Leaping Gorge
In the morning, you will be greeted by our professional guide and driver at the lobby of your hotel at the appointed time. After picking you up, we will have a comfortable ride to Qiaotou Town to start this 2-day hiking tour to
Tiger Leaping Gorge
. During the journey, our guide will give you a brief introduction about the Tiger Leaping Gorge lying between the Jade Dragon Snow Mountain and Haba Snow Mountain. Famous as one of the deepest canyons in China, this gorge attracts a lot of hikers every year.
Upon arrival, the guide will lead you to trek along the mountain road uphill. En route, you can not only see lofty mountains and high ranges covered with lush verdant trees, but also have a panoramic view of the spectacular landscape of the precipitous Tiger Leaping Gorge. After 2.5 hours' hiking, we will reach at a local family of Naxi nationality. Located on the hillside, it is a good place for tourists to take a little break.
After having lunch with the Naxi family, we will continue the Lijiang 2 days tour to the Tea Horse Guesthouse. During the next 4-hour hiking, you will be guided to pass through the 28 Bends. It would be challenging to trek through because mountain road of this section is very narrow and of a steep slope. We will also pass by the upper section of the Tiger Leaping Gorge on the way. After arriving at the summit, we will go along a gentle path to the Tea Horse Guesthouse. Check in the hostel and then have your dinner.
Meals: Lunch, Dinner
Accommodation: Tea Horse Guesthouse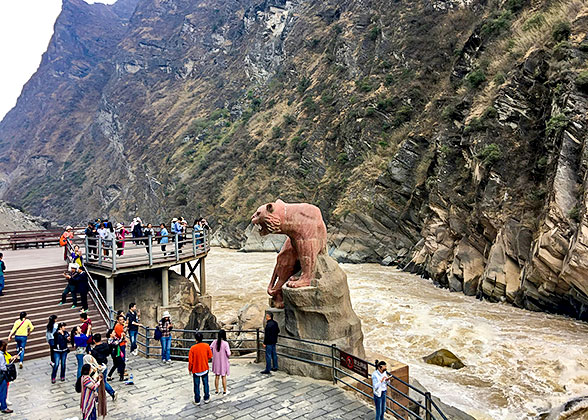 Tiger Leaping Gorge
After leaving the hotel in the morning, follow our guide to continue the private Tiger Leaping Gorge hiking tour. We will pass by the middle section of the Tiger Leaping Gorge and then arrive at the Halfway Guesthouse after 3 hours. The path between the two hostels is relatively gentle so that you can have a nice glimpse of the enchanting scenery and hear the roaring river slapping against both sides of gorge on the way.

After having lunch at the Halfway Guesthouse, we will go on to trek for 1.5 hours or so downhill to Tina's Guesthouse. Along the way, we will go through some forests and villages and see streams and waterfalls shaded by unknown beautiful flowers and plants. We will get on the highway from Tina's Guesthouse and transfer back to Qiaotou Town.

Your 2 days Lijiang trip will draw to an end here. Then you will be escorted back to your hotel in downtown Lijiang. Hope you have a nice trip and we are looking forward to traveling with you again!

Meals: Chinese breakfast, Lunch
Tour Prices
| 2-3 travelers | 4-5 travelers | 6-9 travelers |
| --- | --- | --- |
| $359 | $309 | $219 |
Prices are per person in US Dollars based on double occupancy.
Any parts of the itinerary e.g. tour length, activities & hotels can be tailored to your individual interests.
Itineraries you may also like: