Code: TB29
Datong Exploration
Datong is Hui Minotity People's Autonomous County in
Qinghai Province
. It is about 35 kilometers north of
Xining
. The best time to visit Datong is in July and August when different kinds of wild flowers blossom and the green vegetations fill the field. You will feel being combined with the natural beauty.
The morning excursion takes you to the famous Laoye Mountain in Qiaotou town of Datong. You can go to Xining Long-Distance Coach Station to take the regular bus to Datong. The bus fare is about CNY7.00 to CNY9.00 per person. You can also charter a whole car at about CNY60.00 to CNY80.00 to enjoy full flexibility.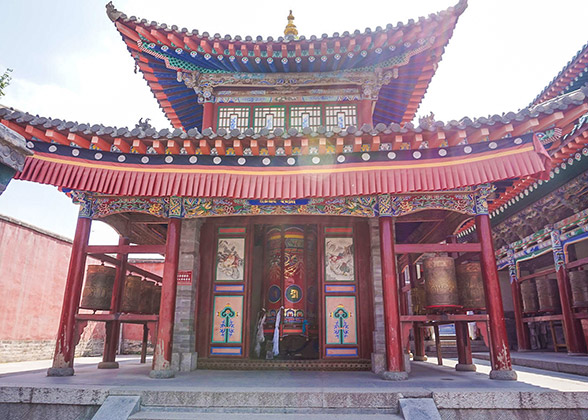 Laoye Mountain, Qinghai
Laoye Mountain also called Yuanshuo Mountain is one of the most grand mountain with exquisite scenery near Xining. The admission fee is CNY15.00 per person. Climbing up the top of the mountain you can look around the site of Huoshaotai, the Tiger Cave and the Ancient cloisters and cliff and barranca in the east and the south of main peak. The climate on the plateau is dramatic; you may experience the sudden heavy clouds or rain in the bright sky. So it is better to bring the umbrella with you. The Niangniang Mountain is just sitting across the Laoye Mountain on the other side. You can have an enjoyable view standing on the top of the Laoye Mountain.

Tha Hua'er Vocal Concert and Chaoshan Pilgrimage Meeting are held annually at the same day on Jun 06, when thousands of out-of-town visitors and local people are attracted there for sightseeing and celebrating and all the Qiaotou town are immersed in the joy of the festival.
Then proceed to Guanghui Temple if you are interested in the religious temple culture. You can catch a regular bus at Datong downtown to Gaoxia to visit Guanghui Temple which is 15 kilometers northeast of Datong. The bus fare is about CNY5.00 to CNY7.00. After a short stay at the temple, head for the National Forest Park Yaozigou Scenic area which is only 1 kilometers in the east of Dongxia town. You can walk to the park where you will experience the ecological scenic spots and have a close observe of the natural landscape.
If your time permits, you can stroll around the Dongxia Folk-custom Village to experience the local atmosphere there. In the afternoon, take the regular bus back to Datong and leave according to your schedule.

Recommended Tibet and Qinghai Tours with Cheap Price:
Qinghai-Tibet Overland Tour
: 12 Days, Xining - Qinghai Lake - Golmud - Tuotuo River - Nakchu - Lhasa - Gyangtse - Shigatse - Lhasa
Tibet In-depth Tour
: 20 Days, Lhasa - Shigatse - Lhatse - Saga - Paryang - Manasarovar Lake - Tarchen - Mt. Kailash - Tarchen - Tsada - Seng Ge Tsangpo - Gertse - Tsochen - Lhatse - Shigatse - Lhasa

More Hiking Routes:
Shigatse Exploration
: 2 Days Monastery Tours in Shigatse
Grassland Relaxation
: 2 Days of South Gansu (Gannan) Grassland Relaxation
Discover Linxia and Xiahe
: 4 Days Visit of Linxia and Xiahe