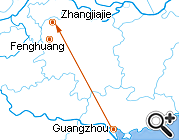 Guangzhou & Scenic Zhangjiajie
B-110: 8 Days China Tours from Frankfurt Germany to Guangzhou
Zhangjiajie - Fenghuang - Zhangjiajie
Day 1
Frankfurt - Guangzhou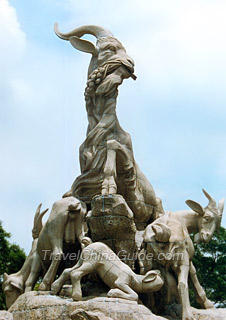 Yuexiu Park, Guangzhou
Germany is about 10-hour flight away from China. However, those who take China tours from Frankfurt or Cologne to Guangzhou will need longer time as the transit should be made at Beijing, Shanghai, Hanoi in Vietnam or Dubai in UAE. If you make transfer in Beijing, you may take Air China CA966 1355/0515+1 from Frankfurt and then change to flight CA1321 0900/1225 at Beijing Capital International Airport. You can also take CA936 2000/1255+ from Frankfurt to Shanghai Pudong Airport first and fly to Guangzhou by CA1865 1705/1940. If you prefer international airlines such as Emirates Airline or Vietnam Airlines, you may consider taking EK048 2220/0650+1 and then EK362 1025/2210 after several hours' stop in Dubai, or VN036 1355/0550+1 and VN506 1240/1520 with a connection at Hanoi. The flight time lasts around 16 to 19 hours and the schedule is subjected to be changed at the time of your booking.
Flying from Cologne Germany to Guangzhou China, you can take TK1674 1935/2355 and then transfer to TK072 0140/1650+1 at Istanbul. These two flights are all from Turkish Airlines so there is no need for you to recheck in the luggage when making the connection.
In order to avoid any unnecessary troubles, there are some basic knowledge about what is not allowed to be taken into and out of China you should know before going to the country. You can find the reference information on
this page
.
On your arrival at Guangzhou, please find the way to your own booked hotel. TravelChinaGuide suggests you live in the 3-star Lido Hotel on the bustling Beijing Road Pedestrian Street, which has easy access to the subway service. You can take subway line 3 at Airport South Station and get off at Yantang, where you can transfer to line 6 to Beijing Road Station; leave from Exit B and walk west to enter Beijing Road, and then proceed northwards for another 400 yards, you will find the hotel on your right. You can also take a taxi to the hotel directly and the taxi fee is around CNY120. You may spend the rest of the day strolling around, or stay in the hotel to get your strength back from the long air journey and prepare for your upcoming Guangzhou tours from Frankfurt.

Accommodation Suggestion: Lido Hotel
Zhangjiajie National Forest Park
In view of the popularity of the tourist attractions in the city and the transport from your hotel, we'd like to suggest you pay a visit to
Yuexiu Park
,
Sun Yat-sen Memorial Hall
, and
Shamian Island
today.
From your hotel, walk southwards for 170 yards to take bus 190, 219, or 544 at Beijing Nan Station to Xiaobei Huaquan; go across the road and walk westwards for 180 yards to enter Yuexiu Park from the Southeast Gate. Or, you can also take a taxi to go directly to the park at a cost of CNY15. You would see the emblem of Guangzhou, the Five-Ram Sculpture, inside the park. Please get out of Yuexiu Park from the Southern Gate and you will find the northern entrance to Sun Yat-sen Memorial Hall just across the road. A general visit to the memorial hall takes 30-40 minutes and you are suggested to leave from the Southern Gate. To go to the next destination, Shamian Island, you can take bus no. 297 at Zhongshan Ji'niantang stop in front of the gate to Shi Zhongyiyuan; walk across the overpass and you will arrive at North Shamian Street to start your tour. Or, you may take subway line 2 at the nearby Sun Yat-sen Memorial Hall Station to Huangsha Station of line 6, with a transfer at Haizhu Square; use Exit F of Huangsha Station and go over the overpass to the bridge leading to Shamian Island. There are many restaurants, bars, and coffee houses and you can choose one to fill your stomach and rest your feet ahead of the exploration.
After viewing Western-style architectures there, you may want to get to Tianzi Wharf to have a
Pearl River night cruise
, which is a must in most visitors' Guangzhou independent tours. To get there, you can take subway line 6 from Huangsha to Haizhu Square; get out from Exit A and then take a leisurely walk eastwards along the river to view the rolling
Pearl River
and old-style buildings by your side. After around 10 minutes, you will arrive at Tianzi Wharf. Get onboard there and you can enjoy yourself with fascinating night scenes in the sparkling colorful lights. The cruise will also take you to the foot of the dazzling
Canton Tower
.
After the cruise, you can either take a 10 minutes' walk north of the wharf to your hotel or hire a taxi with a fare of CNY10.
Day 4
Guangzhou - Zhangjiajie
Today, you will take the evening flight to Zhangjiajie. Please check out the hotel and store your luggage at the front desk when you set out in the morning. You still have a full day to extend your China holiday tours in Guangzhou. Our recommendation is making a visit to
Ancestral Temple of the Chen Family
, and then wandering around the department stores, restaurants, and specialty stores on Beijing Road. To get to the Ancestral Temple of the Chen Family, you may need to walk 300 yards westwards along Da'nan Road to catch bus no. 104 to Chenjiaci; you will see the ancestral temple the moment you alight. After that, take subway line 1 to Gongyuanqian; use Exit E and walk eastwards for 300 yards and you will reach the northern end of Beijing Road. You are suggested to get back to your hotel to pick up the luggage about 3 hours ahead of the flight's departure time so that to leave enough time on the way in case of any unexpected traffic jam.
You will land at Zhangjiajie Airport after 1.5 hours' flight. Upon arrival, you are recommended to take a good rest at Jingxi International Hotel, which is located 1,200 yards north of Zixia Taoist Temple and 10 miles east of
Zhangjiajie National Forest Park
. You can use a taxi to reach the hotel directly, which costs around CNY150.
Accommodation Suggeastion: Jingxi International Hotel
Phoenix Ancient Town
We advise you spend a whole day visiting Zhangjiajie National Forest Park. Without direct bus from your hotel, you have to take a taxi for a fare of around CNY50 to the park. The park provides two kinds of tickets, four-day ticket and one-week kind. You are recommended to choose the first one. Please remember to keep the ticket properly after the entry, as it can be re-used in the following days. This park is very huge and includes many scenic spots. We highly recommend you the Yellow Stone Stronghold (Huangshizhai), Golden Whip Stream (Jinbian Stream), and Ten-Mile Gallery for today's tour. You may also make a research in advance to select your favorite on your own. Please take a taxi back to your hotel when today's China backpacking route ends.
Day 6
Zhangjiajie - Fenghuang
You are advised to spend another half day in the park. After breakfast, check out the hotel but deposit your luggage at the reception desk and then take a taxi to the Zhangjiajie Forest Park again. Our advice for today is to take Bailong Sightseeing Elevator up to Yuanjiajie to see the Hallelujah Mountains. If time permits, you can also pay a visit to
Tianzi Mountain
, He Long Park, Yubi Peak, Tiantai, and Xihai Lake. Finally, use the cable car to go downhill from Tianzi Mountain. You may also make a different schedule on your own according to your personal preferences.
Since you need to leave for
Phoenix Ancient Town
(Fenghuang) this afternoon, you'd better get back to the hotel to fetch your entire luggage before 13:30. Have a brief lunch then and take a taxi to Wulingyuan Bus Station in around five minutes to catch the direct bus to Fenghuang, which only departs at 14:30 in the afternoon. The bus ticket is CNY90 and the journey takes 4-5 hours. You can ask the staff of the hotel to help you buy the bus tickets in advance.
After around four hours' drive, you will reach Fenghuang Passenger Station. Upon arrival, take a taxi to the recommended 4-star Phoenix Grand Hotel. If you don't take too much luggage, you may also walk southwards along Fenghuang Road to the hotel within 10 minutes. Have dinner in a nearby restaurant and take a leisurely walk around. You are suggested to rest early to get refreshed from today's tired trip.
Accommodation Suggestion: Phoenix Grand Hotel
Traditional Dancing of Local Miao People
Today, you are going to have a full exploration of Phoenix Ancient Town. You are free to enter the town but CNY148 is needed for the entrance fee of the major old buildings inside. The town is not very big, so you are suggested to buy a tourist map and explore it on foot. There are also motor tricycles in the town charging CNY2~5 for a ride according to the distance. To save energy and enjoy more, you may hire a bike to cycle around the old town.

Phoenix Ancient Town is inhabited by Miao ethnic group. Please do remember to respect their customs and taboos to avoid unnecessary conflict. For instance, when entering a Miao family, don't hold an unfolded umbrella, touch the shrine in the main room, tread on the iron tripod in the fire, or whistle.
Day 8
Fenghuang - Zhangjiajie - Frankfurt
Based on your onward flight from Zhangjiajie Airport, you may take one of the buses at around 9:00, 10:00, 12:00, 14:00 and 15:00 back to Zhangjiajie Central Bus Station from Fenghuang Bus Station. Then hire a taxi to the airport at a cost of CNY25 and after 15 minutes' ride.
Zhangjiajie has no direct flight bound for international destinations. You may fly to Beijing or Shanghai first and get back to Frankfurt from there.
If you want to extend your independent China tour from Germany, please contact our travel consultants at all times, or submit your further booking online directly if any of our itineraries listed in
China Tours
meets your requirements.
Need detailed infomation on train, flight or bus/ metro schedule? Use the search tool below.
If the above route does not meet your requirements, you could DIY an itinerary by choosing daily guided tours, free days, hotels, trains and/or flights freely. Our estimated quotation can be a reference for your independent travel.