Code: GW12
Trekking on Great Wall from Jiankou to Mutianyu
This independent hiking will cover the east section of
Jiankou Great Wall
to reach the west part of the
Mutianyu Great Wall
. It takes about 7-8 hours to finish the total walking length of 12 kilometers (7.5 miles). Some sections along the way are quite dangerous with almost vertical slopes or collapsed roads, hence more suitable to experienced hikers and not recommended to acrophobe.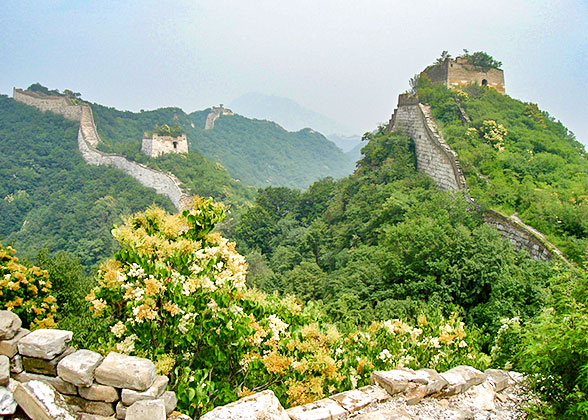 Jiankou Great Wall
Mutianyu Great Wall
How to Get to Jiankou Great Wall
→ Get to Dongzhimen Station by subway line 2 or line 13. Use Exit H to reach Dongzhimen Transit Hub.
→ Take bus no. 916 express there and get off at Huairou Beidajie stop after 1-1.5 hours.
→ Then charter a car to go directly to the Wofo Villa, the starting point of this Jiankou to Mutianyu trekking. It costs about CNY60-80. You may also take bus no. H36 from Huairou Beidajie stop to Tianxianyu, then walk northward for about 1 kilometer (0.67 mile) to Wofo Villa. But the bus is only available at 06:20, 11:30 and 17:40 daily.
Jiankou to Mutianyu Hiking Route

Wofo Villa - Jiankou Spot - Tiny Potala Palace - Zhengbei Tower - Ox Horn Edge - Mutianyu Great Wall – Yingbeigou Village
Hike uphill from Wofo Villa for about 2 hours, you will find yourself at the inflection point of a stretch of V-shaped Great Wall. That is the Jiankou Spot, the lowest point of Jiankou Great Wall.
After a short rest, go along the ramparts to the east and you will arrive at the Tiny Potala Palace via two watchtowers. This tower was so named because of the similar appearance to the Potala Palace in Lhasa.
Looking eastwards, you will see a watchtower on a higher peak. It is your next destination, Zhengbei Tower. You will get there after another one hour's hike. Zhengbei Tower occupies the highest location of the whole Jiankou Great Wall. From there, you can have a full view of the whole section and take perfect shots of the Tiny Potala Palace.
Continue this Jiankou to Mutianyu Great Wall hike eastwards to the Ox Horn Edge. Ramparts take a 90-degree turn there according to the mountain ranges and looks like an ox horn at a distance, and hence the name. You are advised to take a shortcut through the woods at the first watchtower to make a detour. You will get back to the ramparts in less than 10 minutes.
After another 10 minutes' hiking, you will arrive at the western end of the well-preserved Mutianyu Great Wall which reveals a totally different view from the wildness of Jiankou Great Wall.
Most of the time, people are not allowed to climb over the wall to reach the touristy section, so you need to go down from here to reach Yingbeigou Village at the foot. If allowed, you may continue hiking for a while along the Mutianyu before getting down and getting out from the gate of the Mutianyu scenic area.
Get Back to Beijing Downtown
From Yingbeigou Village or Mutianyu, charter a car back to Huairou Beidajie at CNY 60- 80 and then change to bus no. 916 Express there back to downtown Beijing. The last bus leaves at 18:50.
Tips
1. If interested, you may set up a tent at Zhengbei Tower to spend one night on the Great Wall and enjoy the stunning sunrise the next morning.
2. After hundreds of years of wind and rain, stairs of the Ox Horn Edge have already collapsed into gravels. Without obvious trace of steps, the whole section is like a giant downward slope. Please hold the wall and don't step on rubbles to prevent slips and falls.
3. There are wooden ladders provided by locals at Jiankou Spot and Zhengbei Tower to help backpackers to climb up. You need to pay CNY 5-10 for using them.

More Great Wall Hiking Routes:
Badaling Hiking: Explore Badaling in one day
Mutianyu Hiking: Travel to one of the most beautiful section, Mutianyu
Jiankou Hiking: One day trip from Nine-Eyed Tower to Beijing Knot
Simatai Exploration: One day hike tour to Simatai and Gubei Water Town
Juyongguan Hiking: itinerary and tips for Juyongguan section



More Beijing Independent Packages:
Forbidden City: 4 routes to discovery the world's largest imperial palace