10 Weirdest Chinese Food – Cowards Better Stop Here
Chinese food culture is extensive and profound with a long history, a rich variety of dishes and unique ways of cooking. It's inevitable that there are some weird ones to outsiders. The following is an introduction of 10 weirdest Chinese food.
1. Stinky Tofu 臭豆腐
Stinky tofu, a famous snack in Changsha, is weird for its "smelly smell but delicious taste". It is a kind of fermented tofu. You can smell it far away before you see it. Stinky tofu has a black surface and tastes crispy outside and tender inside. Its taste combines the freshness of white tofu with the crisp flavor of fried tofu. Hope you don't get scared off by the appearance and smell of this weird Chinese food and dare to have a try!
2. Century Eggs 皮蛋
Century eggs, also called Song Hua Dan in Chinese, differ from other common eggs in that the white is dark brown and transparent, and the yolk is yellow-green. This strange Chinese food is mainly made from duck eggs, which are coated with white lime and soaked in bittern for many days. It looks weird, but tastes delicious. The most common dish made with century eggs is the Century Eggs with Chili Pepper. Century eggs contain a lot of minerals, which can increase appetite, promote the digestion and absorption of nutrition. They also have the effect of moistening lungs, cooling intestines, preventing diarrhea and lowering blood pressure. But one should not eat too much at a time because it contains harmful lead.
| | |
| --- | --- |
| Century Eggs with Chili Pepper | Chinese Mitten Crabs in Thick Broth |
3. Chinese Mitten Crab 大闸蟹
Chinese Mitten Crab has a dark cyan back, white belly, yellow fur and golden claw. The cooked crab has a reddish color. It is weird not only because of its appearance, but also because it has very little meat and requires a lot of tools to eat. Peel and eat a bit of meat at a time, but the rich taste can provoke people to continue to "fight". For people living in Shanghai, eating mitten crabs is a must-do in autumn when the crab meat tastes the most delicious and juiciest. Boiling and steaming are two common ways to cook the crabs and the latter way is preferred for it best preserves the original taste and flavor of the hairy crabs. Some also brush scallion oil over the crab just out of the pot to enhance the taste. Vinegar mixed with bruised ginger and
yellow wine
are prepared as well to go with the steamed mitten crabs.
4. Spicy Crayfish 小龙虾
Crayfish has a quite weird appearance: dark red shell, black back with visible particles. They can live in many kinds of environments, even polluted ones; so someone says they contain harmful elements. Actually, with very good detoxification mechanism, crayfish can transfer the heavy metal toxins to their shells and then transfer the toxins out of their bodies by molting. But the head of the crayfish is not edible! The craze over this unusual Chinese food came up from Changsha, Hunan Province since 1990s. Its spicy and refreshing flavor really conquered people's palate. From then on, it has spread throughout the country at a soaring speed and becomes an irreplaceable late night cuisine, especially at the midsummer night. People often invite several friends to gather at a food stall, and order one or two servings of spicy crayfish and bottles of icy beer. In this way, half of the sweltering summer night will be spent in laughter and enjoying delicacies.
5. Drunken Shrimp 醉虾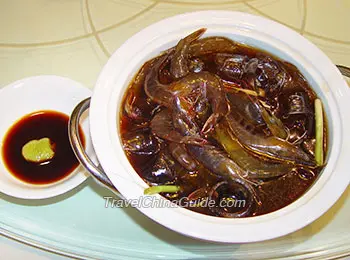 Drunken Shrimps
The weirdest point about this dish is that it is made from live shrimp. Put the cleaned live shrimp into the glassware, pour the yellow wine to soak the live shrimp completely, and cover with the lid. You'll watch the shrimp go from struggling to be drunk and finally calm down. After, pour the prepared sauce over the shrimp, and you can taste the freshness of the shrimp, as well as the aroma of the wine. Although it is a strange Chinese food, the delicious taste is really worthy of trying! Drunken Shrimp is a famous traditional dish mainly in Nantong, Shanghai and Ningbo.
6. Herbal Jelly / Guilinggao 龟苓膏
Herbal Jelly is a traditional medicinal food with a black and jelly appearance, looking weird and not inviting. But it's chewy, sweet and delicious after adding with honey and milk. Herbal Jelly contains the shell powder of turtles and a lot of traditional Chinese medicine herbs that can decrease internal heat. So it's more suitable for summer due to its benefits of dehumidification and detoxification.
7. Hairy Tofu 毛豆腐
Hairy Tofu is a quite weird Chinese food with white hair growing on the surface of tofu by fermentation. It looks exactly like moldy food! But actually, the fermentation transfers the plant protein into a variety of amino acids, so it's more nutritious than white tofu. The vitamin B12 and vitamin C in it can promote digestion better, prevent atherosclerosis, high blood pressure, stroke, coronary heart disease. Hairy Tofu is a very popular vegetarian food in Anhui. Fry hairy tofu until golden brown and add shallot, ginger, monosodium glutamate, sugar, salt, broth and soy sauce, then stewed for about two minutes. This dish with yellow appearance and tiger skin stripes smells and tastes ambrosial.
| | |
| --- | --- |
| Hairy Tofu | Cooked Hairy Tofu |
8. Fish Mint 鱼腥草、折耳根
Fish Mint, also known as Houttuynia, is a kind of traditional Chinese medicine. This special Chinese food has a strong fishy smell, but people in the southwest China like it very much. Both Fish Mint's tender roots and leaves are edible. Leaves are commonly used by Sichuan people in cold dishes and the roots are often used in soups and stir-fried by Guizhou and Yunnan people. Stir-fried Fish Mint root together with shredded pork is a delicious dish for lots of people. Fish mint root tastes crisp and refreshing, and the pork is tender and delicious.
| | |
| --- | --- |
| Chicken Feet with Pickled Peppers | "Hu Pi" Chicken Feet |
9. Chicken Feet 鸡爪
Chicken feet look ugly and contain a little meat, looking uninviting at all. But in China, chicken feet are highly prized dishes. Generally the two kinds of most popular chicken feet are Chicken Feet with Pickled Peppers and "Hu Pi" Chicken Feet. Chicken Feet with Pickled Peppers is a special snack in Sichuan, which is famous for its sour, spicy taste and chewy meat. The hot and spicy flavor of pickled pepper penetrates into the chicken feet, making the taste unforgettable. The reason why another chicken feet is called "Hu Pi" Chicken Feet is that the wrinkled skin of the cooked chicken feet looks like tiger's skin. It's a very famous dish in Guangdong. There are many ways to cook this dish, but each one can make the skin chewy and the meat tender.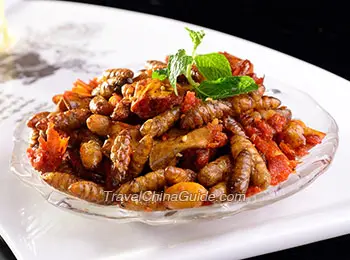 Fried Cicada Pupa
10. Fried Cicada Pupa 炸蝉蛹
Cicada is a very frequently seen insect in summer in China, and Cicada Pupa is the larva of the cicada. Chinese people like to eat Fried Cicada Pupae very much, which is arguably one of the weird Chinese foods. Because the cicada pupa is a very nutritious tonic rich in protein and a variety of amino acids. And from the perspective of traditional Chinese medicine, cicada pupa is a food with cold nature, which can neutralize the internal heat. August is the best time to eat Fried cicada pupa. Salting cicada pupa, and then fry them in hot oil until they become golden brown.



You may like:
The Rarest and Most Expensive Chinese Food Ingredients
Top 10 Chinese Dishes You Must Try
Top 12 Most Popular Chinese Snacks
10 Famous Chinese Foods to Cool You Down this Summer
- Last updated on Apr. 21, 2021 -