Who We Are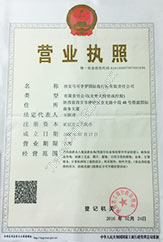 License of Xi'an
Marco Polo
Int'l Travel Service
Marco Polo International Travel Service
Ratified by National Tourism Administration, Xi'an Marco Polo International Travel Service Co., Ltd. is a qualified tour operator to run the business mainly for overseas tourists travelling in China and Chinese inbound travel.

As a leading online tour operator, Xi'an Marco Polo International Travel Service always strives for success and innovation. Relying on rich professional experience, leading network technology, and the advanced people-oriented managing concept, it is devoted to creating the best electronic commerce platform for tourists. We offer global as well as business travelers not only comprehensive information on China tourism but also tour, train ticket and tourist attractions tickets booking service. Global tours to 100+ destinations is also available now, and in the future we will press ahead with the development of more new services.

The headquarters is in Xi'an. For the detailed contact info, see Contact Us.

Awards and Patents
Marco Polo International Travel Service is a member of ASTA (American Society of Travel Agents), the world's largest association of travel professionals, and a member of the Pacific Asia Travel Association (PATA) which is the leading voice and authority on Asia Pacific tourism industry.

We are also a member of CATS (China Association of Travel Services) which is a national tourism industry association. We have been acknowledged by the local authorities and won lots of awards in successive years.


A Recommendation Letter from Xi'an Tourism Bureau

Our website, TravelChinaGuide.com, has been recommended as one of the top brands by TripAdvisor (the largest website providing reviews on travel-related topics), for successively winning its Certificate of Excellence in the past ten years.
Member of China Association of Travel Services
Member of Pacific Asia Travel Association
Member of American Society of Travel Agents
'Advanced Unit' Issued by Xi'an Tourism Bureau, 2011
One of Top Ten Travel Services in Shaanxi Province
'Advanced Unit' Issued by Xi'an Tourism Bureau, 2008
2023 Winner of TA Travelers' Choice
2022 Winner of TA Travelers' Choice
2021 Winner of TA Travelers' Choice
2020 Winner of TA Travelers' Choice
2019 Winner of TA's Certificate of Excellence
2018 Winner of TA's Certificate of Excellence
2017 Winner of TA's Certificate of Excellence
TA's Hall of Fame Award for Winners from 2011 to 2015
2015 Winner of TA's Certificate of Excellence
2014 Winner of TA's Certificate of Excellence
2013 Winner of TA's Certificate of Excellence
2012 Winner of TA's Certificate of Excellence
2011 Winner of TA's Certificate of Excellence
TravelChinaGuide.com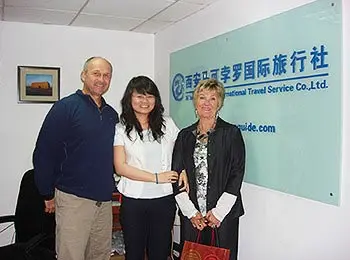 Our tour operator with clients
at the front desk of the company
With the monthly unique visits about 3,000,000, the website www.travelchinaguide.com, which was set up in 1998, has been the famous brand of Xi'an Marco Polo International Travel Service. The site has always been highly recommended by authoritative world media such as Time (web-version), Chicago Sun-Times, the New York Times, USA Today, Seattle Times, National Geographic, Toronto Sun, CCTV-4, World Heritage, as well as a multitude of well-known overseas universities, Chinese embassies and consulates stationed abroad. With decades given to the creation and cultivation of the best window of China, Travelchinaguide.com has become the largest and leading English language website in China offering travelers the most informative source for travel, dinning, accommodation, transportation, touring, shopping and entertainment.

For more info about the website, you may refer to Media Recommendations .



Copyright & Privacy
The website has a professional editorial team to ensure originality. Except as otherwise indicated, TravelChinaGuide.com is the owner of the copyright of all contents (text, images, graphics, animation, audio, video) contained herein. Copying or quoting any part of this website without permission is NOT allowed. If you wish to use or license any material on this site, please contact us. We assure you that we will never disclose any of your registration information and other personal details to a third party without your express permission.

You are advised to read the Terms of Use and Privacy Policy before using the site.
Logo

Nothing is more symbolic of China than the dragon. The lifelike soaring dragon, together with its background of curving tiled eaves, the unique feature of ancient Chinese architecture, form part of our logo displaying Chinese characteristics, which express these criteria:

We are always engaged in offering the most characteristic Chinese tours to our clients.

The spirit of the Chinese dragon symbolizes the style and feature of our corporate spirit – United, Creative and Strenuous.
AgateTravel.com
The company's world travel website,
www.agatetravel.com
, was rebranded from our oldest website WarriorTours.com, which was established in 1997 and once highly praised by New York Times early in 2003.
The website, offering group, private, and tailor-made tour services to 100+ worldwide destinations, aims to provide diversified travel experiences according to customers' individual interest and need. Welcome to join us to enjoy the delight of real travel and adventure.
Corporate Culture
Trust: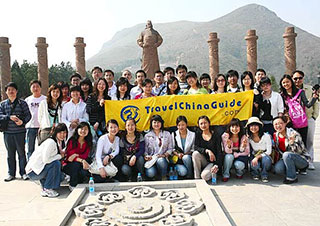 2009 Spring Outing
to Zhaoling Mausoleum near Xi'an
We believe in trust as trust is the precondition of cooperation. We always set up ineradicable trust with our honored clients and our enthusiastic staff. Where there is trust there is efficiency coupled with a high-quality service.

Appreciation:
Appreciation is the plaudit for consideration and service which brings respect and confidence. We appreciate each of the excellent and hardworking staff at all times to encourage and create an active, energetic and aggressive group, providing chances for them to show their self-pride, capability and a desire for excellence.

Cooperation:
One man, no man! Success lies in the strength of the team. We own an excellent China travel agency believing in the power of teamwork, and always creates a harmonious working environment for their team members by encouraging communication and cooperation at all times.

Share:
The company always shares weal and woe with its entire staff, partaking in each other's joys and sorrows. Ever seeking self-improvement, we share our professional knowledge, technique and working experience to promote common development and progress; Let clients win together with us, let staff grow up with us, we also share all that we gain for the benefit of our elite group.

Company News Company Videos

How to Identify a Real Leading China Tour Operator?
- Last updated on Aug. 27, 2023 by Catherine He -
Questions & Answers on Marco Polo International Travel Service
Asked by Schaefer from GERMANY | Aug. 26, 2023 04:05

Reply
Travel Agency License No
For the Visa-Form I need the Travel Agency License No (We are travelling to China in September)
Answers (1)
Answered by Eric | Aug. 27, 2023 20:38

0

0

Reply
Just consult the travel agency you are going to use. Every agency has a license number.
Asked by Niall Crowley from IRELAND | Aug. 26, 2019 11:45

Reply
Can I get a 5 day VOA if I travel from Ireland to Shenzhen direct?
Answers (1)
Answered by Alaina from NEW ZEALAND | Aug. 29, 2019 23:56

0

0

Reply
Yes, you can apply it at Shenzhen Bao'an Airport.
Asked by Eddie from SINGAPORE | Dec. 12, 2015 05:52

Reply
I'm from Singapore and planning to visit the Window of the World on Feb 21 (Sun) from Hong Kong.
Since it is window, what is the best time to visit the WOW? Can we use the octopus on the Luobao line? Do Singaporean needs visa to Shenzhen since we do not need visa to Hong Kong.
Regards
Answers (1)
Answered by Lisa from UK | Dec. 12, 2015 20:13

0

0

Reply
I suggest you visit the park in the afternoon. After the sightseeing, you may be able to catch the show at 19:00.

Yes, there is a Cross-border Hu Tong Xing. The card carries the functions of Octopus and SZTong, and can be used at all designated transport and retail service providers in both areas, so it can be used on Luobao Line.

Besides, you are exempt from visa for mainland China for 15 days, so no visa is needed to WOW. Don't worry!
Asked by K Song from AUSTRALIA | Mar. 18, 2014 23:57

Reply
Is there a time limit on what time guests can check in at the hotel?
I will be in Beijing on the 17 April 2014 when my Shandong province tour finishes. I want to do a bit of exploring around Beijing for a few days and is looking at staying at the hutong Hou Hai area. I am not sure what time I will be arriving back in Beijing from Jinan, probably in the evening.
Answers (1)
Answered by TravelChinaGuide.com | Mar. 19, 2014 04:40

0

0

Reply
Dear Song,

Most hotels require their guests to check in before 18:00. If you can't come back before 18:00, you may call your hotel and ask them to keep the room for you. Some hotels do it for free while some others ask their guests to provide their credit cards for guarantee.