What Makes Our Tours Different from others
Almost every traveler wishes a tour of a foreign country to be a golden opportunity to learn not only about its culture and history but also to experience the delights of the local food and comfortable transportations and other amenities to ensure a completely stress-free holiday. This is particularly true of travelers to P. R. China. Our private tours with Travel China Guide are designed to make your wishes come true!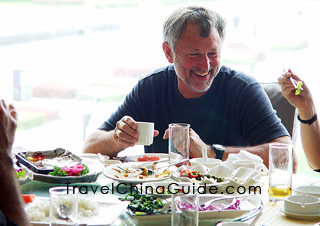 No doubt China has a rich heritage of fine food, the most famous varieties being Cantonese Cuisine, Sichuan Cuisine and Shanghai Cuisine, but from the analysis of National Tourist Administration, many travelers complained that the whole way they were served with the mass-produced food every day and they had not even experienced the real Chinese food for the whole trip arranged by some tour operators. They may have to travel in a small car in which they could hardly stretch their legs. Travel China Guide tells you with regret that what those travelers suffered was true. Travel China Guide will offer you a completely different experience. Action speaks louder than words. Now please check our following arrangements:
1. We offer two bottles of mineral water per person per day free of charge. Travel China Guide also suggests other travel agencies do likewise in the interest of all the inbound tourists.
2. We arrange air-conditioned vehicles in excellent conditions, clean and commodious. Please compare the car or the van the other travelers use. It's different!
3. For where possible, we offer at least one or two A La Carte chances for you to order real Chinese dishes at fancy restaurants for yourselves! Our take-with menus will make the order process easily and leisurely! The mass produced food suppliers - appointed tourist restaurants are all kept away from TCG's clients. For every lunch and dinner we offer two cups of soft drink or local beer instead of only one as one of the set rules of other travel agencies in China!
The spelling of lunch and dinner in Oxford or Longman dictionaries for every tour operator and everyone is exactly the same. But the make-up of the meals by tour operators varies in nature. Please see our arrangement for the differences in each city:

2. We arrange another a la carte lunch in Beijing at a fancy restaurant, where you can not only experience the diversified Chinese cuisine, but also get close touch with the local people's dining custom.
3. For Chinese Kungfu Show at the Red Theatre we specially arrange for you is a unique theatrical production which celebrates the philosophy and skill of the martial art of Kung Fu through story-line, dramatic design, choreography and breath-taking music. It is surely one of the most spectacular events in Beijing.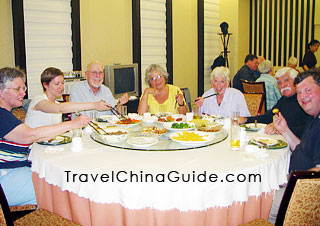 A la carte Chinese menus
for all lunches and dinners. Please study our menu. It is our practice to select local fancy restaurants that are clean and well known for the excellence of their dishes. We shun appointed tourist restaurants that serve mass-produced food for travelers.
2. For lunch on the day tour to the Terracotta Warriors and Horses Museum, we find a highly reputable local restaurant for you to have an a la carte meal to make sure you can be certain of a real treat after this energy-required site.
3. A local family visit allows you to have a close contact with the Chinese family, be familiar with their living environment and daily life situation. Which we believe will make you know more about Chinese culture and tradition nowadays. And the hostess's hospitality and the home-cooked dishes will surely delight your whole tour.
4. We recommend the wonderful Tang Dynasty Dance and Music Show. Prior to the show, we specially arrange the local specialty, Dumpling dinner for the clients.
DIFFERENCES CAN BE ONLY MADE BY COMPARISON. Travel China Guide is eager to offer top level services for our valued guests. It is the special attention paid to details that make one tour preferable to another and we suggest you consider the extra benefits and values we offer over and above those on tours available from other operators. We welcome suggestions and comparison as to ways in which we can further improve our tours. Meeting your need is our top priority. Thank you for considering Travel China Guide and we warmly invite you to join us for a truly unforgettable experience!