Company News in 2017
See by Year: 2017 2016 2015 2014 2013 2012 2011 2010 2009 2008 2007 2006 2005 2004


Company Videos

TCG Attended 2017 Huangshan Tourism Festival
Published: Nov. 12, 2017
On November 10, 2017, the 6th Anhui International Travel Agents Conference as well as the 2017 Huangshan Tourism Festival took place in Huangshan City, where the world-famous Yellow Mountain is located. The conference, aiming at promoting the tourist industry of Huangshan City, won a great success.

Along with domestic and international travel operators from the US, UK, Russia, Japan, Thailand, South Korea, and Vietnam, TCG's delegates paid a visit to the Yellow Mountain and nearby folk villages to fully expose themselves to the profound ancient Anhui culture and unique customs. Through the field trip, we had a better understanding of the tour-related products in and around Huangshan and wish to provide more practical and cost-efficient services for our clients.



Click to book our Huangshan Tours at a low price.
| | |
| --- | --- |
| Tour Agents Delegation on Yellow Mountain | Hongcun Village in Autumn |

TCG Attended the 2017 China-US Travel Trade Conference
Published: Sep. 17, 2017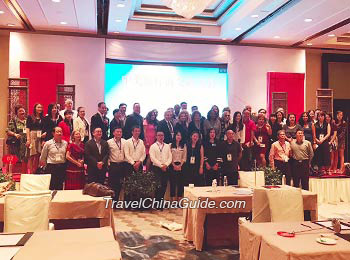 2017 China-US Travel Trade Conference
TCG was invited to attend the 2017 China-US Travel Trade Conference held in Suzhou China on September 15. Over 70 reputable tour operators from China and the US were present at the conference to discuss how to attract more foreign travelers to Suzhou and ensure them a pleasant trip. Later, a one-to-one conversation between China and US representatives was conducted.

Before and after the conference, the delegation took an experience itinerary for six days and five nights in Suzhou and nearby Shanghai. They wandered around the Humble Administrator's Garden, the representative of Suzhou classical gardens, immersed themselves in the local Kun Opera, and strolled in Tongli Ancient Town in suburban Suzhou. Different from regular itineraries, they had the chance to learn Tai Chi with a master and take a pedicab to sightsee the old town of Suzhou. Later on, they departed for Shanghai and visited the Oriental Pearl TV Tower, the Bund, and cruised the Huangpu River.
| | |
| --- | --- |
| Learn Tai Chi | One-to-One Discussion |
During the trip, the representatives had an in-depth survey on the facilities in Suzhou including hotels, restaurants and public transportation system.

Taking this opportunity, TravelChinaGuide aims to develop more considerate and practical Suzhou Tour Packages for our guests. We have the confidence that we can make it.

TCG Won the Certificate of Excellence 2017 from TripAdvisor
Published: Aug. 10, 2017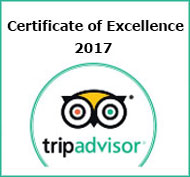 It's a piece of great news that TravelChinaGuide.com has been awarded by TripAdvisor again and won the Certificate of Excellence 2017. It's a reward for our hard work in tourist industry for years. We feel very much honored to get this award. At the same time, it bestows on us more sense of responsibility for travelers.

As an online tour operator providing comprehensive travelling services, from tour, train, and flight booking to practical considerate China travel tips, we have helped millions of travelers to China.

For the past, we gained trust and respect from our customers and fellows through continuous efforts, and the prize can fully prove this. In the future, we believe we can do better in the industry. Just keep attention on TravelChinaGuide.com to expect more excellent services.



See our services: China tour packages, real-time train schedule and booking, flight booking

TCG Organized a Summer Trip for Staff
Published: Jun. 20, 2017
Early summer in Xian usually presents the most beautiful side of the city. At this time, a staff trip was organized by TravelChinaGuide to give all the staff a chance to relax.

Early in the morning, all set out from company by a tour bus to the destination, Chateau Changyu Rena. In the wine castle, everyone was enchanted by the magnificent Italian-style castle, outdoor fresh air and vast fields. Besides, they enjoyed an interesting drama, a zig-zag train ride and a festinating 4D film. After getting out from the castle, it began to drizzle, but it didn't influence our zest for the next destination, Yuanjiacun Village. Various snacks of central Shaanxi Province and artistic bars were the highlights in the folk culture village. Wetted by the drizzle, the village gave a different feeling than usual.

Through the trip, all staff felt like TCG was a big family and the teamwork was strengthened.
| | |
| --- | --- |
| Chateau Changyu Rena | Our Staff in Chateau Changyu Rena |

TCG's Guest Interviewed by Shanghai TV
Published: May 18, 2017
On May 16, 2017, our tour group visited the Yuyuan Garden in Shanghai. It happened that the opening ceremony of the Duanwu Culture Festival took place at that time and one of our guests was interviewed by Shanghai TV.

The festival was held on one hand to spread the traditional custom and historical stories behind the Duanwu Festival, usually called Dragon Boat Festival. On the other hand, it was a welcome for the upcoming Dragon Boat Festival falling on May 30 this year. Participants enjoyed funny games like shooting the picture of five poisons and drinking realgar wine to stay healthy, and DIY sachet with Chinese herbal medicines.

When being interviewed, our guest remarked, "I think your culture is beautiful, and I'm so happy that I'm learning a lot from being here. There's so much history. I think that's really important to know your history."

Here is the news link: http://www.kankanews.com/a/2017-05-16/0017992683.shtml



See Shanghai Tour Packages

Large Student Tour Group Received by TravelChinaGuide
Published: April 21, 2017
On April 15, 2017, TravelChinaGuide received a large student tour group consisting of 68 members from AFS Intercultural Program. We elaborately arranged an itinerary upon getting the booking of the group.

The tour guide first picked up our guests at Xian Railway Station and then sent them to a hotel in the city center. After a night's rest, the tour started, with the Terracotta Army as the first stop. Later, all went to the nearby Huaqing Hot Springs and Mt. Lishan to enjoy some natural landscape.
| | |
| --- | --- |
| Cycling on the Ancient City Wall | Huaqing Hot Springs |
| | |
| --- | --- |
| Our Tour Group Visiting a Children's Village | Learn Chinese Calligraphy |
In the following days, the students paid visits to the City Wall, Shuyuanmen Street, the Great Mosque, a children's village, Yuanjia Folk Custom Village, and some museums. They savored local snacks and were intoxicated by the stunning Tang Dynasty performances in the Tang Paradise. Everyone was happy about this trip, which was the ultimate mission of TravelChinaGuide.



See China Student Tours

Save $6: 1 Day Xian Bus Tour Drops to $49!
Published: March 1, 2017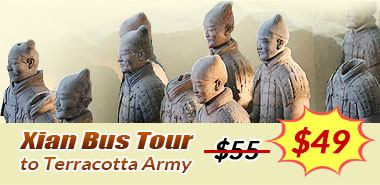 Do you want to take a one-day bus trip around Xian? If yes, it's the right time that you book a Xian Terracotta Warriors Bus Tour from TravelChinaGuide. The tour will be adjusted to daily departure except Tuesdays since March 15, 2017.

As long as you book five days ahead of the trip, you can enjoy 10% off on the original price. It means you only need to pay $49 to pay a visit to the Terracotta Warriors, Small Wild Goose Pagoda, Xian Museum, City Wall, Bell & Drum Tower Square and the Muslim Bazaar! What's more, no shopping is involved. How amazing! Don't hesitate to grasp such a good bargain!



See details about Xian Terracotta Warriors Bus Tour

2017 TravelChinaGuide New Year Gala and Award Ceremony
Published: January 16, 2017
The New Year Gala of TCG this year was held in Ruicheng China Restaurant. At 5:30 pm on January 14, 2017, the party began. All hosts and guests dressed up for the banquet. After everyone took the seat, the energetic opening dance started. The dancers cheerily shook bodies to the beat of a medley of popular songs, winning loud applause.
| | |
| --- | --- |
| Openning Dance | Excellent Staff of 2016 |
| | |
| --- | --- |
| New Year Toast | Spanish Dance |
Then our vice general manager Gloria gave a sincere speech to express her good wishes for the company and clients in the New Year. The speech was followed by the award ceremony and luck draw, a thrilling moment. The most excellent staff got a big red packet as a prize for their hard work in the past year. Next, interactive games between lovely kids and parents drew the attention of all.
| | |
| --- | --- |
| Warm-up for the New Year Party | Comic Dialogues of Sanjuban |
The party finally reached its climax in a Spanish style dance. The lively rhythm, red costumes, and hot dance lighten up the atmosphere to the best. Then the party ended with a rich dinner. Everyone made a toast for the blessing of the New Year.