Company News in 2018
See by Year: 2018 2017 2016 2015 2014 2013 2012 2011 2010 2009 2008 2007 2006 2005 2004


Company Videos

TCG Earned the Certificate of Excellence 2018 from TripAdvisor
Published: May 25, 2018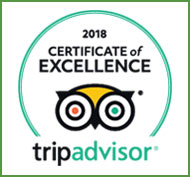 TCG's pages about Beijing, Shanghai, Xian, and Guilin on TripAdvisor have been awarded the Certificate of Excellence 2018. Browsing these pages, you can find the certificate symbol at the upper left corner of the main pictures.

The prize is a positive answer to our previous work for we are recognized by TripAdvisor for receiving consistent great reviews from our guests. We are proud that TCG has won such prizes continuously since the year 2011. As an online tour operator, we are always aimed at providing the most considerate services to our guests.



See our services: China tour packages, real-time train schedule and booking, flight booking

A Large Student Tour Group Received Successfully
Published: April 22, 2018
On April 16, 2018, TravelChinaGuide welcomed a large student tour group made up of 59 members from AFS Intercultural Program. To serve the guests best, we elaborately selected the top attractions and a children's village in Xian for the six-day itinerary.

On the first day, our guide picked up the guests and accompanied them to the Days Inn Hotel in the city center. After a night's rest, our guests cheerfully started their trip in Xian by visiting the Terracotta Army, Huaqing Palace, and Mount Li, which recorded the history of Xian in its heyday. In the following days, the guests enjoyed a stroll or cycling on Xian City Wall, appreciated various authentic antiques and gadgets on Shuyuanmen Street, and were amazed at the numerous cultural relics in Shaanxi History Museum. In the children's village, they communicated with the orphans there and gave presents to them. The last day ended with a performance in Tang Paradise, a classical garden park near the Big Wild Goose Pagoda.
| | |
| --- | --- |
| Students Group at South Gate of Xian City Wall | Cycling on the Ancient City Wall |
| | |
| --- | --- |
| Visiting Children's Village | Students Tour Group in Xian |
The smooth trip was an affirmative answer to our efforts and services. We feel honored to serve our guests and fulfill our mission, that is, live to serve.



See China Student Tours

Website Facelift of WarriorTours.com Completed
Published: Feb. 24, 2018
WarriorTours.com, a sister website of TravelChinaGuide.com, has recently gone through a facelift to improve user experience. As well as TravelChinaGuide.com, it belongs to Xian Marco Polo International Travel Service Co., Ltd, but offers travel service to worldwide destinations. Set up in 1997, WarriorTours.com was among the earliest online tour operators and was once referenced and recommended by New York Times. See details.

The newly updated website looks more organized than before, displaying all kinds of tourist products and information in a clear way. Users can locate the information they need more efficiently. Besides, the webpages are designed well to better match different mobile phones and desktops.

Through this effort, we sincerely hope travelers can enjoy a good and smooth experience when booking worldwide tour itineraries and reading useful travel tips.