Hall for Ancestry Worship (Fengxiandian)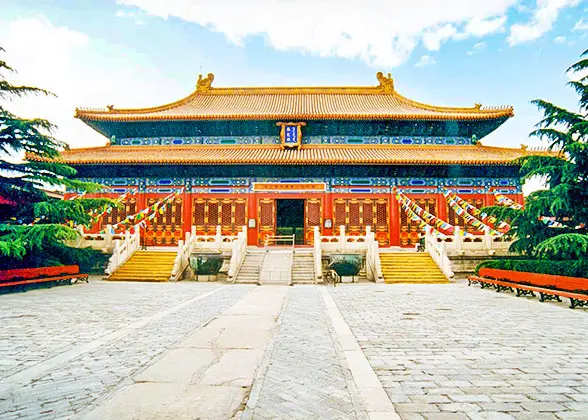 Hall for Ancestry Worship
Located on the east side of the Inner Court in the
Forbidden City
, the Hall of Ancestry Worship was the place where the imperial household worshiped their ancestors in the Ming (1368-1644) and Qing (1644-1911) dynasties. It was constructed in the Ming Dynasty, rebuilt in 1657, the fourteenth year of the reign of Qing Shunzhi (1644-1661), and restored many times since. Surrounded by lofty walls, it is an 工-shaped structure with a white base of Buddhist style. The Hall of Ancestry Worship has both a front and a rear hall connected by a lobby. The front is the main hall, 9 bays wide and 4 bays deep, covering an area of 122,500 square meters. It has a double-eaved roof and glazed facing tile. The door opened in the front fifth bay and the back fifth bay meets the lobby. The rear is the bed chamber, 9 bays wide and 2 bays deep, covering an area of 75,500 square meters. It has a single-eaved roof and glazed facing tile. The front fifth bay of the rear connects to the lobby. The interior floor is paved with gilded bricks and the ceiling carved with a gilded pattern of canary-creeper and float flower. It has no annex buildings around it. In the south outside the Gate for Ancestry Worship stands a cluster of rooms, serving as Sacred Warehouse and Sacred Kitchen. In the east outside the Gate for Ancestry Worship is a small part to itself, including 3 small halls, set up for the Emperor Jiajing (1522-1566) of the Ming Dynasty
Ming Dynasty
to worship his father.
In the
Qing Dynasty
, on the first and fifteenth day of the lunar month, the birthday of the emperor, the New Year's Day, the Winter Solstice every year and other grand occasions, hecatombs would be held in the front hall. On an ancestor's birthday, deathday, the
Lantern Festival
, the
Tomb-Sweeping Day
and the
Mid-Autumn Day
, the imperial family would worship their ancestors in the rear.
Clock and Watch Gallery
Shrines and statues in the Hall of Ancestry Worship were eliminated during the Cultural Revolution. The lobby has been expanded and the inner palace is approximately square. It is one of the exhibition rooms in the Palace Museum, namely, the Clock and Watch Gallery, exhibiting more than two hundred timepieces of different kinds, both domestic and foreign from the 18th century. Time pieces in China have a long history. Before the Qing Dynasty, sundials and clepsydras were the main timepieces. At the end of the Ming Dynasty or the beginning of the Qing Dynasty, mechanical clocks began to be introduced into China. In the eighteenth century, mechanical clocks were widely used in the imperial palaces. While reckoning time, these clocks brought motion to their decorative people, birds, and flowers. Those clocks and watches were not only useful timekeepers, but also pleasing entertainment and exquisite craftsmanship. To let tourists see how some of the clocks exhibited strike and how the persons, birds, and towers act, videos are available here. On most days a selection of clocks will be "played" at 11:00 AM and 2:00 PM.
Admission Fee:
CNY 10
Opening Hours:
08:30 to 16:20 (Oct. 16 to Apr.15)
08:30 to 17:00 (Apr. 16 to Oct. 15)

---

Next:
Go west back to the central axis, and see the
Gate of Heavenly Purity
(Qianqingmen), the entrance to the Inner Court.
Go east to see the
Palace of Tranquil Longevity
(Ningshougong), a large building complex where the
Treasure Gallery
is located.

Further Reading:
How to visit the Forbidden City
- Last modified on Dec. 06, 2018 -
Questions & Answers on Hall for Ancestry Worship
Asked by Ms.Ross from SCOTLAND | Feb. 26, 2009 13:47

Reply
i am having to do a shor-ish project on China, and i have decided to do at least 3/4 [three quarters]of my project on the forbidden city, what i am interested to find out is what sort of things is there to see there ?
and also out of 10 , what would you rate it ?

Thanks,
Lily
x
Answers (1)
Answered by Mr.ask me from CHINA | Feb. 27, 2009 00:49

1

1

Reply
Hi, there are many things to see, and here I suggest you some scenic sight you should not miss.
1. Dong Liu Gong (Six Eastern Palaces)
2. Ning Shou Gong (Palace of Tranquil Longevity)
3. Zhenfei Well
4. Jiao Tai Dian (Hall of Celestial and Terrestrial Union)
5. Qian Qing Men (Gate of Celestial Purity)
6. Yu Hua Yuan (Imperial Garden)
7. Tai He Men (Gate of Supreme Harmony)
8. Tai He Dian (Hall of Supreme Harmony)
9. Zhong He Dian (Hall of Central Harmony)
10. Bao He Dian (Hall of Preserved Harmony)
11. Wu Men (Meridian Gate)