Hengyang Travel Guide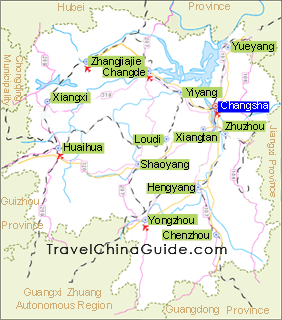 Hengyang Facts
Chinese Name: 衡阳 (héng yang)
Population: 7,243,400
Area: 15,310 square kilometers (5,911 square miles)
Location: in the south of Hunan Province, south-central China
Administrative Division: 5 districts (Nan Yue, Yan Feng, Zhu Hui, Shi Gu, Zheng Xiang); 2 cities (Changning, Leiyang); 5 counties (Hengnan, Hengyang, Hengshan, Hengdong, Qidong)
Area Code: 0734
Zip Code: 421000
GDP (2018): CNY 304.6 billion (USD 46.03 billion)
An Ancient Cultural City Famous for Mt. Hengshan & Shigu Academy
Hengyang is also known as 'Wild Goose City' because flocks of wild geese flying south for the winter have been known to stop there to rest. Due to its advantageous location adjacent to Guangdong Province and near the Xiangjiang River, the city has been a major commercial center since ancient times. Hengyang boasts beautiful natural views and many historical sites. The Mt. Hengshan, Cailun Bamboo See and Jiangkou Bird Islet can be taken into consideration for a nature exploration in Hengyang. Surrounded by mountains and rivers, the Shigu Academy, is one of the four well-known Chinese academies as well as a hot spot in Hengyang where tourists can not only enjoy the ancient buildings and but also enjoy old Chinese academic culture. As the second largest city in Hunan, Hengyang also enjoys the reputation of the hometown of nonferrous metals. There are more than 20 kinds of nonferrous metals with huge reserves such as lead, copper and tungsten.
North of Hengyang is the popular tourist area of 'Nan Yue (southern mountain)'. Its most prominent topographical feature is Mt. Hengshan. Mt. Hengshan is the southern mountain of China's Five Sacred Mountains and symbolizes the co-existence of Buddhism and Taoism. It is also known as 'Longevity Mountain' and is the core scenic spot in the region.
1. By air: Hengyang Nanyue Airport is located Yunji Town, Hengnan County. Flights to/from Beijing, Kunming, Shanghai, Xi'an, Sanya and Chongqing are available.

2. By train: Hengyang Railway Station, Hengyang East Railway Station and Hengshan West Railway Station are in service.

3. By bus: The major bus stations are Central Bus Station, Linghu Bus Station, Huaxin Bus Station, South Bus Station and Wangjiang Bus Station.
Hunan Cuisine
is one of the
Eight Cuisines in China
and you have the great chance to taste Hunan Cuisine in Hengyang City as much as you want. More especially, you would taste the Mt. Hengshan Buddhist Vegetable which is a healthy diet and famous in the city. It is a good combination of various vegetables and contains abundant nutrition. These vegetable dishes are prepared according to strict standards emphasizing color, fragrance, bouquet and presentation.
Highlights: Hengyang is the second largest city in Hunan with a population of over seven million. It is an agriculturally prosperous area with an abundance of seafood and rice. It is also very rich in natural resources including coal, zinc and lead. And it is one of the emerging industrial cities in China.

Tour Information: Hiking Adventure
- Last updated on May. 22, 2020 -
Questions & Answers on Hengyang Travel
Asked by Frank from USA | Feb. 20, 2018 11:20

Reply
What are some of the best places to eat at in Hengyang, Hunan, China?
If you also have some pricing information I'd appreciate it.
Answers (1)
Answered by Sunny from USA | Feb. 21, 2018 21:33

0

0

Reply
The Shifu Road is the best place to eat in the city. You can find a variety of local snacks. As for shopping, you may go to the Commercial Pedestrian Street where you can find several malls.

There are some great attractions, such as Mt. Hengshan, Human Culture Landscape and Shigu Academy.

Asked by Frank from USA | Feb. 20, 2018 11:18

Reply
are Changning and Leiyang City a part of Hengyang, Hunan, China
Is Changning and Leiyang City in Hengyang County? Having difficulty reading and understanding this location. Also what districts are in Hengyang City please?
Answers (1)
Answered by Linda from ITALY | Feb. 23, 2018 01:45

0

0

Reply
Yes, they are part of the HY City. It's consisted of 5 districts, 5 counties, and the two cities mentioned. Districts: Zhengxiang, Shigu, Yanfeng, Zhuhui, and Nanyue District. Counties: Hengnan, Hengyang, Hengshan, Hengdong, and Qidong County.
Asked by Frank from CHINA | Feb. 20, 2018 11:14

Reply
Is there some place to get a map with the local attractions for Hengyang, Hunan, China?
I've tried to zoom in on my map, but none seem as good as google maps in the USA. I'm not from Hengyang, but am visiting and would like to find local attractions. I am not sure what I'd be interested in since I don't know what my many options are.
Answers (1)
Answered by Linda from ITALY | Feb. 23, 2018 01:40

0

0

Reply
That tourist map can be bought at the stores near the railway stations, you can have a check after arrival. Besides, you can also use Amap or Baidu Map for online searching.
Asked by Sasha from SLOVENIA | Jan. 23, 2018 12:43

Reply
From Guilin to Hengyang to Mt. Hengshan
Hi, I am planing to travel from Guilin to Mt. Hengshan so I saw that I can take train to HY East. Can somebody please tell me which bus I have to take next to get to the mountain?
Answers (1)
Answered by Nigel from UK | Jan. 23, 2018 19:03

1

0

Reply
You are suggested to take bus 137/171 to Zhongxin Qiche Zhan, which is a bus station and from where you can take a regular bus to Nanyue, the mountain.