Hengyang Travel Guide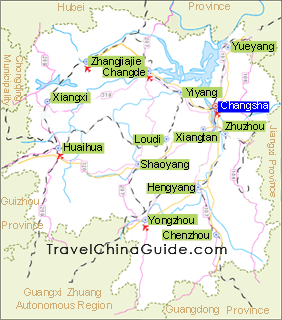 Location: Lying in the middle reaches of Xiangjiang River and to the south of Mt. Hengshan in Hunan Province, Hengyang is a historically significant city renowned as the 'Bright Pearl in Southern China.'



Administrative Division:
There are five districts, two cities and five counties under Hengyang City's governance.
Districts: Nan Yue; Yan Feng; Zhu Hui; Shi Gu and Zheng Xiang.
Cities: Changning and Leiyang.
Counties: Hengnan; Hengyang; Hengshan; Hengdong and Qidong.

Hengyang is also known as 'Wild Goose City' because flocks of wild geese flying south for the winter have been known to stop there to rest. Due to its advantageous location adjacent to Guangdong Province and near the Xiangjiang River, the city has been a major commercial center since ancient times.

During its thousand years' history Hengyang has been the birthplace of many famous people. Important historical figures include the poet Du Fu and Han Yu; the inventor of paper making Cai Lun and the revolutionist Luo Ronghuan.
North of Hengyang is the popular tourist area of 'Nan Yue (southern mountain)'. Its most prominent topographical feature is Mt. Hengshan. Mt. Hengshan is the southern mountain of China's Five Sacred Mountains and symbolizes the co-existence of Buddhism and Taoism. It is also known as 'Longevity Mountain' and is the core scenic spot in the region.
1. By air: Hengyang Nanyue Airport is located Yunji Town, Hengnan County. Flights to/from Beijing, Kunming, Shanghai, Xian, Sanya and Chongqing are available.

2. By train: Hengyang Railway Station, East Railway Station and North Railway Station are in service.

3. By bus: The major bus stations are Central Bus Station, Linghu Bus Station, Huaxin Bus Station, South Bus Station and Wangjiang Bus Station.
Highlights: Hengyang is the second largest city in Hunan with a population of over seven million. It is an agriculturally prosperous area with an abundance of seafood and rice. It is also very rich in natural resources including coal, zinc and lead. And it is one of the emerging industrial cities in China.

Tour Information: Hiking Adventure