China Embassy in Bolivia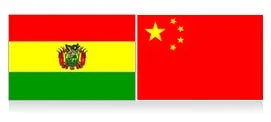 Ambassador: Mr. Huang Yazhong
Address: Calle 1, No. 8532, Los Pinos, Calacoto, La Paz, Bolivia (Casilla No.10005)
Tel: +591-2-2793851/2792902
Fax: +591-2-2775791
Email: chinaemb_bo@mfa.gov.cn
Consular Office (for Visa & Overseas Chinese)
Tel: +591-2-2793851 ext. 705
Office Hours:
For application: 09:00-12:00 on Monday, Wednesday, and Friday
For collection and payment: 09:00-12:00 on Tuesday and Thursday

Details about applying a visa in Bolivia, refer to How to Apply A Chinese Visa?
Sections of Chinese Embassy in Bolivia
Administrative Office
Tel: +591-2-2793851, 2792902
Defense Attaché Office
Tel: +591-2-2793851
Commercial Office
Address: Calle 11, No.7825, Calacoto Casilla 22532 (Obrajes) La Paz
Tel: +591-2-2111011, 2119219
Fax: +591-2-2797577
...................................................................................................................................................................
Consulate-General of the PRC in Santa Cruz
Consul General: Mr. Wang Jialei
Address: Calle Los Jasmines, No. 511, Sirari, Santa Cruz, Bolivia
Mailing Address: Calilla No.264, Santa Cruz, Bolivia
Tel: +591-3-3444109, 3445141
Fax: +591-3-3445694
Email: chinaconsul_sc_bo@mfa.gov.cn

Religion: Roman Catholicism

Climate: Temperate Climate

Language: Spanish is the official language; Quechua and Aida Marathi are the main ethnic languages.

People: It has a population of 9,427,000 with 54% Indians, 31% Mestizo and 15% whites. The country has an urban population of about 6,213,000, accounting for about 65.9% of the total population, 3,214,000 rural people make up another 34.1 percent.

Geography: Lies in the central section of South America, Bolivia is 1,098,581 square kilometers in area. It is a landlocked country, bounded in the northeast by Brail, in the southeast by Paraguay, in the south by Argentina, in the southwest by Chile and in the west by Peru.

Tourism: The basic facilities for tour are relatively backward. In recent years, Bolivia attaches more importance and efforts to develop tourism. Now there are 836 hotels at all levels all over the country can accept more than 30, 000 tourists. The major scenic areas are Lake Titicaca, Colonial Relics, Jesus Missionary Regions and the Amazon areas

Please contact Embassy of Bolivia in China if Bolivian Citizens are in problems there.



Related China Embassies in South America: Brazil, Chile, Colombia
- Last updated on Mar. 28, 2023 by Brenda Lian -
Questions & Answers on China Embassy in Bolivia
Asked by Nguyen Thanh Tung from VIETNAM | Nov. 03, 2016 21:29

Reply
How do get Bolivia Visa?
Dear Bolivian Consulate in China!
My group (4 people) is Vietnamese. We have a trip around South America at March/2017. At present we had visa of Peru, Brazil, Chile. But we don't have visa of Bolivia because Bolivia do not have Consulate in Vietnam. So I ask to you, how do we get tourist visa of Bolivia?. In our itinerary, we'll go to Bolivia by bus from Puno. Can we get direct Bolivia Visa by road in Bolivia border gate?
Do you require conditions when our enter to your country?
Please respond soon for me because we are looking forward to visit your beautiful country.
Thanks and best regards!
Answers (2)
Answered by Jesse from AUSTRIA | Nov. 04, 2016 20:47

1

0

Reply
Nguyen, you are advised to contact with the embassy of Bolivia in person and inquire about that. Tel: 86-010-65323074
Answered by Nguyen Thanh Tung from VIETNAM | Nov. 06, 2016 00:57

0

0

Reply
Thank you!
Asked by Asuncion Gretty Rosales from BOLIVIA | Aug. 02, 2016 06:15

Reply
My Bolivian passport has a water mark in my passport picture
and the Chinese embassy does not want to process my visa aplication I have luggage in Xi'an that I need to collect from the Hostel Ancient xian Hostel in Lihuan Would you please help me. my name Gretty Rosales from Cochabamba Bolivia I am desperate I have never been in this situation. Passport number 775 795

Thanks a million for any imput
Answers (1)
Answered by Belle from AUSTRALIA | Aug. 03, 2016 02:50

0

0

Reply
You can renew your passport first and then apply a visa for China. Or you can contact the hostel and see if they can mail your luggage to you.
Asked by Al from USA | Aug. 24, 2014 12:09

Reply
wanted to know if I can apply for a Chinese VISA in Bolivia so I can fly out to go to Shanghai.
Good afternoon!
I am currently traveling in South America at the moment and will be in Bolivia next month. Thanks in advance! Best regards, Al
Answers (1)
Answered by Andy from BAHRAIN | Aug. 25, 2014 03:44

0

0

Reply
AL, I checked the website of Chinese embassy in Bolivia. There is no information that applicants from the third countries can apply in Bolivia. So it's hard to tell whether you can apply or not. You may contact the embassy to confirm this.
Tel: 00591-2-2793851/2792902
Emai: chinaemb_bo

mfa.gov.cn
Asked by Charlie Kellogs from UNITED KINGDOM | Jun. 08, 2014 17:44

Reply
UK Citizen applying for double entry chinese visa in Bolivia
Hello,
I am travelling around South America over the next 4 months and would like to apply in la paz. I am a UK citizen. Is it possible to get it in la paz? Thanks for your help
Answers (1)
Answered by Kelly from USA | Jun. 09, 2014 03:25

0

0

Reply
Frankly speaking, you can apply but there is no guarantee that you will get it successfully. If you fail, then you may fly to HK and apply there. It's much easier to apply in HK, I guess.