China Embassy in Brunei

Visa Application Form of PRC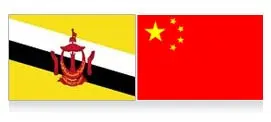 Ambassador: Ms. Yu Hong
Address: No.17 Simpang 465-7, Jalan Muara, Sungai Hanching, Bandar Seri Begawan, BC 2115, Bandar Seri Begawan
Tel: +673-2334163
Email: consulate_brn@mfa.gov.cn
Website: http://bn.china-embassy.org/eng/
Consular Office of Chinese Embassy in Brunei
Address: No.17, Simpang 465-7, Kampong Sungai Hanching, Jalan Muara, Bandar Seri Begawan BC2115, Brunei Darussalam
Tel: +673-2334163, 332755
+673-28960711 (for Consular Protection)
Fax: +673-2335380
Office Hours: 09:00-12:00, Monday-Friday (except holidays)
The Map of the Embassy
Address: No.1, Simpang 462, Kampung Sungai Hanching Baru, Jalan Muara, BC 2115, Bandar Seri Begawan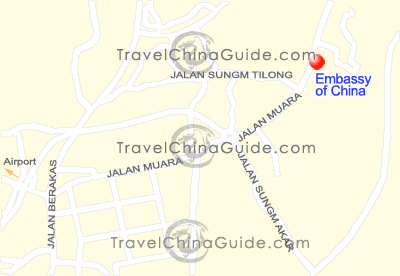 Visa Exemption
No visa is required for ordinary passport holders from Brunei to visit China for up to 15 days for sightseeing, doing business, visiting relatives and friends or transit. Passengers shall enter into, exit from or transit through the Chinese ports open to international travelers.
For diplomatic passport or Official passport holders, ordinary passport holders who intend to stay for more than 15 days or intend to study, work, reside or gather news, they are also required to apply for visas before visit.
Fees
Regular Fee per Person
| Types | brunei Citizens | American Citizens | Citizens of Other Countries |
| --- | --- | --- | --- |
| Single-Entry with 3-month Validity | BND 20 | BND 200 | BND 55 |
| Double-Entry with 6-month Validity | BND 30 | BND 200 | BND 80 |
| Multi-Entry with 6-month Validity | BND 40 | BND 200 | BND 110 |
| Multi-Entry with 12-month Validity | BND 60 | BND 200 | BND 165 |
| Hong Kong Visa | BND 50 | BND 50 | BND 50 |
Note: Hong Kong Visa is a double-entry and its duration of each stay in Hong Kong is 7 days or 14 days.
Expedited Service Fee per Person
The regular processing time is 4 working days. For urgent cases, the expedited service is available. Moreover, additional fees will be paid as following:
1 working day processing
(Application should be submitted before 10:00, then it can be picked up on the same day)
BND 55
2-3 working days processing
BND 40

Please contact Embassy of Brunei in China if this country's people are in troubles there.



Related Chinese Embassies in Asia:
Cambodia
,
Georgia
,
India
- Last modified on Oct. 28, 2020 -
Questions & Answers on China Embassy in Brunei
Asked by Michael from BRUNEI | Jul. 07, 2020 18:59

Reply
IS IT POSSIBLE FOR FOREIGNERS TO TRAVEL TO CHINA FOR BUSINESS IN SEPTEMBER 2020?
There is a possibility of vessel inspection in preparation for vessel working in Brunei. The vessel is in Chnagzhou and we would like to enquire if it is possible to arrange for this inspection tentatively around September 2020.
Answers (1)
Answered by Cindy from AUSTRALIA | Jul. 13, 2020 00:24

0

0

Reply
Michael, you can contact the Chinese embassy in your country to see if they can issue you a special visa.
Asked by Jonathan Birkin from UK | Apr. 16, 2020 20:47

Reply
Can a Chinese friend visit Brunei
I have a friend who would like to travel from Chengdu to Brunei. What happens when he arrives here? Do they have to self-isolate for 14 days? Can he get a visa longer than 14 days?

Thanks
Answers (1)
Answered by Thomas from UNITED KINGDOM | Apr. 19, 2020 19:50

0

0

Reply
Jonathan, you contact the Brunei embassy in China to ask this question.
Asked by Loretta Lee from BRUNEI | Mar. 21, 2020 23:50

Reply
Brunei ici passport on transit at hongkong airport for more than 12 hours , do they require a visa?
Answers (1)
Answered by Melisa from HUNGARY | Mar. 23, 2020 00:27

0

0

Reply
Visa is not required.
Asked by Farez from MALAYSIA | Nov. 05, 2019 22:30

Reply
Visa to process
For a Malaysian with a valid working permit in brunei, can the visa be processed in a day assuming all the necessary doc is in order
Answers (1)
Answered by Vera from BRUNEI | Nov. 06, 2019 19:08

0

0

Reply
Yes, if you submit the application before 10:00 am and you get the urgent service, you can have the visa done in one day.