China Embassy in Kuwait

Visa Application Form of PRC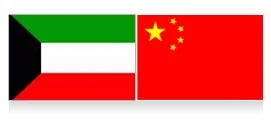 Ambassador: Mr. Li Minggang
Address: No. 82, Street 1, Block 4, Yarmouk, Kuwait City
Mailing Address: P. O. Box 2346 Safat, 13024
Tel: +965-25333340, 25333342
Fax: +965-25333341
Email: chinaemb_kw@mfa.gov.cn

Economic and Commercial Counselor's Office of Chinese Embassy in Kuwait
Address: No. 8 House, Street 47, Block 4, Kaifan
Mailing Address: P. O. Box 25713 Safat, 13118 Kuwait
Telephone Switchboard: +965-4822816, 24822817
Fax: +965-24822867
Email: kw@mofcom.gov.cn
Office Hours: 8:30 a.m.-2:00p.m. Sun.-Thu.

Visa Application
Details on How to Apply a Chinese Visa?



People: The total population of Kuwait is 3,050,000. People with Kuwait nationality account for 38 percent, and foreign nationals account for 62 percent, such as Palestinians, Pakistanis, Arabs, Iranians, Egyptians and Indians.



Language: Arabic is the official language and English is the universal language.



Religion: Islam is the state religion with 70% Sunni and 25% Shiites.



Geography: Kuwait covers an area of 17,818 square kilometers. Lies in the west of Asia, it borders on Iraq in the west and north, Saudi Arabia in the south and Persian Gulf in the east with a coastline of 213 kilometers. There is fluvial plain in northeast area and deserts in the rest region.



Climate: Tropical desert climate, hot, dry. The summer lasts as long as six months, and the temperature can reach as high as 80 degrees Celsius.



Custom: Because it is an Islam country, pork and any alcoholic beverage are forbidden to eat or drink. The important festivals include National Day on February 25, Liberation Day on February 26, Id al-Fitr (end of Ramadan) and Id al-Adha (Feast of the Sacrifice)



Main Attractions: Grand Tower, Science and Technology Centre, National Museum and Green Island. The high tourist season is from November to April of the next year. The major star-rated hotels here are Sheraton Hotel, Marina Hotel, Crowne Plaza, Marriott Hotel, Marriott Garden Hotel, Palm Beach Hotel, SAS Hotel and Switzerland Hotel.



Please contact Embassy of Kuwait in China if Kuwaitis are in troubles there.



Related China Embassies in Asia: Kyrghyz, Lao P. D.R, Lebanon
- Last modified on Apr. 26, 2021 -
Questions & Answers on China Embassy in Kuwait
Asked by Anand from INDIA | Apr. 20, 2021 02:49

Reply
Is it possible to get China work visa (Z visa) from Kuwait for Indians?
Answers (1)
Answered by Justine | Apr. 26, 2021 00:01

0

0

Reply
Some consular offices do not accept applications from temporary visitors in a third country. Are you a temporary visitor or a permanent resident in Kuwait? If you have a residence permit or work permit in Kuwait, it might be easier for you. Take along your passport, a filled application form, a recent photo, your work permit or invitation letter from China, and go to China Embassy in Kuwait to do the application. Good luck!
Asked by Miriam Doronio from PHILIPPINES | May. 10, 2020 05:22

Reply
How much is the cost of Chinese tourists visa im here in Kuwait now but I'm a pilipina
Answers (1)
Answered by Elena from KUWAIT | May. 11, 2020 01:15

0

0

Reply
If you apply for a single-entry tourist visa from the Chinese visa application center in Kuwait, the fee is KWD 38.
Asked by Scott McKee from KUWAIT | Sep. 19, 2019 00:51

Reply
I'm a US passport holder working in Kuwait, is it possible to get chinese tourist visa for vacation?
I am in possession of a Kuwait civil ID, Kuwait Drivers license... What else do I need besides the completed visa application and photo?
Answers (1)
Answered by Bonny from KUWAIT | Sep. 22, 2019 22:59

0

0

Reply
Yes, it's possible. Besides the form and photo, you need to submit passport, Kuwait residency permit, and documents showing the itinerary including air ticket booking record (round trip) and proof of a hotel reservation, etc.
Asked by Alexander from MALAWI | Sep. 05, 2019 18:13

Reply
Visiting China
I am a Malawian residing in kuwait,I wanted to go to china for a Visit;There after i will fly to my country Malawi and come back to kuwait.Is it possible to do so and what requirements do i have to submit to china embassy?
Answers (2)
Answered by Mike from SINGAPORE | Sep. 08, 2019 19:43

0

0

Reply
yes, you could apply at Kuwait. You will need your passport, the completed visa application form with a photo, the valid certificates of your residence in Kuwait, the air ticket booking record of your entry and leaving and proof of a hotel reservation.
Answered by Alexander from MALAWI | Sep. 10, 2019 14:43

0

0

Reply
Thank you so much,In that case where can i get the Visa Application forms.And am i supposed to buy an air ticket first before having the Visa?