Chinese Embassy in Norway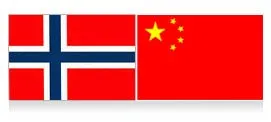 Ambassador: Mr. Yi Xianliang
Address: Tuengen Allé 2B, 0244 Oslo, Norway
Tel: +47-22492052
Fax: +47-22921978
Email: webmaster@chinese-embassy.no
Website: http://www.chinese-embassy.no/eng/

Consular Office of Chinese Embassy in Norway
Address: Holmenveien 5, Vinderen, Oslo, Norway
Tel: +47-22490570 (available between 14:00-15:00 on working days); +47-22148908
Fax: +47-22920677
Office Hours: 09:00-11:30, Monday-Friday (except holidays)
Email: visa@chinese-embassy.no; consular@chinese-embassy.no
China Visa Application Service Center in Oslo
Address: 2nd floor, Sørkedalsveien 10D, 0369 Oslo, Norway
Call: +47 22463003
E-mail: oslocenter@visaforchina.org
Working Hours: Monday to Friday
Application Submission: 9:00 - 15:00
Collection: 9:00 - 16:00
Fees
Regular Visa Fees per Person (Unit: NOK)
Citizen
Entries
Regular (4 working days)
Express (3 working days)
Schengen Countries

Single-Entry

600
850

Double-Entry

Multi-Entry (6 months)

Multi-Entry (12 months)

Third Country

Single-Entry

350
600

Double-Entry

550
800

Multi-Entry (6 months)

900
1,150

Multi-Entry (12 months)

1,150
1,400
USA
Single/ Double/ Multi-Entry
1,191
1,441
Romania

Single-Entry

638
888
Double-Entry
851
1,101

Multi-Entry

1,276
1,526
Canada

Single/ Double/ Multi-Entry

620
870
Note: For people holding Norwegian passport, they are exempt from Hong Kong Visa/Entry Permit if they enter Hong Kong for business or a short tour and stay in Hong Kong for not more than 3 months.
Application Service Fee Charged by the Center (Unit: NOK)
| | |
| --- | --- |
| Regular Service | 600 |
| Express Service | 900 |
| Return by Postal Service (only for regular service) | 900 |
Note: All fees should be paid with debit cards or cash at the time of pick-up.
Important Notice on Applying for L

Part 1: For tourism or visiting friends, Norwegian citizens are required to submit the following documents:
1. An Invitation Letter issued either by your friend residing in China, which indicates the relationship between the inviter and the invitee, the purpose of this trip, and the inviter's contact information, i.e. resident address, mobile or home phone number. The inviter's signature is required; or
2. An Invitation Letter issued by a Chinese Travel Agency, which indicates the purpose of this trip, the company's contact information i.e. office address, telephone number, etc. The company's registration stamp or the signature from the person in charge is required as well.
If you do not have invitation letter, you should provide the travel plan, including your arrival and departure date, cities name, your activities in each city etc., and the round-trip flight booking record, and hotel booking reservation of the main cities.

Part 2: For visiting family members who work or study in China, please provide an Invitation Letter from your family member; and documents clarifying the relationship between you and your family members, i.e. marriage certificate or familybevis, and copies of your family member's resident permit, the aliens' employment permit and Z or X.
In addition, for non-EU citizens who is studying, working or residing in Norway, a copy of valid Residence Permit or Visa issued by UDI or Police Station of Norway, and Employment certificate issued by a Norwegian company are required; For EU citizens without Norwegian Resident Permit, please submit a copy of identity documents issued by Norwegian authorities, i.e. Norwegian bank ID card, Norwegian driver's license and Employment certificate issued by a Norwegian company, or the Registration letter from a Norwegian school.

For non-Norwegian citizens who are temporarily traveling or visiting Norway, you are suggested to apply in your home country in advance, or contact the embassy in Norway for further information (email: consular@chinese-embassy.no, visa@chinese-embassy.no)

More detailed information of application can be found on How to apply visa in your country?

The Map of the Embassy
Address: Tuengen Allé 2B, 0244 Oslo, Norway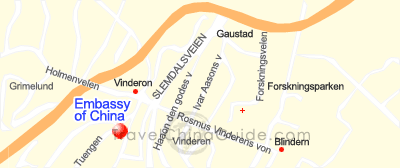 Please contact Embassy of Norway in China if Norwegians are in problems there.

Recommended Tours:
11 Days China Tour from Oslo Norway
: to Kunming, Dali, Lijiang, Shangri-La
6 Days China Tour from Oslo Norway
: to Beijing

Related China Embassies in Europe: Poland, Portugal, Romania
- Last updated on Mar. 31, 2023 by Brenda Lian -
Questions & Answers on Chinese Embassy in Norway
Asked by Kat from NORWAY | Jan. 05, 2020 08:27

Reply
Visa application from Trondheim
Hello, I am a German citizen living in Trondheim and want to go to China for a week long vacation in the summer. I see it says the mail service has ceased but I do not want to fly to Oslo to submit my visa application if I do not have to. Is it possible to submit and collect it another way? Thank you.
Answers (1)
Answered by Derek from NORWAY | Jan. 06, 2020 01:03

0

0

Reply
Kat, you can submit the application in person but you can use the post-return service so that you only need to go to the visa center in Oslo once.
Asked by Ana McQuinn from UNITED STATES | Nov. 23, 2019 08:01

Reply
US passport in Norway; need Chinese visa
I am a US passport holder currently traveling in Norway. Is it possible to get a Chinese visa at the Chinese embassy in Oslo? If so, what is the quickest that it could be processed?
Thank you
Ana
Answers (1)
Answered by Lexi from NORWAY | Nov. 24, 2019 22:43

0

0

Reply
It's possible. The quickest precessing time is 3 working days.
Asked by Jeno Asztalos from NORWAY | Sep. 06, 2019 02:25

Reply
Visa application
Hi , I live and work in Norway, I'm Hungarian ethnicity and citizen as well but also Romanian citizen, I have only Hungarian passport , can I apply for visa in Norway for China?
Answers (1)
Answered by Norman from GERMANY | Sep. 08, 2019 20:24

0

0

Reply
yes, you could apply in Norway.
Asked by alinka from NORWAY | Aug. 29, 2019 11:08

Reply
Appointment for Visa Application Submission (AVAS)
hi, I'm trying to get an appointment in EMBASSY OF P.R.CHINA IN NORWAY. But the nearest available date is 1 of January (today is 29 of august).
how can I get time for applying at least in one month?
Answers (1)
Answered by Wendy from NORWAY | Aug. 30, 2019 00:14

0

0

Reply
If you book an appointment, you cannot choose the nearby dates as they are fully booked. Therefore, I advise you to call the embassy to see whether they will allow you to submit the application without making an appointment.
Asked by Thy from NORWAY | Jul. 02, 2019 08:52

Reply
Vietnamese passport holder living in norway
hi i am a vietnamese citizen living in norway, having a permanent residence permit? Do i need to have visa to hong kong on vacation? If yes? Can i do it online?
Answers (1)
Answered by Kate from USA | Jul. 03, 2019 18:34

0

0

Reply
Thy, you are required to have visa to Hong Kong. Plus, you can't apply online. You can apply at Chinese Embassy in Norway, or submit the application to Hong Kong Immigration by mail.