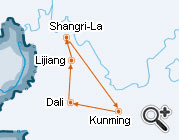 Yunnan Minority
B-KM02: 11 Days China Tours from Oslo Norway to Kunming

Dali

Lijiang - Shangri-La

Kunming
Although there is no direct flight between Norway and China, people who would like to take China holiday tours from Norway can arrive popular tourist cities in China by connecting flights. To visit Yunnan in Southwest China, we suggest you take Thai Airways International flight TG955 1415/0615+1 from Oslo to Bangkok first, have a 4-hour stopover there, and then transit to the flight TG612 1050/1405 to Kunming. The duration for the two flights including the stopover is about 18 hours. Alternatively, you can fly to Paris from Oslo by Scandinavian Airlines flight SK835 0800/1020 and then transit to China Eastern Airlines flight MU774 1530/0840+1. In this case, you will arrive in Kunming after a 18 hours and 40 minutes journey. Due to the long flights, you will get to Kunming the next day for either option.

Tips: Generally speaking, there is no clear distinction between the four seasons in Kunming, Dali and Lijiang. The average annual temperature ranges from 12°C to 19°C, namely from 54°F to 66°F. Since the weather and temperature in Shangri-La varies greatly, you'd better take a warm coat and trousers. The climate is comparatively dry, so drinking extra water is good for your health. Also suntan lotion, hat and sunglasses are necessary.
Stone Forest, Kunming
Upon arrival at Changshui Airport, please use your own way to reach the hotel already booked. TCG suggests you choose the 3-star Jinjiang Hotel located at the prosperous Beijing Road, near Kunming Railway Station. At the airport, you can take the shuttle bus line 2-B to the hotel directly, which takes about 40 minutes and costs CNY25. If you travel with big luggage, taking a taxi will be an easier way, and the fare would be about CNY80.

In the rest of the day, you can have a good rest in the hotel to relieve yourself from the jet lag. Or you can head to the Jinma and Biji Archways, which is also near the city center, about 2.2 miles from your hotel, and you can get there by taxi at a cost of CNY12. With a history over 400 years, the area around the archways now is a bustling street clustered with restaurants and shops. You can take a relaxing stroll and then have your meal there before returning to the hotel.

Accommodation Suggestion: Jinjiang Hotel - B Tower
Stone Forest
, reputed as no. 1 attraction in Kunming, marks a good beginning of your China tour from Norway. Check out of the hotel early and deposit your luggage at the reception desk. Stone Forest is about two hours' driving from Kunming downtown. Take a taxi costing about CNY35 from the hotel to East Coach Station, where you can take the direct bus going to the scenic area. The bus is available from 7:00 to 19:00, operating at an interval of 30 - 40 minutes. The bus ride is about two hours, and the ticket fare is CNY27 per person.
The recommended visit time for Stone Forest is about 4 hours, which is enough for you to discover the wonder of karst. After that, take the same bus back to Kunming and take a taxi back to your hotel. Have your supper at one of the nearby restaurants and retrieve your luggage for the onward overnight train to Dali. Kunming Railway Station is about 500 yards to the south of the hotel. Just walk southward along the Beijing Road; you will reach the station square. You should reach the train station 2 hours before the train's departure to collect the train ticket. The train K9632 (22:37/6:23) and K9692 (23:15/7:05) are good choices for you to continue this China backpacking route. You are suggested to book the soft sleeper train tickets in advance, for the tickets may be in great need in travel peak season.
Accommodation: Overnight soft sleeper train
Three Pagodas, Dali
After arrival in Dali, you are suggested to deposit your luggage in the railway station, and then head to the
Er'hai Lake Park
by taxi. The lake is less than one mile to the train station, and the cab fare is about CNY8. After two or three hours sightseeing, just take a taxi back to the train station and retrieve your luggage.
You are advised to check in the 3-star Landscape Hotel, which is located at Yuer Road inside the
Dali Ancient Town
. From the train station, you can take the bus Santa Special Line and get off at Remin Lukou. And then walk north for 100 yards, and turn right to Huguo Road for another 500 yards forward, you will find the hotel on your left side. If you take a taxi, it would cost about CNY50. After check-in, have your lunch in one of the nearby restaurants.
After that, continue your exploration in the ancient town. Fuxing Road, Renmin Road, Foreigner Street, and Wuhua Tower are worthy your visit. Afterwards, proceed to the
Three Pagodas
of Chongsheng Temple, which is about one mile outside the north entrance of the ancient city. You are suggested to take a horse-drawn carriage to the Three Pagodas, and the fare is cheap, about CNY10. After returning to the ancient city, if you are still dynamic, just go to Foreigners Street that clustered with bars and restaurants. Just select one for your dinner and enjoy a drink in one of those bars.
Accommodation Suggestion: Landscape Hotel
You are going to take a train to Lijiang this afternoon, so seize the morning to visit the
Yan's Compound
in Xizhou Town. Check out and deposit your luggage at the reception center of the hotel. Take a taxi to Yan's Compound directly, with a fare of CNY40 and a drive of 30 minutes.
Two hours is enough to sight-see the compound, and you are supposed to reach the railway station about 2 hours prior to the train's departure. Thus, take a taxi back to the hotel and retrieve the luggage at noon. Then continue the taxi ride to the railway station for the onward train. You are suggested to take the train No. K9619, which departs at 15:30 and reaches Lijiang at 17:23. In travel peak seasons, the train tickets between Dali and Lijiang are in great need, so you would better book the tickets in advance. TravelChinaGuide provides considerate booking service with the lowest service fee, which would be the best choice for you.
Upon arrival at Lijiang Railway Station, you should head for your hotel first. Most highly recommended hotels are clustered inside Lijiang Old Town, and we suggest you check in the 3-star Sanhe Inn located in the north of the old town. The hotel is designed in typical Naxi Minority courtyard style, full of exotic air. Take a taxi from the railway station to the hotel at a cost of CNY40.
Accommodation Suggestion: Sanhe Inn
Local women in Baisha Village, Lijiang
In the morning, take a relaxing stroll along the lanes and streets in the
old town
. Touring around, you are able to view a lot of old local dwellings. The Mu's Residence and Black Dragon Pool are worthy visit. For eating and drinking, you should go to Sifang Street, where you will have superb choices.
In the afternoon, you are suggested to pay a visit to
Baisha Village
, about 7 miles from the Lijiang Old Town. Near the Red Sun Square, there are a lot of bike rental sites, and you can rent a bicycle and ride to Baisha Village. The village is renowned for murals, and you should not miss that. What's more, you can witness the authentic life of the Naxi People and appreciate their culture.
If your physical stamina is in good condition, just challenge yourself by hiking the
Tiger Leaping Gorge
, one of the most popular hiking destinations in China. Tiger Leaping Gorge is a large area, covering three hiking sections, and today we suggest you finish upper part, which is easier.
Take a taxi from the hotel to Lijiang Coach Bus Station, and the fare is about CNY10. In the bus station, there are two direct buses going to the Upper section of Tiger Leaping Gorge, leaving at 8:00 and 8:30. The driving distance is about 55 miles, and the duration is about 2 hours.
After returning back to Lijiang, we advise you continue your journey to
Shuhe Ancient Town
. The best way is to take a taxi to cover the 4 miles' distance, and the fare is about CNY20. In the ancient town, there are a lot of fancy restaurants and you can choose one to have your supper. Take a taxi back to the hotel after two to three hours' stay.
Day 8
Lijiang - Shangri-La
Potatso National Park, Shangri-la
Check out of the hotel and take a taxi at a cost of CNY10 to Lijiang Gaokuai Coach Station, where you will connect a bus to Shangri-La. The bus is available at 8:20, 9:30, 10:30, 13:00, 14:30 and 15:30. The bus fare is CNY63 per person and the duration is about 4 hours. Besides, you are suggested to get to the bus station early to buy tickets.
When you arrive in Shangri-la, take a taxi to your hotel to leave your luggage first. The 3-star Moonlight City Hotel is highly recommended by tourists, which is also the option we would suggest. The taxi fare is no more than CNY10. After a short rest, take a taxi to
Songzanlin Monastery
at a cost of CNY10. After two hours visit, a taxi ride from the monastery to the hotel may take 10 minutes and cost about CNY10.
Accommodation Suggestion: Moonlight City Hotel
For today's itinerary, you are suggested to spend a whole day to enjoy the enchanting
Potatso National Park
. It is the highlight of your China Yunnan tours from Oslo. Potatso landscape includes four picturesque scenic areas, including Shudu Lake in the north, Bita Lake in the south, Ecological Culture Village of Luorong People and the Militang Alpine Pasture between those two lakes. These scenic areas are linked with a 42 miles long one-way driveway, and there are frequent sightseeing buses in operation. You can get off at any designed spots that you want to explore further, and board on the bus again for the next spot. An entire bus sightseeing tour takes 4 to 6 hours.
Transportation: Potatso National Park is situated 15 miles from Shangri-la County. There are three travel modes for your option: 1. There is one bus available in Shangri-La Coach Station, leaving at 9:30 and returning at 15:00. The bus fare is CNY15 per person and the bus ride is about 30 minutes. 2. You can take a taxi from the hotel to the park directly, and a single trip costs CNY80. 3. If you want to hire a car for a whole day service, the fare would be around CNY300 per day.

Friendly Tips
Bitahai Lake Scenic Area is closed for repairing, and the reopening time is unclear.
Day 10
Shangri-La – Kunming
A local market
Check out of the hotel and take a taxi from the hotel to Diqing Shangri-La Airport for your onward flight to Kunming. The cab fee is about CNY25. When you land the Kunming Changshui Airport, take a taxi or the shuttle bus line 2-B to Jinjiang Hotel and check in again. Then explore the city on your own in the rest of the day. You can visit either
Grand View Park
or
Green Lake Park
for a leisure walk, or hunt for delicacies at Nanping Pedestrian Street. All these spots are within 3 miles from your hotel, so taking a taxi to tour around would be a wise choice.
Accommodation Suggestion: Jinjiang Hotel - B Tower
Your 11-day China tour from Oslo comes to an end today. You should check out of hotel before 12:00 and head to Changshui Airport for your onward flight. The best route to return to Oslo Norway is to make a transit in Bangkok or Pairs. If you choose Bangkok, you are advised to take the flight TG613 1520/1630, with a stopover of 8 hours 25 minutes and then transfer to flight TG954 0055/0725 back to Oslo. If you take Paris as your transfer city, please take flight MU773 0010/0650 with a stopover of 4 hours 10 minutes, and then connect to flight SK830 1100/1315 to return to your country. Wish you a safe journey home!
Need detailed infomation on train, flight or bus/ metro schedule? Use the search tool below.
If the above route does not meet your requirements, you could DIY an itinerary by choosing daily guided tours, free days, hotels, trains and/or flights freely. Our estimated quotation can be a reference for your independent travel.

Similar Guided Itinerary:
Yunnan Minority: 8 Days Private Kunming - Dali - Lijiang - Shangri-La starting from $949