China Embassy in Tunisia

Visa Application Form of PRC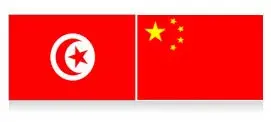 Ambassador: Ms. Li Beifen
Address: 22, Rue du Docteur-Burnet, Belvedere, Tunis, 1002, Tunisia
Tel: +216-71780064, 71792107, 98463848 (mobile phone)
Fax: +216-71792631, 71841651
Office Hours: 08:30-12:30, 15:00-18:00, Monday-Friday (except July & August)
08:30-12:30, Monday-Friday (July & August)
Email: chinaemb_tn@mfa.gov.cn
Sections of Chinese Embassy in Tunisia
Sections
Information
Political Counselor
Chief: Cao Weidong
Tel: +216-71802262
Defense Attaché Office
Chief: Zhou Qi (Senior Colonel)
Tel: +216-71782346
Economic & Commercial Office
Chief: Liu Baogui (Counselor)
Address: 8, Rue Ahmed El Gharbi Belvedere, Tunis 1002
Tel: +216-71845031, 71845805, 71846266
Fax: +216-71841996
Email: bcec.ambachine@email.ati.tn
Cultural Office
Chief: Liao Bing (Counselor)
Tel: +216-71798626
Political Office
Chief: Jiang Feng (First Secretary)
Tel: +216-71802262
Administrative Office
Chief: Xu Jiawei (First Secretary)
Tel: +216-71792107 (for Consular Affairs)
+216-71795488 (for Administrative Affairs)
Holidays of Chinese Embassy
| Holidays | Days Off |
| --- | --- |
| New Year's Day | One |
| Chinese New Year (Spring Festival) | Three |
| Labor Day | Three |
| Chinese National Day (October 1) | Three |

Brief Intro
Tunisia is located in northern Africa, adjacent to the Mediterranean Sea in the north and east. It has subtropical Mediterranean Climate in its north region, featuring torrid and dry summer, warm and humid winter. In the central and southern parts, it is tropical savanna and desert climates.
Land Area: about 164,150 square kilometers (63,379 square miles)
Capital: Tunis
Time: It is 1 hour earlier than GMT and 7 hours later than Beijing Time.
Official Language: Arabic (French are also spoken.)
Major Religions: Islam
Currency: millime, Tunisian dinar

Holidays:
New Year's Day (January 1), National/Independence Day (March 20), Youth Day (March 21), Martyrs' Day (April 9), Republic Day (July 25), Women's Day (August 13)
Religious festivals: Beginning and end of Ramadan (respectively 2 days off), Islamic New Year and Birth of the Prophet (respectively 1 day off)

Notices for Chinese Going to Tunisia
1. Materials requested to apply for a business visa: 2 pieces of passport photos, two copies of application forms, passport with more than 3 months validity, certificate of dispatch, the invitation letters, documents to show hotel, airport ticket and the fare for CNY50.
2. Materials requested for travel visa: 2 pieces of passport photos, two copies of application forms, passport with more than 3 months validity, documents to show hotel, airport ticket, the letter from travel agency, certificate of deposit and the fare for CNY50. It has 3-month validity with the stay duration of 7 and 15 days.
3. Business visa can usually run for three months, allowing people to stay for 7, 15, 30, 60 and 90 days according to the need.
4. Tunisian currency more than 1,000 dinars are not allowed to take out of the country.

Please contact Embassy of Tunisia in China if Tunisians have difficulties there.



Related Chinese Embassies in Africa: Kampala, Uganda, Lusaka, Zambia, Harare, Zimbabwe

- Last modified on Apr. 03, 2019 -
Questions & Answers on China Embassy in Tunisia
Asked by BORHANE OUERTANI from TUNISIA | May. 10, 2019 10:21

Reply
one invitation is enough to get visa ready
Dear,
I don't know where I can get the unique barcode letter, it can be from embassy of China in Tunisia or from china ministry.

I have only invitation letter from my international company General Electric to attend a training in Shanghai starting by June,3rd to June, 15th.

Please advise if the invitation letter is enough to get my visa ready.

Thanks in advance
Answers (1)
Answered by Grace | May. 13, 2019 01:21

0

0

Reply
Dear, besides the invitation letter from your company, you need to provide an Invitation Confirmation Letter. This needs to be obtained through the company at the local Foreign Affairs Office or Bureau of Commerce.
Asked by Mohamed Ebshir from LIBYA | May. 02, 2015 08:08

Reply
I'm a businessman. From Libya
I have a call from one of the Chinese companies to visit the exhibition in China. Of 05.15.2015
Is it possible to get a Chinese visa from Tunisia? How many days required?
What are the conditions required to obtain an urgent type?
Invitation. Yes
Bank statement. Yes
Passport. Yes
Passport photo. Yes
Image Personal white background. Yes
Is there any other documents required?
Answers (1)
Answered by Ruby from AUSTRALIA | May. 03, 2015 03:24

0

0

Reply
Mohamed, I cannot find useful information on the website of the embassy in Tunisia. However, based on my experience, it's possible to get it from there. The application usually takes four working days. If you are in a rush, you can apply for the urgent type upon the officer's approval.

In addtion to the documents you mentioned, you should also submit the filled application form and a copy of the passport. Maybe you will also be required to submit an invitation letter from duly authorized unit (can be obtained with the help of the Chinese company).
Asked by RAFIK ADAWAKI from USA | Jul. 21, 2014 10:15

Reply
visa appointment for going to China
i have US passport , i need to get permit for china , i have training for GE company , biomedical department on the MRI , my training start on 982014 , i'm in Libya now , but your embassy is closed there, so i'll travel to your country soon you give me an appointment
Answers (1)
Answered by Peter from USA | Jul. 21, 2014 21:05

0

0

Reply
No appointment can be gotten.
For applying in Libya, you need to apply from China Visa Service Facility in Tripoli with address at Room 201, 20th Floor, Tower 1, Tripoli Tower and opening hours during 8:30-14:30, Sunday to Thursday, except for the Chinese and Libyan holidays.