China Consulate in Edinburgh, UK

Visa Application Form of PRC


Visa Fees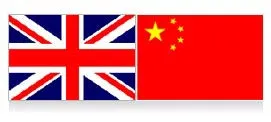 Consul General: Mr. Ma Qiang
Address: 55 Corstorphine Road, Edinburgh EH12 5QG
Consular Districts: Scotland, Northern Ireland
Website: http://edinburgh.china-consulate.org/eng/

Consular Office of China Consulate in Edinburgh
Address: 55 Corstorphine Road, Edinburgh EH12 5QG
Office Hours: 09:00 -12:00, 14:00-16:00, Tuesday and Thursday (except public holidays)
Tel: Fax: +44-0131-3373220
Services of Consular Office
1) Issue passports or travel documents to Chinese citizens.
2) Issue visas to aliens visiting China (including the Hong Kong SAR and Macao SAR).
3) Notarize documents for Chinese citizens and authenticate documents for Chinese citizens and aliens.
Tips: The Consulate General in Edinburgh only accepts applicants who normally or legally work/reside in Scotland and Northern Ireland.

Information Center: +44-0131- 3373220
You can listen to the recorded information about visa/passport/authentication anytime in a day. It is manual service between 10:30-11:30 on working days (from Monday to Friday); it is very busy at that time. If you can't reach consuls, you may also send your questions by fax.

Email: consulateedinburgh@gmail.com
1) The email is for visa, passport, authentication and legalization applicants only.
2) Please visit official website or listen to the Information Center carefully before sending your email. Questions covered by its official website or the Information Center and inquiry of the progress of applications will not be replied.
3) Please explain your application in detail and specify Passport, Visa, Notarization, Authentication, or Travel Document as the subject of your email so that it can be handled accordingly and replied to promptly and accurately.
4) Please be noticed that the consulate doesn't issue any documents via email, or through internet.
Tips about Consular Office
1). The main entrance of the Application Hall is located at the backyard of the Consulate.
2). Application Forms are available for free.
3). Instant picture and self-help copiers are unavailable in the application hall; please bring your passport photos and copy of documents.
Notice of Chinese Visa Application Service Centre (CVASC)
From September 24th, 2012, all ordinary passport holders visiting the mainland of China are required to submit applications to the Centre (CVASC) in Edinburgh. CVASC will collect visa fee on behalf of the consular office, and return passport to applicants. The center will also charge an independent service fee. It is also suggested that the applicants are encouraged to make an appointment at CVASC's website to guarantee a shorter waiting time.
Meanwhile, diplomatic or service/official passport holders, or applicants qualified for the Chinese diplomatic, courtesy, service visas, or applicants applying for Hong Kong SAR or Macao SAR visa/entry permits should still submit their applications directly to the consular office.
Information of CVASC in Edinburgh
Address: 2nd Floor, Exchange Tower, 19 Canning Street, City of Edinburgh, EH3 8EG
Tel: 0131 2292519
Fax: 0131 2291598
E-mail: edinburghcentre@visaforchina.org
Office Hours: Monday-Friday (except holidays)
Application Submission: 09:00 - 15:00
Payment and Passport Collection: 09:00 - 16:00

Tips:
1. Online appointment is suggested for submission of application.
2. Application should be lodged and picked up by the applicant or someone else entrusted.
3. CVASC provides service for application by post, the processing takes 10 working days. No express service available.
2021 Holiday Schedule of the CVASC in Edinburgh
| Festival | Date | Day |
| --- | --- | --- |
| New Year's Day | January 1 | Friday |
| Chinese New Year | February 11 - 12 | Thursday - Friday |
| Good Friday | April 2 | Friday |
| Easter Monday | April 5 | Monday |
| International Labor's Day | May 3 | Friday |
| Early May Bank Holiday | May 10 | Monday |
| Spring Bank Holiday | May 25 | Monday |
| Summer Bank Holiday | August 30 | Monday |
| Chinese National Day | October 1 - 4 | Friday - Monday |
| Christmas Eve | December 24 | Friday |
| Christmas Day | December 27 - 28 | Monday - Tuesday |
Map of the Consulate in Edinburgh
Address: 55 Corstorphine Road, Edinburgh, EH12 5QG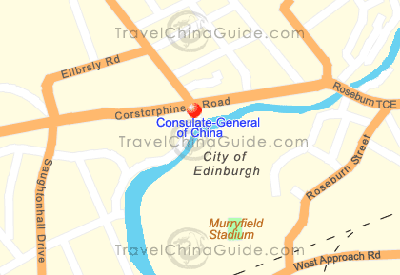 Transport: Take Bus No. 12, 26.
Go from the City Center and go westward to Murryfield Stadium. The consulate is close to the stadium and it is a pale yellow building.

Recommended Tours:
China Tours from UK
- Last modified on Jan. 27, 2021 -
Questions & Answers on China Consulate in Edinburgh
Asked by Ian Livingstone from UNITED KINGDOM | Jun. 10, 2020 06:31

Reply
Apply for a Q2 Family China visa in Edinburgh
Hi
I need to get my Q2 China visa is this done at the new visa center in Edinburgh now or do you go to the consulate. Also, which application form do you fill in online?
Regards
Ian Livingstone
Answers (1)
Answered by Bernie from UNITED KINGDOM | Jun. 14, 2020 19:50

0

0

Reply
Ian, you should go to the visa center in Edinburgh. The application form can be filled out on the website of the visa center. However, currently it seems that the center is closed. So you need to check whether it is open for visa services before making the application.
Asked by Martin Sawyer from UNITED KINGDOM | Aug. 07, 2019 02:16

Reply
Consulate Email Address
Hello,
My University in China needs to email the Edinburgh consulate (my JW201 form), but the above email address (edinburgh_chineseconsulate

mfa.gov.cn) doesn't seem to work.
I've tried it too and immediately get a "failed delivery".
Is there another email address for the Chinese Embassy in Edinburgh?
Thanks,
Martin
Answers (1)
Answered by Amber from UNITED KINGDOM | Aug. 07, 2019 20:04

0

0

Reply
Martin, I didn't find another email address on the consulate's website. May be you can try to connect it by fax or call. The number is 0131- 3373220 for both. A staff will pick up the phone during 9:00-12:00 am and 2:00-4:00 pm on Monday, Wednesday and Friday. Hope that works.
Asked by Steph from UNITED KINGDOM | Jul. 29, 2019 04:32

Reply
Chinese Consulate Edinburgh Same Day Legalisation
Hello,

Does the Edinburgh Chinese Consulate do a same day legalisation?

Thanks,

Answers (1)
Answered by Justin from USA | Jul. 29, 2019 20:55

0

0

Reply
Steph, Chinese Consulate in Edinburgh doesn't provide same day service. The processing time for express service is usually 3 working days.
Asked by Bob Hansford from ENGLAND | Jul. 26, 2019 13:31

Reply
How much does this visa cost?Can I apply for the visa?
Sir
I need a visa for China as I am doing The Great Wall of China Trek for our local hospice. How much does this visa cost I am 71 yrs old how long before I. Go can I apply for the visa?.thank you. Bob Hansford
Answers (1)
Answered by Daniel from UNITED KINGDOM | Jul. 29, 2019 00:00

0

0

Reply
Bob, if you are healthy, you can apply. It costs 151 sterlings for single entry type.
Asked by Wayne Kelso from UNITED KINGDOM | Jun. 17, 2019 01:43

Reply
TEFL Legalisation
Do I need to legalise my TEFL document to work in China? I didn't have to do it last time, but I've been told I might have to do it before I come back after the summer.
Answers (1)
Answered by Greta from USA | Jun. 17, 2019 02:32

0

0

Reply
Dear, you may need to legalise your TEFL documents to work in China.