Consulate-General of P.R.China in Manchester

Visa Application Form of PRC


Procedure for Application at CVASC/by Post


Fees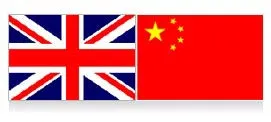 Consul General: Mr. Li Yongsheng
Address:
Denison House, 71 Denison Road, Rusholme, Manchester M14 5RX, United Kingdom
Office Hours: 09:00-12:00, Monday-Friday (except holidays)
Email: consulatecn@yahoo.co.uk
Website: http://manchester.china-consulate.org/eng/
Consular Districts:
Greater Manchester, Merseyside, Lancashire, Tyne and Wear, North Yorkshire, South Yorkshire, West Yorkshire, Durham and Derbyshire



Consular Office of Chinese Consulate in Manchester
Inquiry Tel: +44-0161-2248672 (answered by staff during 14:00-16:30, Monday to Friday, except for public holidays)
Tel: +44-0161-2247443 (Chinese citizen consular assistance only, not for general inquiry)
Fax: +44-0161-2572672
Office Hours: 09:00-12:00, Monday-Friday (except holidays)



Important Notice about Application
From July 7th, 2009, all the ordinary passport holders must submit applications to the Centre (CVASC), and the General Consulate of PRC in Manchester doesn't accept any application from ordinary passport holders.

CVASC is a commercial entity completely independent from the Consulate General in Manchester, neither its consular office, nor part of it, nor its subordinate. CVASC has no involvement in the visa assessment and decision-making process. Whether a visa is to be issued or not, and what type is to be issued as well as its period of validity, number of entry and duration of stay shall be decided by the consular office in the light of China's relevant laws and regulations.

CVASC collects visa fees from each applicant on behalf of the Consulate General, and at the same time charge each applicant a fee for its service regardless of approval or rejection of his or her visa application. The applicants are strongly encouraged to make online appointment at CVASC's website to shorthen their waiting time at the center.

Detailed Information about CVASC:
Address: First Floor, 75 Mosley Street, Manchester M2 3HR
Business Hours: Monday - Friday
Submission: 09:00-15:00
Payment and collection: 9:00-16:00
Tel: 0161 236 1070
Fax: 0161 244 5883
E-mail: manchestercentre@visaforchina.org

By Metrolink tram: St Peter's Square or Mosley Street stations are the nearest Metrolink stations. Both are on the Altrincham and Eccles lines.
By bus: Nearest bus stops are St Peter's Square or Piccadilly Gardens.
By car: Manchester is ringed by the M60, linking to the UK's extensive motorway network. Follow signs to the city centre. Car parking is available at the NCP car parks on Chepstow Street, Faulkner Street or Sackville Street. All are within five minutes of the centre. The nearest disabled parking is on Nicholas Street or Princess Street, approximately 60m from the main entrance.

By taxi: The drop off point could be the crossover between Princess Street and Mosley Street.



Map of the Consulate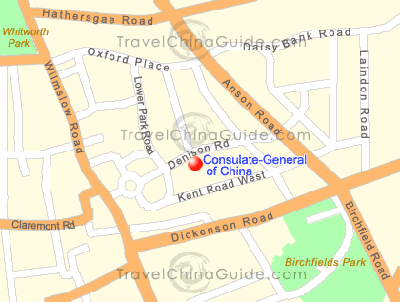 Address: Denison House, 71 Denison Road, Rusholme, Manchester M14 5RX, United Kingdom

The Consulate-General of the PRC is located in the south of Manchester. Go from the City Center, Piccadilly Gardens (close to Piccadilly Railway Station); take Bus No. 41, 42, 142 or 143 to get off at Rusholme; walk eastward through Park Crescent, and then go along Denison Road. Look at the map for detailed information.



China Tour from Manchester UK