Private Itineraries
Unique Services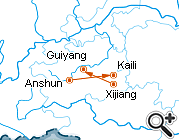 Approach to Guizhou Folkways
ST08:
7 Days China Tour from Brisbane Australia to Guiyang

Anshun

Kaili

Xijiang

Guiyang
China is a multinational country with a long history and brilliant culture. If you are not a fan of modern civilization and would like to learn the minority culture and explore the old towns, Guizhou might be a great choice that can meet your expectation. Given that there are seldom regular air routes connecting Guiyang and other international cities, people who wish to join this student vacation tour from Brisbane or Perth, Australia need to make transit at a third city. Based on the present flight schedule, Guangzhou and Hong Kong seem to be the most appropriate cities for connecting flight.
For people travel from Brisbane, you can take flight CZ382 0955/1655 to Guangzhou first, then transfer to flight CZ6296 1905/2055 or CZ3082 2050/2235 or CZ6462 2210/2355 to Guiyang. The layover time in Guangzhou is from 2 hours to 5 hours and the whole journey takes from 13 hours to 16 hours.
For people leave from Perth, if you travel on Tuesday or Friday, you can fly to Guangzhou by flight CZ320 2335/0740+1, wait 8h10m for flight CZ3692 1550/1735 or wait 2h45m for flight CZ3662 1025/1210 to Guiyang. These two flights take 18 hours and 12.5 hours respectively. The departure time for flight CZ320 on Thursday and Sunday is at 08:30 and arrival time is 16:30. By taking this flight, you can have a layover of 4h20m at Guangzhou Airport and connect to CZ3082 2050/2235 to Guiyang or change to flight CZ6462 2210/2355 bound for Guiyang after 5h40m. It needs 14 hours to 15.5 hours for the whole air travel. The above recommended connecting options are all operated by China Southern Airlines. If you prefer to transit at Hong Kong, you can take Cathay Pacific CX170 2355/0755+1, stay at Hong Kong Airport for 3.5 hours and transfer to Hong Kong Airlines flight HX352 1125/1325 to Guiyang. The flying time is 13.5 hours.
Brisbane and Perth can also be chosen as a transit city for people come from Gold Coast, Sunshine Coast, Toowoomba, Rockhampton, Bundaberg, Mandurah, Bunbury, Rockingham, Kalgoorlie, Albany, Geraldton, Cairns, Townsville or Darwin to Guiyang.
Upon arrival at the airport, our professional guide will meet and escort you to the hotel. If time permits, we will visit the
Jiaxiu pavilion
, the landmark building of Guiyang city and later, the Hongfu Buddhist Monastery on top of Qianling Mountain.
Meals: No meals
Accommodation: Novotel Hotel




Day 2
Guiyang - Jichang - Tianlong - Anshun
Welcome Ceremony of Miao Minority
Your Guiyang tour from Australia officially starts today. Our guide and driver will meet you at the hotel lobby and then transfer you to Jichang Old-Han Chinese village. A small welcome ceremony and lion dance is arranged by the locals to welcome your student group visit. Then witness the Dixi or ground opera performance, a very unique art form in Guizhou. It is performed by the locals to ward off evil spirits and calamities, characterized by exaggerated expression, unique design of figures, distinctive characters as well as colorful costumes. You may even have the chance to learn some simple performing skills from the locals. Next, take a hiking trip to Tianlong Old-Han Chinese village to explore its rural ancient stone architecture. The guide will teach you some simple Chinese conversations. You will also be informed of the dos and don'ts when visiting a local family in the village.
Today's lunch will be at a Tianlong village café, after which you will proceed to Anshun to visit a small batik museum and shop owned by one of the top 10 folk artists in China. Grab the chance to learn some simple batik skills. Then, we will make our way to a bustling night market of Anshun.
Meals: Breakfast, Lunch
Accommodation: Puhua Hotel




Day 3
Anshun - Huangguoshu - Guiyang
Huangguoshu Waterfall
, noted as the largest waterfall in China, is your first stop of the day. We will spend the whole morning to visit the waterfall as it is located in the outer suburb of Anshun and will take about one and half hours hike to reach it. After lunch, visit the Tianxingqiao scenic spot that is well known for its stone forest on the water and limestone karst caves. Finally, return to Guiyang city and then check in at the Novotel Hotel.
Meals: Breakfast, Lunch
Accommodation: Novotel Hotel




Our client learning to plough the fields
Visit Kaili, the capital city of Guizhou's southeast autonomous prefecture of Miao & Dong people. Your first stop there is Qingman Miao village. A welcome ceremony awaits you, where beautiful Miao girls offer rice wine contained in ox horn. You may just take a sip as a good gesture. Bear in mind not to hold the horn for by doing so indicates that you are able to finish the drinks. After the brief ceremony, enter the village and visit the Miao's residences on stilts. With its rich ethnic and regional features, with the house raised above ground, it helps to keep the rooms dry and ventilated and keep away snakes and other wild animals. The first floor is usually used for raising poultry and keeping agriculture tools & heavy objects; the second floor as the living areas and the third floor as storehouse, due to its dryness, ventilation and favorable position.
Lunch will be in the village to taste the local food. After that, visit Shiqiao Village to see their traditional paper making from tree bark. The guide will give you a detailed explanation about its basic principles and processes. Return to Kali City.
Meals: Breakfast, Lunch
Accommodation: Grand Metro Park Heaven-sent




Day 5
Kaili - Maliao - Kaijue - Xijiang
At a local primary school
Take a 1.5 hours bus ride to Maliao and then a four-hour hiking trip along a challenging zigzag mountainous path with gorgeous landscape views of terraced paddy fields. On the way, we will stop by Kaijue town, known as silversmith Miao village, and visit some local families. Then, enjoy a picnic lunch on the mountain top, before walking some distance to Xijiang, the largest Miao village in China with one thousand households. The same traditional rice wine welcome ceremony as in the Qingman Miao village the previous day awaits upon your arrival. After that, meet the family members whom you will stay with for the night. The rest of the day will be free for you to explore the village and the local culture on your own or have a good rest with the family. Please don't wonder off too far away without the guide or unaccompanied by a local.

Meals: Breakfast, Lunch
Accommodation: Village Home-Stay
Team-building with the local pupils
You will have a first-hand experience of farm-work such as field-plowing with the aid of a water buffalo, carp-fishing in paddy fields, or digging for potatoes in the mountain fields. You may choose any one or all of them. The guide and the locals will be around to direct and help. Please always keep safety in mind. Lunch today will be food cooked from the fish and potatoes harvested from your own hard labor.

In the afternoon, visit the Xijiang Middle School. Take the opportunity to communicate with the Miao ethnic students to learn about their education. The kind and diligent Miao people are innate singers and dancers, so you can also learn to sing traditional Miao songs and play their musical instrument called the Lusheng (bamboo reed pipe). At the same time, a basketball match will be played between your team and theirs.

Meals: Breakfast, Lunch
Day 7
Xijiang - Kaili - Guiyang - Brisbane
Our group playing basketball with the local students
Bid farewell to the hospitable Miao people after breakfast and head back to Guiyang via Kaili. En route, drop by Ms. Yang Jianhong's embroidery workshop to learn about the unique Miao embroidery. Take the opportunity to embroider your own piece. Miao embroidery plays an important role in the historical heritage of their culture. Almost every pattern has its own origin or legend, exhibiting the Miao people's history and life.
After that, return to Guiyang where we will proceed directly to the airport to catch your flight to the next destination. Again, there is no direct flight from Guiyang to Brisbane or Perth. It is suggested that you book an afternoon flight as there are activities scheduled in the morning. For people return back to Brisbane, you can still take China Southern Airlines flight CZ6295 1610/1750 from Guiyang to Guangzhou, have around 3.5 hours' stopover and then connect to flight CZ381 2115/0825+1 to Brisbane. You will get home next day in 14 hours and 15 minutes. Travelers going to Perth from Guiyang are able to make the transit at Guangzhou, Hong Kong or Bangkok. Wish you a pleasant flight. If you want to visit other Chinese cities, please check our other
China Student Tours
or contact our travel consultant directly.
Meals: Breakfast, Lunch

More Student Itineraries:
The above routes do not meet your requirements? Please click
Tailor My Trip