Yangtze River Crafts
Carvings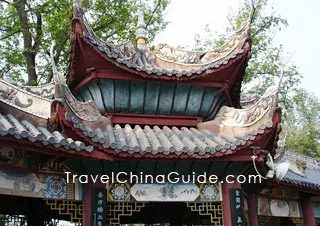 Carving on a Pavilion of Fengdu Ghost City
The art of carving in the Yangtze Three Gorges Area has a long history. The art has been greatly used in the decoration for articles for daily use, building and furniture. Carvings can be divided into wood caving, stone carving, bamboo carving and root carving.
Wood carving is most commonly used in buildings, articles for daily use and some religious pieces. On doors, windows, posts, girders and balusters, the carvings can all be admired in buildings along the Yangtze River. Also, there are carvings on chairs, tables, beds and crutches. Carved pictures on buildings are usually figures, flowers and grass, or some rare beasts. Some have the carved Chinese character 'Shou', meaning longevity. Carving on windows is meticulous as a fairy tale or a figure from an old drama must be carved on each window.
Stone carving are mostly seen in ancestral temples, on
Paifang (Arches)
and tombstones. The material is usually bluestone, carved with pictures like flowers, beasts, and celestial beings. Some of the sculptures are solid, carved in the shape of a dragon winding round a pole or two lions scrambling for a ball.
Other carvings include the bamboo carved with small and exquisite character, and root carving that turns a stump magically into various shapes.
Painted pottery in Yinchang is famous in China. Using local yellow mud as the material, various kinds of highly valued painted potteries are made by the artisans.

Among all the painted pottery works in Yichang, some representative ones are: Color Glazed Mural, Yiling Horses Series, Plate with Cat, Xiling Stationery and Zhaojun Tea Sets.

The pottery works of Yiling Horses Series are favored by people for display in their houses. The horses are in different configurations and the glaze is dazzling. The plates are 30cm. in diameter with a white cat painted in the middle. The cat is lifelike and the plate is in good color, and the plates have been sold in many other countries for domestic displays. The Zhaojun Tea Set has twelve pieces in all. The story of Wang Zhaojun is described on the pieces through pictures and characters on the tea set. It has been sent as presents to American and Japanese leaders.

Bonsai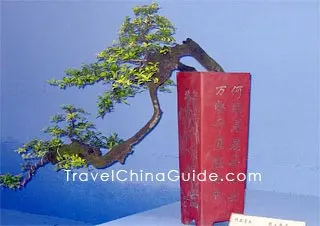 Bonsai
Bonsai is a kind of craftwork that creates a natural scene in a flower pot by using miniature trees and stones. In Yichang, the history of Bonsai is long. Since the Qing Dynasty, there has been bonsai in people's families. Later, as the people's living condition has improved, more and more people are interested in bonsai.
Three are three kinds of bonsai: rock bonsai, stump bonsai and hanging plate bonsai. Rock bonsai makes good use of the local rich rock resources and combines with traditional Chinese painting technique, thus creating the scene of the Gorgeous Yangtze River or some legend. Stump bonsai mainly uses the stump as its material, and after a lengthy process, the image of an ancient tree appears in the small pot; Hanging plate bonsai is a combination of bonsai, painting, pottery and seal cutting arts. It is used for decoration placed on the desk or hung on the wall in the family.
Embroidery is an important traditional technique for women living in Yangtze River Area. Since the Ming and Qing Dynasties, it has been a must for women to practice. For years, it has become a criterion to value the ability of a woman. A virtuous woman is thought to be one good at needlework. So, when ten years old, girls are taught to practice needlework.

Most of the embroidery works are articles for daily use such as bedspreads, pouches and door curtains. Some of the embroidery works are a good-luck token for the good life, some for presents in token of attachment and some for gifts to a new couple. As different designs are embroidered by the deft women, the embroidery works are favored by many visitors.

Bamboo and Straw-weaved Products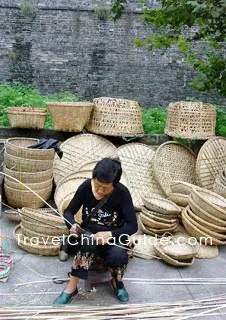 Bamboo Weaved Products
In Three Gorges Area of Yangtze River, bamboo and straw woven products are popular in daily life. The products woven from bamboo strips and straw are a combination of practicality and decoration.

Fishscale bamboo and Phyllostachys pubescens are the main materials for making bamboo products. The dexterous people living along the Yangtze River first divided the bamboo into slices and then wove it into various articles such as baskets, boxes, hats, and rain gear.

The straw woven products are simple in style. Different kinds of straw are made into different products. Straw mats are usually made from rushes; sandals are usually made of haulm; wheat stalk is used to make straw hats, baskets or winnowing-fan; palm leaves can be woven into insects such as locusts and dragonflies that delight children; and maize leaves are used to make different kinds of cushions and flower baskets.

As the craftwork made from straw is readily accessible', it has been widely used in the daily life of people living along the Yangtze River. The straw-woven products in Yinchang are famous in their "six hundred varieties".

Shipbuilding
Ancient Chinese people living along the Yangzte River invented boats for transportation and later for wars. During the Spring and Autumn Periods, the ship building techniques was improved rapidly. The states of Wu, Chu, Qi and Yue were often engaged in water fights. The famous Battle of Red Cliffs in 208AD during the Three Kingdoms Period was a good example of water fight in Yangtze River.

Further Reading:
How does Yangtze River civilization affect China?
- Last updated on Mar. 12, 2020 -