Highlights
Mini group with 1 to 9 guests; guarantee the most attentive tour service for you!
Enter Shanghai Museum through the fast track, saving you about one hour of waiting time.
Take an enjoyable Huangpu River cruise tour to see the most splendid part of Shanghai.
Worry-free round trip by exclusive car between Shanghai and Suzhou, avoiding transfer troubles.
Experience the charms of Suzhou with visits to Master of Nets Garden and Tongli Water Town.
VIP privilege of unlimited bottles of drinking water for free.
We promise no commission-based factory stores or shops. We value your time and will surely fulfill a pure sightseeing plan.
Detailed Itinerary
Day 01: Visit Pudong New Area, Yu Garden & Old Street, French Concession, Shanghai Museum, Huangpu River Cruise and the Bund
8:00 - 9:00 Hotel Pick-up
Welcome to join our 2 day Shanghai group tour. In the morning, your tour guide will pick you up at the hotel at the agreed time. We will confirm the exact meeting time with you the night before. Today's arrangements cover all highlight and worthy spots in Shanghai. Please wear comfortably and lightly to start your happy Shanghai small group tour.
9:00 - 10:00 Square of Oriental Pearl Tower & Pudong Sightseeing
We will first drive you to Pudong New Area. It is the financial center of Shanghai and the city's iconic symbol. You probably have seen it in pictures or on TV. Today you will pay a visit personally. Get ready with your eyes and camera.

The Oriental Pearl Tower (468 meters/ 1,536 feet high) is one of the most important landmark buildings in Pudong, so you will enjoy 30 minutes' free time in the square around the tower to appreciate its imposing features. We do not go inside for a visit due to its crazy queuing up, which sometimes requires waiting for 1 hour or even longer, crowded and noisy! Then, you will be driven through the skyscrapers in Pudong and enjoy stopovers in Shanghai Jinmao Tower (420.5 meters/ 1,379 feet high), Shanghai World Financial Center (492 meters/ 1,614 feet high), and the highest Shanghai Tower (632 meters/ 2,073 feet high) for photo opportunities.
Explore the Square of Oriental Pearl Tower
Take great photos of imposing skyscrapers
10:00 - 11:30 Drive to Visit Yu Garden
After that, we will drive to Yu Garden, an ancient garden tracing back to 400 years ago. It combines the architectural styles of classical Southern China gardens in the Ming and Qing dynasties (1368 - 1911 AD). The pavilions, terraces, towers, ponds and rockeries inside Yu Garden are laid out finely, which shows originality in providing wide views in a small confined space. Take your time to enjoy the relaxing atmosphere in the garden.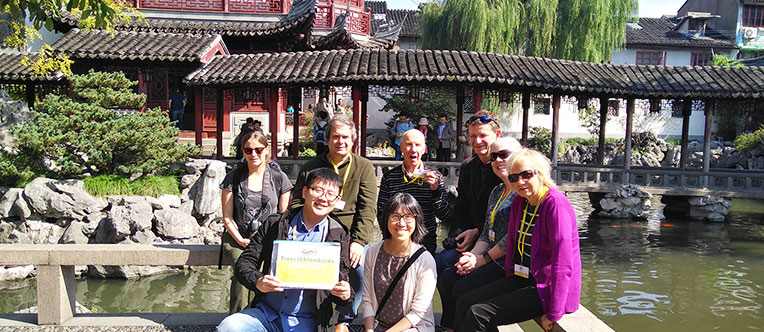 Our guests visiting the graceful Yu Garden
11:30 - 13:00 Yuyuan Old Street & Free Time for Lunch
Besides the garden visit, wandering around the nearby old street is also an activity that cannot be missed. Located in the central business area, the old street is a cultural signature of Shanghai, with classical buildings, bustling streets, time-honored brands, numerous souvenirs, and delicious snacks.

The lunch is on your arrangement. You can choose a local restaurant at the area according to your own preference, and at your own expense. Surely our guide is glad to offer recommendations.
Seek for the local snacks in Yuyuan Old Street
13:00 - 14:00 Drive to Visit Former French Concession
Next, let's escape from the bustling city for a while and have a leisurely walk at the area of the Former French Concession. There you may see many European style villas and buildings from the early 20th century, with some cute little boutiques, restaurants, bars and cafes scattered around. Escorted by your guide, you will also visit a famous residential building complex - Sinan Mansions.
14:00 - 16:00 Visit Shanghai Museum
Getting to know a city, the museum is the best place. Here we come to Shanghai Museum, which is a large museum boasting ancient Chinese art and has nearly one million pieces of cultural relics in the collection, featuring bronzes, ceramics, calligraphy, painting and many others. It is a paradise for art and cultural relics' lovers.

There are many people visiting Shanghai Museum and the usual lining up time for common visitors is about an hour. To avoid queuing, we will access through the fast track, which enables you to enjoy longer time inside the museum.
Jingdezhen porcelain of Yuan Dynasty
Big Grams Tripod
16:00 - 17:00 Huangpu River Cruise
After that, we will head to Shiliupu Wharf near the Bund, and then take a cruise to enjoy the glorious city views along Huangpu River. It is definitely a highlight of your 2 days Shanghai group tour. Standing on the board, you will capture the glamour of old Shanghai through its many Euramerican style buildings on the west and be amazed by its modernity via the towering skyscrapers on the east.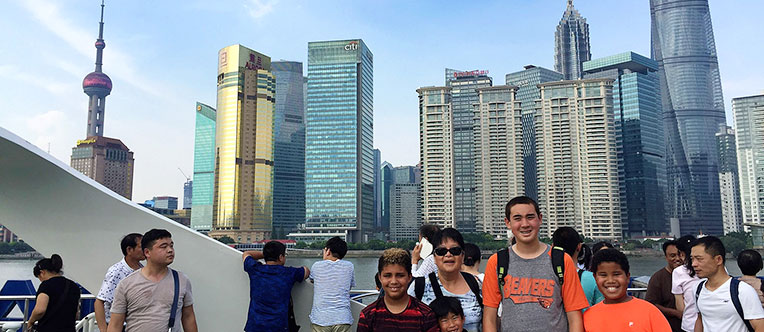 Admire the riverside buildings from the cruise
17:00 - 17:30 Drive to Visit the Bund
Strolling along the Bund is undoubtedly one of the top things to do in Shanghai! Your guide will accompany you to appreciate the beautiful neo-classical buildings and give a brief introduction about the facts and history of the area.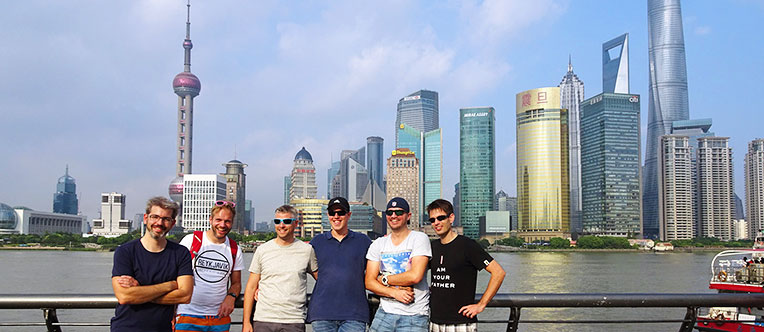 Take a leisurely walk around the Bund area
17:30 - 18:30 Hotel Drop-off
Now the first day of your 2-day Shanghai group tour ends here. Your guide and driver will take you back to the hotel.

The night view of the Bund is ever more fascinating. If you are interested in the impressive night scenery of the bund or would like to walk northward for nearly 20 minutes to the famous Nanjing Road, your guide will offer directions and please go back to the hotel by yourself finally. Have a good sleep tonight, we are waiting to see you the next day.
Day 02: Suzhou Day Trip to Visit the Master of Nets Garden, Shantang Street, Tongli Water Town
8:00 - 9:00 Hotel Pick-up
On the second day of your 2 day Shanghai group tour, your tour guide will pick you up at the hotel at the agreed time in the morning. Today we will drive to visit Suzhou. It is a city on the water: the streets are built by the river and the buildings are built on the waterfront, forming a unique landscape.
9:00 - 12:00 Drive to Suzhou & Visit the Master of Nets Garden
We will first drive for 2 hours to Suzhou and visit the Master of Nets Garden. Built in the Southern Song Dynasty, it is the representative of Suzhou classic garden with an international reputation. All the architectures in this garden are built by the small rivers or ponds. You can see steles with poetry inscriptions and various ancient China architectures there.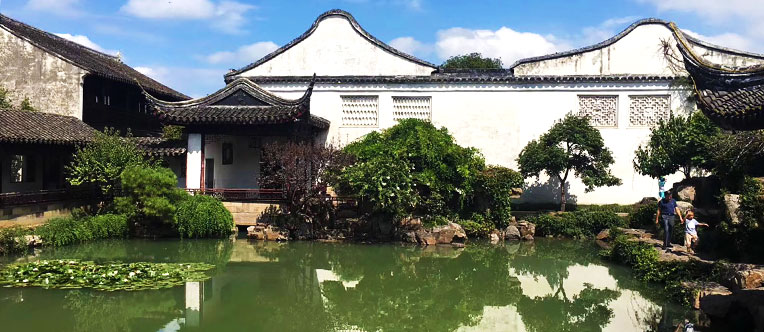 Enjoy your time at the Master of the Nets Garden
12:00 - 13:30 Visit Shantang Street & Free Time for Lunch
Then we will drive 20 minutes to Shantang Street, a 3,600-meter long ancient pedestrian street along a canal. It is lined with old buildings and featured stores selling tasty local snacks, fine embroideries, and interesting souvenirs. Walking on the path paved with blue flag stones, you can take in the special charms of this classic ancient city.

Here we will leave one hour for you to explore this old street and enjoy the lunch on your own. Some local snacks such as Osmanthus Cake, Begonia Cake, Glutinous Rice Balls and Wontons are especially alluring. Many snacks, street food and nice restaurants can be found through the street, and easily cater to your taste buds. Your tour guide will also be glad to offer some recommendations.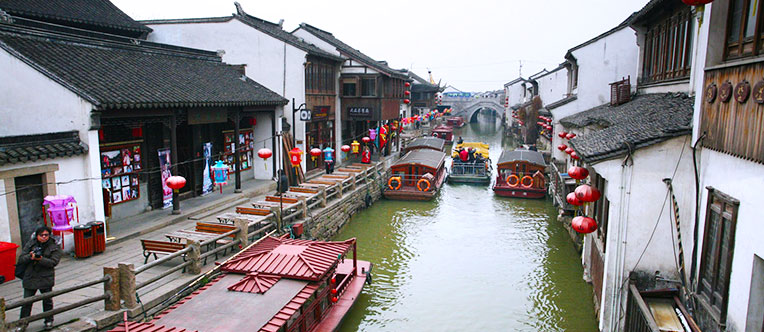 Appreciate the old-style architectures along Shantang Street
13:30 - 16:30 Drive to Visit Tongli Water Town
Now we will take a 30-minute drive to arrive at the Tongli Water Town, one of the top water towns in Suzhou. 15 canals divide the town into seven parts but 49 ancient bridges greatly connect these segments as if the whole town is situated in a large water network. The narrow canals with boats make you feel like being in Chinese Venice, creating a peaceful scene. A leisurely stroll in the narrow alleys enables you to see the old residential houses and to observe the locals' livings. Taking a small wooden boat along the canal to sightsee the lesser-known gems is one of the best things to do in your 2 days Shanghai Suzhou tour.

The essential spots we will visit in the town also include Retreat and Reflection Garden, Jiayin Mansion, Mingqing Old Street and Ancient Three Bridges.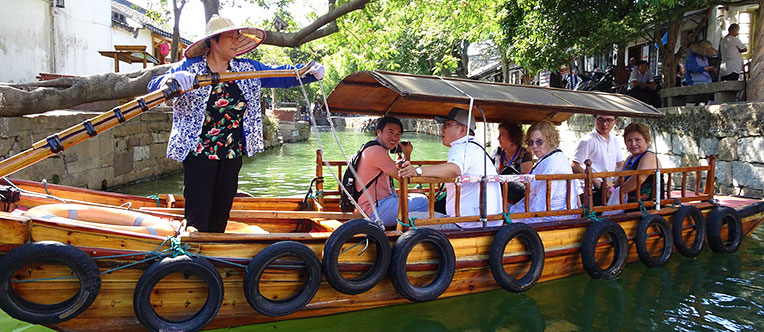 Experience a featured sculling boat trip along the canals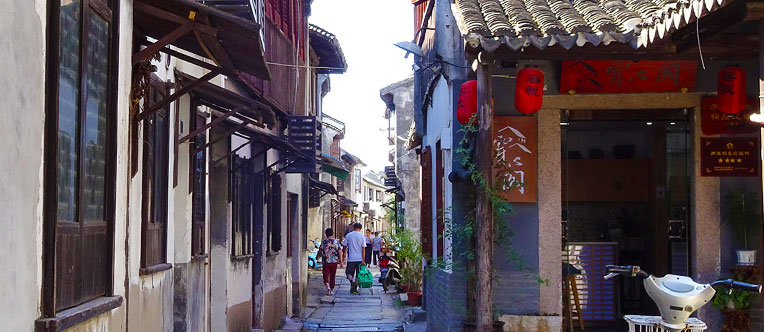 Observe local people's traditional way of living in the town
16:30 - 18:00 Drive Back to Shanghai
We will drive you back to Shanghai after visiting Tongli Town. Your 2-day Shanghai small group tour to Suzhou draws the curtain here. We hope you have a pleasant trip with us. Thank you!
Tour Price (US$ Per Person)

Daily Departure
Adult(>11 years old)

$219

$179
Child(3-11 years old)

$199

$159

Price Includes
Pick-up & drop-off from the hotel
Entrance fees as indicated above
Professional English speaking guide
Experienced driver & air conditioned vehicle
Unlimited bottles of drinking water for free
Price Excludes
Meals, advice freely available
Hotels
Tips or gratuities for guide and driver
WeChat QR Code

For last minute booking within 24 hours, please feel free to contact us to check the availability or ask questions.

+86-18909182319

inquiry@travelchinaguide.com

WeChat: 18909182319
Booking Policy
Pick-up Service: Shanghai is a large city. To make sure the morning pick-ups run smoothly, we recommend you stay at a hotel in the downtown area, within the Middle Ring Road of the city. There might be an additional transfer fee if your hotel is beyond the pick-up range. If you are not sure about the pick-up issues, your travel consultant is ready to help.
Infant Price: for an infant under 3 years old, this tour is free of charge.
Confirmation: Upon receiving your booking request, confirmation will be sent within 12 hours.
Payment: Full payment is required at least two days prior to the day trip. We accept payment by PayPal, Credit Card, Alipay, Wechat and Bank Transfer.
Cancellation:

Your payment is fully refundable if you cancel more than 24 hours prior to the trip.

Cancellation within 24 hours or any unused portion after the day trip begins is non-refundable.
Since Shanghai Museum is usually not open on Mondays, we will adjust the itinerary with substitutes if your travel date happens to meet Monday.
The departures are guaranteed even with two persons.
Itineraries you may also like: