Golden Triangle & Yangtze
SD-401:
12 Days Beijing - Xian - Chongqing - Yangtze River Cruise - Yichang - Shanghai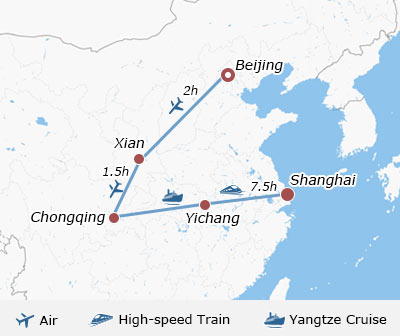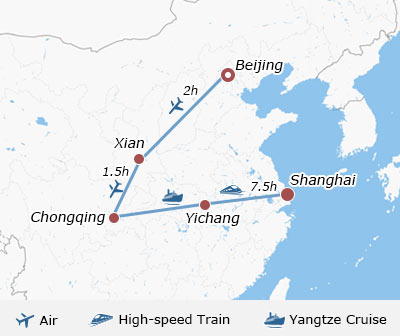 Tour Type:
Private Tour, any parts of the itinerary can be customized
Guide & Driver:
English-speaking guide & experienced driver with air-conditioned vehicle
Accommodation:
5-star Super Deluxe Hotels, also be open to your own choice
Meals:
11 breakfasts, 8 lunches with some being a la carte style, 3 dinners
Tour Highlights:
Must-see sights in China - the Great Wall, Forbidden City, Terracotta Warriors
Walk into a local family, learn to cook Chinese food & dine with the hosts in their home
Enjoy the Three Gorges scenery on Yangtze River cruise & feel totally relaxed
Take in the impressive skylines of Shanghai as you walk along the Bund

Airport pick-up & airport-hotel transfer.
Upon arrival at the Beijing Capital International Airport, You will find our guide waiting for you at the airport exit. Then you will be accompanied to check into the hotel which is located in Wangfujing Street. Take a short rest and perhaps explore the city on your own later.
When in a foreign land, one must try its local cuisine. We would thus recommend the Jasmine Restaurant, accessible by taxi with a cost of around CNY15 from your hotel. This elegant restaurant has a wide selection of cuisines and the average cost is about CNY300 per person.
Meals: No meals, advice freely available
Accommodation:
The Peninsula Palace





Tiananmen Square, Forbidden City including Treasure Gallery and the Hall of Clocks, Imperial lunch, Temple of Heaven. (B+L)
Temple of Heaven
After a hearty breakfast at the hotel, proceed to
Tiananmen Square
. There, you will see the imperial
Forbidden City
. There you will see the imperial Forbidden City, including the
Treasure Gallery
as well as the Clock and Watch Gallery. The Forbidden City is composed of a large amount of majestic palaces, and you will see plenty of valuable treasures exhibited in the halls. An imperial lunch at the Fangshan restaurant follows. It is located inside the Beihai Park with spectacular scenery and would give you an impression of how the Chinese emperors had lived in the olden days. Dishes are prepared according to the recipes of the imperial kitchen with exquisite and fresh raw materials and ingredients. They are served in delicate tablewares and waiters donning palace outfits signifies the origin and legend of each dish. Our next destination is the
Temple of Heaven
, where you can experience the interesting acoustic principle of the Echo Wall, Three Sound Stone and the Circular Altar.
As dinner is on your own, we would recommend the 1949 Hidden City, a famous restaurant with a nice ambience. A must try here is the roast duck with its tender meat, sweet and crispy but not greasy skin. Our guide will help you order the dish. It costs about CNY300 per person. Please return to the hotel by taxi after dinner.
Meals: American breakfast, Imperial lunch
Badaling Great Wall, A la carte lunch, Hutong Tour. (B+L)
Badaling Great Wall
It will be exciting today as we will climb the
Badaling
section of the Great Wall of China, 60 kilometers away from downtown area. After that, you will have an a la carte lunch at a Sichuan cuisine restaurant. Return to the hotel after lunch for a short break and freshening up. Your exploration continues by taking a rickshaw ride along
Hutongs
. Explore the steep culture of this old capital by visiting the local residents and their courtyards. Drop in to a nearby restaurant named Family Li Imperial Cuisine. Although the decoration of this restaurant is simple but it is highly recommended by many VIPs, including Bill Gates and many other foreign ambassadors in China. The founder of this restaurant is the grandson of Li Zijia, who was once in charge of the meals for the emperor and Empress Dowager Cixi during the Qing Dynasty. Popular dishes include Sweet and Sour Ribs, Beijing Style Fried Lobster with Fungus and Bamboo Shoots, Beijing Smoked Pork, Deep-Fried Fresh Scallops and so on. The guide will assist you in your ordering. Meal average cost is about CNY350-CNY500 per person. You will return to the hotel by taxi.
Meals: American breakfast, A la carte lunch
Summer Palace with boat, A la carte lunch. Fly to Xian, Airport-hotel transfer. (B+L)
As the largest and best preserved royal garden, the
Summer Palace
is one of the must-see destinations. Spend the morning strolling around the garden and experiencing a boat ride on the
Kunming Lake
if weather allows. Then head to a restaurant for an
a la carte lunch
. Transfer to the airport for an afternoon flight to Xian after that. Upon arrival, our guide will welcome you and then escort you to check into the hotel. For dinner, we would recommend the nearby Guohua Restaurant. It is an old restaurant serving mainly Cantonese cuisine. Our guide will be around to help order the dishes if needed. It costs about CNY150-CNY200 per person. Enjoy your meal and stroll back to your hotel on your own after that.
Meals: American breakfast, A la carte lunch
Accommodation:
Crowne Plaza





Terracotta Army Museum, A la carte lunch, Shuyuanmen Cultural Street, Forest of Stone Steles Museum with 1.5-2 hours' calligraphy class. (B+L)
Our clients at Terracotta Army Museum
Xian is indeed an ancient city due to its profound history and valuable cultural relics. When people talk about Xian, the first thing that comes to mind is the
Terracotta Warriors and Horses Museum
. Therefore today we will visit this awesome wonder of the world and have the opportunity to take photos with the life-sized warriors at close range. An
a la carte lunch
at an elegant local restaurant follows before transferring back to downtown to visit the
Shuyuanmen
, an ancient cultural street featuring the antique-style buildings and various distinctive stores. At the eastern end of the street is the
Forest of Stone Steles Museum
, built during the Northern Song Dynasty. It is an art treasure house with a collection of the earliest and most famous stone tablets in the country. You will have the chance to learn calligraphy for 1.5 to 2 hours in the museum if interested.
For dinner, the Real Love Restaurant at Huan Cheng Xi Yuan is recommended. It is very romantic to enjoy your meal in the open air with a view of the city wall. This meal costs about CNY150-CNY200 per person. Take a leisurely stroll around the city center after your meal before taking a taxi back to the hotel.
Meals: American breakfast, A la carte lunch
City Wall, A local family visit and home-cooked lunch, Great Mosque, Muslim Quarter, Tang Dynasty Dinner Show. (B+L+D)
Our client learning to cook Chinese dishes at a local family
In the morning, you will visit the
City Wall
with our guide's company. Renting a bicycle and cycling around the wall will be a good experience for you. It is also from here that one is able to have a bird's eye view of the city. Later, visit a
local family
to learn about modern Chinese living. You may take the opportunity to learn cooking Chinese food. The hostess is only too glad of your participation. Enjoy a sumptuous home-cooked a la carte lunch after that. Proceed to the
Great Mosque
in the afternoon. It is one of the four largest mosques in the country built in a mixed style of traditional Chinese and Muslim architectures. There is a
Moslem Street
nearby with many snack stalls and souvenir shops that are worth visiting. Tonight, enjoy an
imperial dinner show
at the Tang Dynasty Palace. The show reflects the royal singing and dancing themes that took place during the Tang Dynasty 1,400 years ago.
Meals: American breakfast, Home-cooked a la carte lunch, Tang Dynasty dinner show
Xian Museum & Small Wild Goose Pagoda. Fly to Chongqing. Ciqikou Village. Yangtze River tour begins at 21:30. (B)
Calligraphy and painting sold in Shuyuanmen Street
Your exploration of ancient capitals will round off with a visit to the
Xian Museum
and the
Small Wild Goose Pagoda
this morning. Transfer to the airport for flight to Chongqing, where our guide will accompany you to tour the ancient
Ciqikou
town that has over 1,800 years history after landing. After that, check in to the deluxe Yangtze Gold Cruise Ship to continue your private luxury China tour on the Yangtze River at 21:30.
Meals: American breakfast
Cruises:
Yangtze Gold Cruises
with balcony - executive room





Day 8
Ghost City of Fengdu
Yangtze River cruise trip. (B+L+D)
Get ready for an onshore excursion in Fengdu at 08:00. We will visit the
Ghost City
on the verdant Ming Mountain, located on the north bank of the Yangtze River. A series of ancient buildings and statues here are believed to be related with the Chinese legends on ghosts and netherworld. The Ghost City itself is also a famous historical site that consists of a mixed culture of Confucianism, Taoism and Buddhism. Tonight, enjoy yourself at the Captain's Welcome Party on board.
Meals: Western buffet breakfast, Lunch, Dinner
Day 9
Three Little Gorges
Yangtze River cruise trip. (B+L+D)
Splendid scenery of the Three Gorges
This morning, the ship will pass through the
Qutang Gorge
, the shortest part stretching from Baidicheng, Fengjie County, to Daxi Town of Wushan County. Then you will disembark to take a boat adventure to the
Three Little Gorges
. The excursion takes three to four hours and you will see the macaques, the ancient plank road and the Dachang Old Town. Return to the ship for your next voyage, passing through the
Wu Gorge
and
Xiling Gorge
in succession.
Meals: Western buffet breakfast, Lunch, Dinner
Day 10
Yichang - Shanghai
Disembark the cruise ship, Three Gorges Dam, A 7.5-hour bullet train to Shanghai, Train station to hotel transfer. (B)
After breakfast, pack your luggage and complete the check out procedure, then you will disembark and visit the
Three Gorges Dam
, which is a hot tourist destination by combining modern engineering, natural scenery and cultural landscape. After the sightseeing, you will be transferred to the Three Gorges Tourist Center in Yichang city by cruise company and be met by our local guide. Then we will head to the train station for a 7.5-hour bullet train to Shanghai.
Upon reaching Shanghai, our guide will be at the train station to meet and escort you to the hotel.
Meals: Western buffet breakfast
Accommodation:
The Peninsula





Shanghai Museum, A la carte lunch, Nanjing Road, The Bund, Yuyuan Garden, Portman Acrobatic Show. (B+L)
Shanghai Bund
The first stop this morning is the
Shanghai Museum
, the best place to get a deep insight into the history of the city and the brilliant culture of the country. After enjoying an
a la carte lunch
, explore the
Nanjing Road
, a shopping paradise for travelers from home and abroad. Walk to the
Bund area
to see the Oriental Pearl TV Tower, Jin Mao Tower and other famous landmarks on the other side of the Huangpu River. Then continue your visit to the
Yuyuan Garden
, a private garden in the Ming Dynasty that features the architectural and design style of Chinese classical garden. We suggest you have dinner at the Jade Restaurant where Cantonese cuisine is served at a cost of around CNY150-CNY200 per person. Try their famous dishes as commended by other diners, such as the Shrimp Dumplings, Sichuan Dandan Noodle and Dim Sum. Our guide will be around to help you order the dishes. An amazing
Portman Acrobatic Show
is arranged with VIP seats at the Centre Theatre after dinner. We believe that the show will leave you with a deep impression.
Meals: American breakfast, A la carte lunch
Day 12
Departure from Shanghai
Hotel-airport transfer & see you off. A nice journey home! (B)
Today, our guide will pick you up from the hotel and escort you to the airport to see you off. Wish you a nice journey home!

Meals: American breakfast

B-- Breakfast
L-- Lunch
D-- Dinner
Why Travel With Us