Qinghai-Tibet Overland Journey
S-507: 12 Days Xining - Qinghai Lake - Golmud - Tuotuo River - Nakchu - Lhasa - Gyangtse - Shigatse - Lhasa
Tour Type:
Private Tour, any parts of the itinerary can be customized
Guide & Driver:
English-speaking guide, experienced driver with an air-conditioned vehicle
Meals:
11 breakfasts, 5 lunches
Highlights:
Follow us on an overland adventure trip from Xining all the way to Tibet
Visit the famous Ta'er Monastery and the beautiful Qinghai Lake in Xining
Namtso, one of the famous holy lakes for Tibetans to make spiritual pilgrimages
Full insight visits of the sacred Potala Palace and pure land of Tibet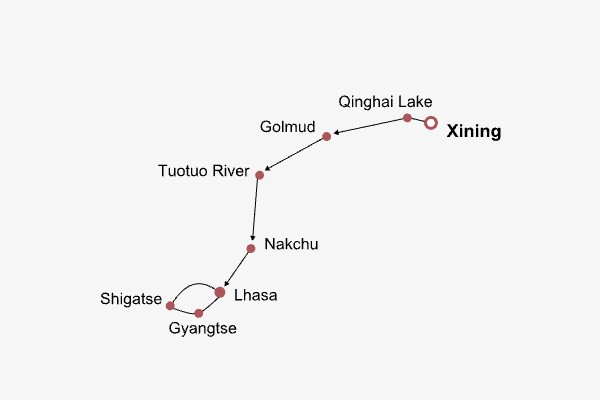 Highroad back to Xining
Upon your arrival in Xining, our local guide will greet you outside the baggage claim area of the airport and accompany you to the 3-star Xining Hotel for a one-night registration. Xining, with an altitude of 2,100 meters above sea level, is not only the starting point of Qinghai-Tibet Overland Journey, but also a major city relevant to ancient Silk Road. Hence, many ancient temples and relics could be found here.

Meals: No meals, advice freely available
Bird Island along Qinghai Lake, Xining
The first sight spot today is the
Ta'er Monastery
, a mixture architecture complex of Tibet and Han style. Then you will enjoy the beautiful view of the
Qinghai Lake
and you will also see myriads of birds assembling in the Bird Island afar. It's really amazing to see so many species at one time and this Island has become a very large sanctuary for the birds in spring and summer. The exuberant meadow nearby provides a good place for groups of herds and the continuous exchange of Qinghai lake color is really impressive. Then transfer you to the 3-star Qinghaihu Hotel to spend overnight.
Meals: Western style breakfast, Lunch
Day 3
Qinghai Lake - Golmud
Salt Lake, Chaka
You may be reluctant to leave the amazing Qinghai Lake in such a short time, but we have to continue the way to head to our next stop, the legendary Golmud city. During the long time transfer, you will see the golden rape flowers and grassland near and far. At times, some Tibetans are grazing the cattle near their tent. The road will become bumpy gradually. The Gibi scenery along the road comes into your sight. Upon arrival, our guide will help you check into the 3-star Golmud Tian Long Hotel to have a good rest.

Meals: Chinese breakfast, Lunch
Day 4
Golmud - Tuotuo River
Today you will leave the Golmud and proceed to the Tuotuo River. Partaking in such an off-the-beaten track might be a little tough for you, but you are going to meet the unique scenes you have never view before. The pure azure sky and the Snow Mountains in the distance in their peace posture await you along the way. Upon arrival, you will be transferred to the Chang Jiang Yuan Hotel for overnight. Then the guide will lead you to visit the First Bridge of Yangtze River from the Kunlun Mountain.

Meals: Chinese breakfast, Lunch
Day 5
Tuotuo River - Nakchu
Headstream of the Yangtze River
The breakfast is served outside the hotel. Drive to Nakchu and transfer you to 1 star Nakchu Hotel for overnight. Then you will have a guided tour to visit the Tanggula Mountain, the headstream of Nu River, Lancang River and the Yangtze River. Tanggula means "Mountains on a Plateau" in the local language and "Mountains that eagles can not fly over" in Mongolian. You will also have a chance to visit the beautiful Grassland in the north of Tibet.

Meals: Chinese breakfast, Lunch
The guide will lead you to
Namtso Lake
and the Yangpachen Geothermal Energy. Namtso Lake, which means "Heavenly Lake", is considered as one of the three holy lakes in Tibet. It is quite sacred in the locals' mind and when it is the year of the Goat according to lunar calendar of Tibetan's, the pilgrims will come to Namtso to celebrate the grand Clockwise Circle along Lake Festival. Yangpachen Geothermal Energy is the largest geothermal energy power station in China. The hot spring here is in the open air and attracts both residents of Lhasa and tourists. Then head to the magic Lhasa. After arrival in Lhasa, we will transfer you to the 4-star Tashipozhang Hotel for 3 nights. For the balance day, you may have the dinner to recruit the energy by yourself.
Meals: Chinese breakfast, Lunch
In the morning, you will visit the first modern museum in the area,
Tibet Museum
. In the afternoon, go head to visit the
Sera Monastery
, which kept many precious cultural relics and art and craft. Then go to the beautiful
Norbulingka Park
, the former summer palace of Dalai Lama.
Meals: Western buffet breakfast
Today's private trip starts with one of the most famous attractions in the area, the
Potala Palace
. With obvious Tibetan style, it is palace-castle-like architectural complex. Since the restoration in the 17th century, it has served as the winter living and working place for Dalai Lama. The next stop today is the
Jokhang Temple
, a Tibetan Buddhism temple and has been there for 1350 years. After that you will then visit the thriving bazaar of the
Barkhor Street
, where you may see art and craft and you can buy some souvenirs. Then you will also visit a Nunnery.
Meals: Western buffet breakfast
Views along the way
You will head westward and have a long time transfer to Gyangtse today. En route, stop by the sacred
Yamdrok Yumtso Lake
to wonder at the holy lake's tranquility beauty. Upon arrival, check in at the 3-star
Gyangtse Hotel
for overnight. Then have a guided excursion to the Palkhor Monastery, a typical Buddhist Temple fully representing the Tibetan architecture styles from the late 13rd century to middle 15th century. It is famous for the magnificent and exquisite murals, carvings and its 100,000 stupas. Then go along the Gyangtse Old Street, you may feel the special history and cultural atmosphere of Gyangtse. You must be exhausted undergoing a full day's sightseeing so please have a good rest at the hotel.
Meals: Western buffet breakfast
Day 10
Gyangtse - Shigatse
Tibetan people
After an hour's private transfer, you will arrive at Shigatse, the second largest city in Tibet this morning. En route, you may catch the great view outside the car window. Upon arrival, you will bed transferred to the well-selected 3-star Wutse Hotel for overnight, which is located on Sichuan South Road, Shigatse. Then the guide will lead you to visit the
Tashilunpo Monastery
, one of the Six Big Monasteries of Gelugpa (or Yellow Hat Sect) in Tibet, which is the largest temple in Shigatse. Then walk about 20 minutes (or you can also rent a tricycle), you will reach the New Palace of Panchen, a gorgeous, splendid and elegant building with many precious historical relics and good arts. It is also a summer place of Dalai Lama.
Meals: Western buffet breakfast
Today you will be transferred back to Lhasa and register at the 4-star Tashipozhang Hotel once again. Have a good rest tonight, since you will take a long flight back to your country tomorrow.

Meals: Western buffet breakfast
Day 12
Departure from Lhasa
After a big breakfast at the hotel today, your guide will transfer you to the airport and see you off to board the flight back to your country. Your fabulous exploration ends here. Hope next time we can still serve you with our dedicated 24/7 service.

Meals: Western buffet breakfast
Why Travel With Us
Questions & Answers
Asked by Mark | Jun. 13, 2016 03:53

Reply
tour change
Can you add Nagqu Horse racing festival and train from lhasa to Xining, which is what we wanted all these while?
Answers (1)
Answered by TravelChinaGuide | Jun. 13, 2016 03:53

0

0

Reply
Dear Mark,
No problem. We can customize a tour based on your requirement.
Asked by coco from INDONESIA | Jul. 14, 2015 14:02

Reply
Rent Overland Car
Dear...

How much if we need a car for 5 person perday for route qinghai overland ...incl driver.

thanks
Answers (1)
Answered by TravelChinaGuide | Jul. 14, 2015 20:51

0

0

Reply
Dear coco,

We are sorry that we do not arrange car rental service for Qinghai overland, as our driver can not speak English and an English speaking guide can give you good explanation and help you understand the history and culture along the Silk Road. So we suggest you take our pivate tour instead of car rental. Thanks for your attention.
Asked by Mr.polapat | Mar. 03, 2011 02:24

Reply
I and my friend from Mongolia plan to meet in Beijing Capital Airport. My questions are :

1. Which terminal are Mongolian airline(OM) and Thai Airways International(TG)will landing?
2. Are they any suitable meeting place such as restaurant or coffee shop? Would you please recommend some place to meet? We prefer to meet after get our luggage, and our landing time are different around 4 hours.

Thanks,

Answers (1)
Answered by Ms.Kaye | Mar. 03, 2011 19:16

0

0

Reply
Hello Mr.polapat:
1) Mongolian Airline (OM) lands on T2 and Thailand Airline (TG) arrives at T3.
2) Both of you need 1.5 hours to get out of the Exit. The KFC and coffee shop are the best choice for meeting.