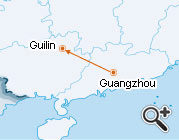 Guangzhou Guilin Express
B-GZ05:
6 Days China Tours from Jakarta Indonesia to Guangzhou

Guilin
Day 1
Jakarta - Guangzhou
Frequent direct flights from Jakarta to Guangzhou make it very convenient to plan China tours from Indonesia. Now Garuda Indonesia flights GA898 0840/1445, GA9988 0805/1505, GA9778 1308/1905, and China Southern Airlines flights CZ388 0805/1505 and CZ3038 1305/1905 are available every day between the two cities. Their flying time is all around 5 hours. Citizens in Surabaya, Medan, Yogyakarta and Malang may also get to Jakarta first and then make a flight connection to Guangzhou.
Prior to your arrival in Guangzhou, you should book a hotel. We would recommend the well-located JI Hotel Yuexiu Park Guangzhou, which can be easily accessed by subway line 2. From Baiyun International Airport, you may take subway line 3 from the Airport South Station to Jiahe Wanggang, and then transfer to line 2 to Yuexiu Park Station; use Exit A and walk 360 yards southwards to the hotel. After check-in, have lunch and take a rest in the hotel. Or, you may pay a visit to the adjoining
Yuexiu Park
, which houses the symbol of Guangzhou, the Five Rams Sculpture.
Accommodation Suggestion: JI Hotel Yuexiu Park Guangzhou
Five Rams Statue
Today's self-guided itinerary covers
Sun Yat-sen Memorial Hall
,
Temple of the Six Banyan Trees
,
Ancestral Temple of the Chen Family
, and
Shamian Island
.
After buffet breakfast in the hotel, you may walk south along North Jiefang Road for 320 yards and turn east onto Yingyuan Road; head another 360 yards forward and you can find the north gate of Sun Yat-sen Memorial Hall, where the greatness of Sun Yat-sen as the founder of the modern China is engraved.
After one hour's stay, get out from the south gate, and then take a taxi to the Temple of the Six Banyan Trees at a cost of CNY10. Passing down from the Ming Dynasty (1368 - 1644), the temple is clearly recognized by its flower-shaped pagoda. You will have a panorama view of the whole city on the top of the pagoda with a height of 187 feet (57 meters).
Afterwards, stroll 320 yards south along Liurong Road to Zhongshan 6th Road and head west to take bus 85, 107, or 250 to Chenjiaci. You will see the Ancestral Temple of the Chen Family the moment you alight from the bus. Built in 1888 in the Qing Dynasty (1644 – 1911), the ancestral temple is a representative of Chinese classic architecture with delicate tile and wood carvings, as well as ingenious design.
Continue your independent tour by taking subway line 1 from Chen Clan Academy Station to Huangsha. Take Exit F and walk through the overpass to reach the Shamian Island. Exotic buildings in Baroque, Gothic and classic styles are the highlights of this cultural block. When the tour is over, take a taxi back to the hotel with a fare of CNY20.
Li River Cruise
Traveling by train is a great experience of your China holiday tour, and TravelChinaGuide recommends you take a bullet train to Guilin for your further exploration. Check out of the hotel, you can take subway line 2 from Yuexiu Park Station to Guangzhou South Railway Station. Generally, you are expected to leave the hotel about two hours before the train's departure time.
There are around 30 bullet trains from Guangzhou South Railway Station to either Guilin West Railway Station or Guilin North Railway Station from 07:30 to 20:30. We recommend you choose one that arrives at Guilin North Railway Station, which has easier access to the downtown area. In busy season, the train tickets may be hard to come by. Booking tickets with TravelChinaGuide would be advisable.
You will never feel bored in the nearly three hours' train ride. The train will pass by rural croplands and terraced fields, as well as various natural landscapes from flat plains up to hilly terrains. You can enjoy yourself by viewing the picturesque scenery outside the window. Moreover, each carriage is equipped with TV sets playing movies and TV shows for passengers to kill time.
Upon arrival in Guilin, we advise you to check into the Hotel Universal Guilin near the city center. You may take bus no. 100 on the square in front of the railway station to Shizijie. Walk northwards and turn east at the first crossing; then, go for another 580 yards to the hotel. Or, you can take a taxi from the train station to the hotel with a fare of CNY25. Next day, you are going to take a
Li River cruise
to
Yangshuo
, so you are advised to book the cruise tickets and pick-up service through the hotel after check-in.
For the rest of the day, you can take a good rest in the hotel, or drop by the nearby
Seven Stars Park
to explore the splendid karst caves inside.
Accommodation Suggestion: Hotel Universal Guilin
Deposit your heavy luggage in the hotel and carry some light daily supplies and electronic gears for overnight stay in Yangshuo. Use the hotel's car rental service or hail a taxi to the Mopanshan Dock in less than one hour. The taxi fare is around CNY70. Most cruise boats depart from Guilin at around 09:00am to 10:00am, so make sure you not miss the boarding time.
Drifting down the Li River, you can view joyful karst landscape of rolling hills and clear water along the way. At about 13:00, the ship will reach Yangshuo. Disembarking from the ship, you may walk through the
West Street
and keep heading westwards to the New Century Hotel near the Yangshuo Park. After check-in, walk back to West Street, where many restaurants, bars, teahouses and craft shops are clustered.
After refreshments, you can hire a bicycle to tour around the countryside and take in the local idyllic life. You may cycle southwards along Kangzhan Road to follow the
Ten-Mile Gallery
to the
Moon Hill
. It is a popular hiking route among backpacking travelers and the view along the way is really joyful.
Afterwards, ride back to the West Street and have a big meal in a decent restaurant there. Then, walk back to your hotel to get a sound sleep.
Accommodation Suggestion: New Century Hotel
Countryside Scenery in Yangshuo
Today, you are going to leave Yangshuo County and spend one day exploring attractions in downtown Guilin. After an early breakfast, check out of the hotel and take a battery car to Yangshuo North Bus Station for a direct bus back to Guilin. The bus ticket costs CNY25 and it takes around one hour on the way.
Upon arrival at the Guilin General Bus Station, you can take bus no. 3 across the road to
Reed Flute Cave
(Lu Di Yan) within one hour. In the cave, you will find yourself inside a colorful crystal palace decorated with bizarre limestone. Having feasted your eyes with enchanting scenes, take a taxi to reach the
Elephant Trunk Hill
at a cost of CNY25. Located at the intersection of Li River and Taohua River, the hill shapes like a giant elephant dipping water from the rivers, and there are many cliff inscriptions and Buddhist statues on the hill.
After touring the Elephant Trunk Hill, get out from the north gate and follow the river bank to the north. Along the way, you will view peaceful night scene of the Li River with gentle breeze brushing your hair. It should be a comfortable experience. When you reach the first fork, you will see your hotel on your left hand side.
Accommodation Suggestion: Hotel Universal Guilin
Your memorable China tour from Jakarta Indonesia comes to an end today. Please check out of the hotel before 12:00 and leave Guilin City either by air or train. Since there is no direct flight from Guilin to Jakarta, we suggest you take the Dragon Air flight KA701 1120/ 1240 to Hong Kong, and then transit to the Cathay Pacific flight CX719 1600/1950. You will have 3 hours and 20 minutes for the flights connection. Alternatively, you can return to Guangzhou and then fly to Jakarta. For this option, you are advised to book the China Southern Airlines flight CZ3231 0830/0940, have a transit stop for 7 hours in Guangzhou, and then connect to the flight CZ387 1650/2050. You may also take the morning bullet train D2997 0817/1110 from Guilin North Railway Station to Guangzhou Railway Station, and then hail a taxi to Guangzhou Airport for the flight CZ387 1650/2050.

To Guilin Liangjiang Airport:
There is no direct bus available, so you need to take a taxi to Guilin Aviation Hotel with a fare of CNY15, and then take a shuttle bus to the airport in around 40 minutes at a cost of CNY20. Alternatively, you can take a direct taxi which costs about CNY100-120.

To Guilin North Railway Station:
From the hotel, walk west to the first crossing and turn north onto Middle Zhongshan Road. Walk 170 yards forward to take bus 1 or 100 from Lequn Lukou bus stop to Guilin North Railway Station. The other option is to hail a taxi and the cost is around CNY25.
Need detailed infomation on train, flight or bus/ metro schedule? Use the search tool below.
If the above route does not meet your requirements, you could DIY an itinerary by choosing daily guided tours, free days, hotels, trains and/or flights freely. Our estimated quotation can be a reference for your independent travel.