Great Wall Facts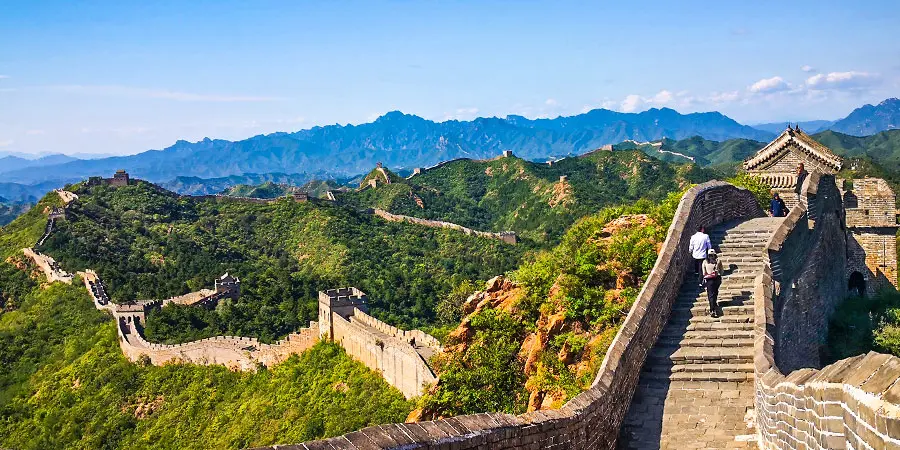 Badaling, Beijing
Chinese Name: 长城/万里长城
Chinese Pinyin: Cháng Chéng/Wàn Lǐ Cháng Chéng
English Translation: Great Wall/Great Wall of 10,000 Li
Length: 8,851.8 km (5,500 miles)
Builder: the ancient Chinese laboring people (common people, farmers, soldiers and slaves)
Construction Period: About 2,000 years from the Warring States Period (476 BC - 221 BC) to Ming Dynasty (1368-1644)
Enjoying the fame of "Wan Li Chang Cheng", Great Wall starts from Hushan in Liaoning in the east and ends at Jiayuguan Pass in Gansu in the west, via the nine provinces or cities in northern China, including Liaoning, Hebei, Beijing, Tianjin, Shanxi, Shaanxi, Inner Mongolia, Ningxia and Gansu. It is often compared to a huge dragon winding up and down in the mountains, grassland and deserts. In Chinese history, over 20 states and dynasties have built the wall, and the sections built in Qin (221 BC-206 BC), Han (206BC-220) and Ming (1368-1644) dynasties exceed 10,000 Li (about 3,107 miles). The new survey of the length of the wall in Ming Dynasty has confirmed that it is 8,851.8 km (5,500 miles) long.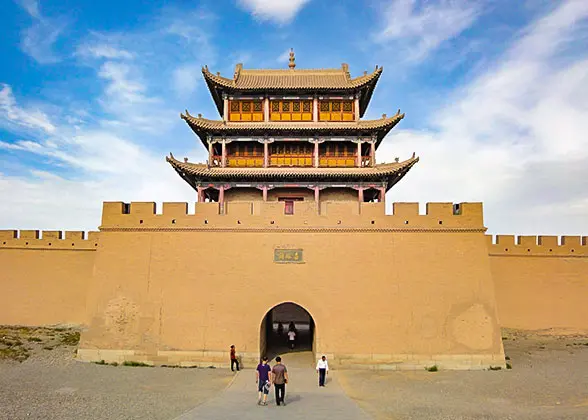 Jiayuguan, Gansu

At present, the Great Wall has already lost its military function, and many sections have been repaired and opened to the public. Among them, Badaling is the most famous which receives the most visitors from home and abroad. Mutianyu is famous for its spectacular scenery, Jinshanling and Simatai are well known for the wildness and cragginess, and Jiankou is attracted by its dangerous location. Due to these varieties, it's no wonder that Great Wall is the most welcomed scenic sight in China.



Tops

Most visited: Badaling


The most eastern section (Ming Dynasty): Hushan


The most western section (Ming Dynasty): Jiayuguan


The most western section (Han Dynasty): Yumenguan


The most dangerous section (Ming Dynasty): Jiankou


The earliest wall: built in Chu State in Warring States Period (476 BC - 221 BC)


The section with most construction styles: Great Wall in Zhangjiakou City


The highest section: built in 2,000m (6,562 feet) tall Huapiling and bingshanliang mountains in Zhangjiakou City


The section with most fortresses & the section where the most frequent wars took place: Great Wall in Zhangjiakou City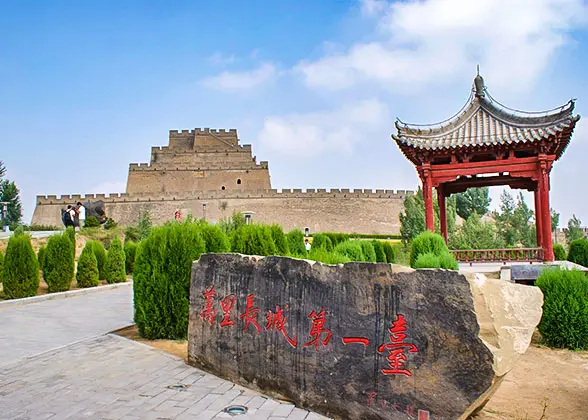 Zhenbeitai, Yulin, Shaanxi

The No.1 city terrace: Zhenbeitai in Shaanxi
The No.1 fortress: Jiayuguan Pass in Gansu
The No.1 tower: Nine-Eye Tower in Beijing
The No.1 city gate: Dajing Gate in Zhangjiakou
The first pass under heaven: Shanhaiguan Pass in Hebei

The three inner side passes: Juyongguan, Zijingguan, and Daomaguan Passes
The three outer side passes: Yanmenguan Pass, Ningwuguan Pass, Pianguan Pass
The eight big passes: Shanhaiguan, Juyongguan, Zijingguan, Yanmenguan, Niangziguan Pass, Pianguan, Jiayuguan and Yumenguan Passes.

The first Chinese finished hiking the wall: Liu Yutian in 1984
The first foreigner to explore the whole length of the Wall: William Edgar Geil in 1908

Besides, Great Wall Marathon held annually along Huangyaguan Pass and Jinshanling is reputable, which attract more and more participants from all over the world.

FAQs


How long is the Great Wall of China?


Who of the world leaders have visited the Great Wall of China?


Who, when and why built the Great Wall of China?


Can the Great Wall Be Seen from the Space?

Top Tours to the Great Wall: