Hong Kong Museum of Coastal Defence
Located at No. 175 Tung Hei Road, Shau Kei Wan, the Hong Kong Museum of Coastal Defence was converted from the hundred years' old Lei Yue Mun Emplacement in 1993. On July 25, 2000, the museum opened to visitors. Lei Yue Mun lies at the eastern gateway to the Victoria Harbour, which is a very advantageous location in coastal defence.

The Hong Kong Museum of Coastal Defence exhibits the history of military defence along the Hong Kong coast dating back to the Ming Dynasty (1368-1644). It covers an area of about 34,200 square meters (8.45 acres) and is made up of three main sections---the Reception area, the Redoubt and the Historical Trail.

The Reception Area is the major entrance to the Hong Kong Museum of Coastal Defence. Herein you will find the parking lot, the reception hall, passengers' lifts and the lecture hall.

The Redoubt is the central structure in the museum and is covered with a tent-like roof. It has two floors---the lower floor is used for thematic exhibitions and the upper floor is intended for long-term exhibitions. At the entrance to the Redoubt, there are gift shops selling souvenirs and books. Rest Rooms and dining rooms are located toward the rear of the structure.

The Historical Trail traverses the Lei Yue Mun Headland and contains more than ten restored military relics. The trail features military installations including batteries, an ammunition depot and a torpedo station.

How to get to Hong Kong Museum of Coastal Defence
1. Walk for about 15 minutes following the road signs from Exit B2 of the Sha Kei Wan MTR Station
2. Take NWFB bus route 82X Firstbus, running Siu Sai Wan, via North Point and Cityplaza.
Entrance Fee
Free
Opening Hours
Mar. - Sep.: 10:00 - 18:00
Oct. - Feb.: 10:00 - 17:00
Closing Days
Thursdays (except public holidays)
First two days of Lunar Chinese New Year.
Tip: If you are going to visit Hong Kong Museum of Coastal Defence, you may get around Lei Yue Mun as well.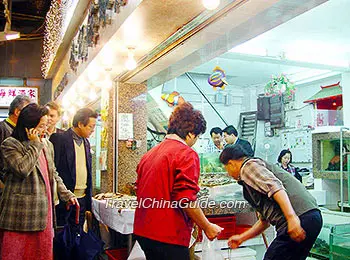 A Seafood Market at Lei Yue Mun
Lei Yue Mun, situated in the southeast of Kwun Tong, was an old fishing village in the past, which has a history of more than 150 years. In the 1960s, restaurants started to appear there and later, this fishing village was gradually developed to be a renowned gourmet area of seafood.
Take the minibus at the Kwun Tong MTR Station. In about 10 minutes, you can see the fishermen's boats anchoring in the inlet. On the boats, you can see the clothes hung to dry and some daily use like pots and pans. On the bank, there are many seafood shops and restaurants.
In 1992, Lei Yue Mun started to hold the Seafood Festival. Since then, this festival has become a very important celebration in this area. During the festival, people have a chance to watch various traditional Chinese performances, such as Chinese operas and Lion Dance. What's more, many restaurants hold advertising activities. They introduce the latest creation of seafood dishes and also provide discounted food services for customers. When the Seafood Festival comes, a lot of people come to Lei Yue Mun to feel the occasion and enjoy the delicious seafood dishes.
- Last updated on Jul. 29, 2019 -
Questions & Answers on Hong Kong Museum of Coastal Defence
Asked by amy from HK | May. 02, 2014 04:17

Reply
Is there car parking area at the Hong Kong Museum of Coastal Defence?
Answers (1)
Answered by Terry from USA | May. 06, 2014 21:45

2

1

Reply
Yes, there is a car paking area for visitors' three hours free parking and it is open from 10:00 to 17:00.
Asked by Mrs.sally from PHIL | Jan. 31, 2011 11:22

Reply
if we are staying at Rambler Oasis hotel and we would like to go to hk museum how can we get there? thanks
Answers (1)
Answered by Mr.James | Feb. 01, 2011 00:32

2

2

Reply
Hong Kong Museum of Coastal Defence?Hotel free shuttle bus to tsing Yi. Then take MTR to Central and change to Island line to Shao Kei wan. Get out from Exit B2 and follow the sign to find the museum in 15 minutes.