Ganhaizi (Dry Sea Meadow)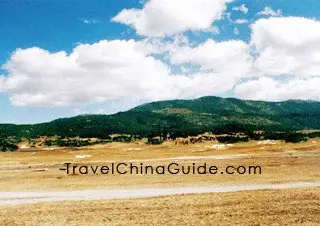 Vast Meadow of Dry Sea, Lijiang
Ganhaizi, literally meaning Dry Sea, is a vast meadow with an altitude of 3,100 meters (10,171 feet). Just as its name implies, it had been a highland glacial lake before the 1940s and was formed after the water had dried up. It is located at the east foot of Jade Dragon Snow Mountain and is only 25 kilometers (15.5 miles) away from
Lijiang Old Town
.
Surrounded on all three sides by the superb mountains, Dry Sea is the closest and also the best place to get a panorama of Jade Dragon Snow Mountain. The 13 peaks of Jade Dragon Snow Mountain are covered by the undefiled white snow wriggle from the north to the south, like a white jade dragon flying and playing leisurely in the sapphiric sky. The name of the highest peak, Shanzidou (Fan Peak) originates from its shape. From one angle of view, it looks like a gigantic unfolded fan cutting in the clouds.
On this heavily forested land, spring is a busy season, for the meadow bursts into colorful blooms and is full of energy. In the sunny days of summer, fantastic green glittering glaciers can be seen clearly through the telescope. It is the flourishing plants all over the mountains that tinge the glaciers with the filmy green. When autumn comes and brings a gentle breeze that kisses the meadow turning the green leaves on the deciduous trees into bright yellow, orange, and scarlet. In winter, the pure snow covers this world making the meadow and the mountains show a kind of holy beauty. Dry Sea is an abundant pasture and views of local herders who intersperse their groups of grazing livestock (including the cattle, the goats, the sheep and the domesticated yaks) are easy to be seen.
| | |
| --- | --- |
| Surrounded Snow Mountain of Ganhaizi | Charming Dry Sea under Pure Sky |
Dry Sea now is a famous travel resort, many minority villages are built here and the establishments are self-contained. Visitors can take part in many kinds of activities by daylight like skiing, grass-sliding, gliding, and racehorse, etc. When the moonlit night comes, one can enjoy the peace and harmony of the majestic snow mountains and the far-flung meadow or they can take part in the parties held by the local people, both are really pleasant things.
How to get to Ganhaizi
It's located in the
Jade Dragon Snow Mountain Scenic Area
.
1. From Lijiang Old Down, you can take a bus from Yuhe Parking Lot near the northern gate. The bus leaves for the Snow Mountain at 8:30 and returns at 16:30; the bus fare costs CNY40 per person.
2. Visitors can charter a car /taxi / minivan from Lijiang downtown area to reach the Snow Mountain; it costs around CNY 200 for a round trip. Upon arrival, they can walk to Dry Sea.
Entrance Fee
CNY 130 for entering the Snow Mountain. It also covers the entrance fee of major spots inside the scenic area, such as Blue Moon Valley, Spruce Meadow, and Glacier Park;
CNY 230 for a combo ticket (valid for two days), including the snow mountain, Yushui Village (also called Jade Water Village), Dongba Valley, Yufeng Temple, Yuzhu Qingtian Scenic Resort, Dongba Kingdom, Dongba Gods' Garden and Baisha Mural).
Recommended Time for a Visit
20 minutes

Performance in Ganhaizi:
Impression Lijiang
- Last updated on Apr. 12, 2021 -
Questions & Answers on Ganhaizi (Dry Sea Meadow)
Asked by Fong Chee Khiong from SINGAPORE | Oct. 13, 2018 21:25

Reply
Will be staying at Lijiang for 3 days/2 nites in late Oct 2018.
Kindly provide details on how to visit Spruce Plain (云杉坪)and Blue Moon Valley(蓝月谷), including cost for admission and cable car rides. One day enough to visit both places? Cost of round trip by taxi? Thanks.
Answers (1)
Answered by Shea from USA | Oct. 16, 2018 03:29

0

0

Reply
The ticket fare of Jade Dragon Snow Mountain is CNY 130, including the Spruce Plain and Blue Moon Valley. You can take the Spruce Plain cable car to visit the Spruce Plain. To visit the Blue Moon Valley, you need to take the electromobile and the fee is CNY20. One day is enough to visit the both places. The taxi fee for round trip may be 160 - 200.
Asked by Masyita | Nov. 15, 2015 09:47

Reply
Is Dry Sea the same place as the Jade Dragon Snow Mountain?
If I want to go to Glacier Park, can I go to Ganhaizi too?
Answers (3)
Answered by Danny from USA | Nov. 15, 2015 21:48

0

0

Reply
Yes, Ganhaizi is located to the northern foot of the mountain. You can visit it first and then take cable car onto the mountain to have fun at Glacier Park.
Answered by Masyita | Nov. 19, 2015 06:53

0

0

Reply
How to go to Ganhaizi? I mean, if I want to go to Glacier Park, then I have to take bus from the entrance to the Glacier Park Cable Car, right? Then, how can I stop by at Ganhaizi and then continue my journey?
Answered by Danny from USA | Nov. 20, 2015 21:22

0

1

Reply
Yes, you need to take the Green Bus inside the scenic area and get to the place to take the cable car. The cable car can take you to Ganhaizi directly. Don't worry.
Asked by Nina from USA | Aug. 14, 2012 05:13

Reply
How to get there from Lijiang to Dry sea?
Please help me how to get there from Lijiang.
I would like to see yaks...
Can I catch a bus?
Answers (1)
Answered by Emily | Aug. 14, 2012 22:20

0

0

Reply
You can take bus no. 7 at Red Sun Square (Hongtayang Square) of Lijiang to Jade Dragon Snow Mountain first, which is very close to your destination.

Or you can hire a car from Lijiang to get there directly.