Xinyu Travel Guide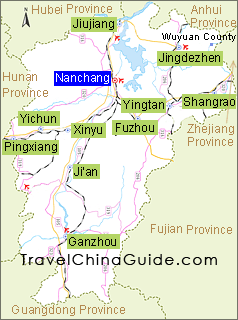 Xinyu Facts
Chinese Name: 新余 (xīn yú)
Population: 1,173,700
Area: 3,178 square kilometers (1,227 square miles)
Location: in the west-central of Jiangxi Province, east China
Administrative Division: 1 district (Yushui); 1 county (Fenyi)
Area Code: 0790
Zip Code: 338000
GDP (2019): CNY 97.158 billion (USD 14.083 billion)
Fourth-Largest Jiangxi City with Charming Fairy Lake
Xinyu lies in the west-central region of Jiangxi Province, neighboring Yichun and Ji'an. It is about 150 kilometers (93 miles) away from the capital city of the province, Nanchang. Xinyu is the fourth largest city in Jiangxi Province, rich in mandarin oranges and grapes. Featuring a beautiful cityscape, the city is surrounded by mountains on three sides and beside a stream. There are many picturesque parks and scenic spots in the city. Among them, Fairy Lake Scenic Resort is the most charming and it is said to be the place where the legendary seven fairies come to earth. Besides the charming natural scenery, karst caves, ancient buildings, underwater ancient cities, ancient tombs, stone carvings and local folk customs also attract many tourists. Every morning and evening, you can see hundreds of birds hover over the lake.
Xinyu Attractions - Things to Do
Fairy Lake Scenic Resort covers an area of 198 square kilometers (76 square miles) in total, ranking the top attractions in Xinyu City and even in Jiangxi Province as well. It is 17 kilometers (11 miles) from the downtown area, and is divided into five principal scenic zones: Wulong Lake, Zhongshan Valley, Qianyang Lake, Dagang Mountain, Jiulong (Nine-dragon) Bay. The scenic area is a collection of karst caves, elegant islands and ancient towns, tombs and stone inscriptions.
How to get to Xinyu
Xinyu does not have its own airport, but it is convenient to draw support from the Nanchang Changbei International Airport. Over an hour is needed to shuttle between the two cities. Here is enclosed the address of the Xinyu's long-distance bus station: Xinxinbei Avenue.
Weather
-
Xinyu bears a subtropical humid climate characterized by a distinct four seasons, temperate weather and relatively shorter chilly winter. July to August should be the hottest period of a year. Frost and snow usually fall during the severe winter. The second quarter of the year collects almost half a year's rainfall.

When to Go: at any season during a year
Xinyu Travel Tips

History: Although this area was inhabited by human settlers as early as 5,000 years ago, Xinyu County, named after the Yushui River running through it, was established in 267 during the Three Kingdoms Period (220-280) under the administration of Yichun. By the year of 598, the county had been marked off from the Yichun.



Physical Features: Xinyu is located in the medium and low mountainous and hilly area of western Jiangxi, and its terrain is higher in the north and south, flat and lower in the center with the Yuanhe River running through. Apart from large areas of hilly mountains and hills, plain areas around the river are also an important component of the city's landform.



Special Local Products: preserved egg, grass cloth, honey orange
- Last updated on Jun. 17, 2020 -
Questions & Answers on Xinyu Travel
Asked by Relz Deima from BRUNEI | Feb. 12, 2013 06:40

Reply
Do Xinyu area has muslim or halal food cafe or restaurant?
We planning 3 days trip to the city to visit the Iron & Steel Company.
Answers (2)
Answered by Flora | Feb. 14, 2013 03:49

1

0

Reply
I heard there are several good Halal Lamian Restaurants there.
Answered by Joe from USA | Mar. 05, 2016 23:52

0

0

Reply
There is Halal restaurants in EVERY city in China. Many Chinese are Muslim. Peace.
Asked by Mr.simpson from UNITED KINGDOM | Aug. 26, 2010 05:04

Reply
Could anyone please recommend the best western style hotel in Xinyu city. Thanks
Answers (1)
Answered by Mr.Michael | Aug. 26, 2010 22:26

1

0

Reply
You can try Chunlong International Hotel in Xinyu.
Asked by Ms.neha from CHINA | Feb. 28, 2010 19:37

Reply
we r planning to trip in xinyu...can u help us about which local buses r best to round in city?
Answers (1)
Answered by Ms.Cindy | Mar. 02, 2010 21:48

2

2

Reply
That depends where are you going and living. The minimum fare for taxi is 5RMB, not expensive. That is much convenient, i think.