Yingtan Travel Guide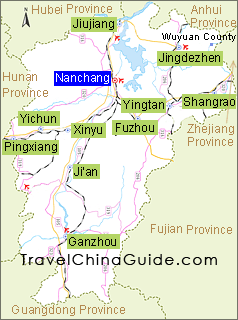 Yingtan Facts
Chinese Name: 鹰潭 (yīng tán)
Population: 1,182,000
Area: 3556.7 square kilometers (1,373.2 square miles)
Location: in the northeast of Jiangxi Province, east China
Administrative Division: 1 district (Yuehu); 1 county (Yujiang); 1 county-level city (Guixi)
Area Code: 0701
Zip Code: 335000
GDP (2019): CNY 94.126 billion (USD 13.643 billion)
One of the Birthplaces of Chinese Taoism
Yingtan lies in the northeast of Jiangxi Province, in the middle and lower reaches of Xinjiang River. It is bordered by Shangrao and lies in the southwest to Wuyuan within the province. It also neighbors Fujian Province to the southeast. Ying refers to eagle while Tan means pool. This city got the name because there is a deep pool at the foot of Longtou Mountain in the city and an eagle once hovered over it. Yingtan is a famous historical city with a history of more than 3,600 years and has many historical sites and cultural landscapes. The highlight of Yingtan tourism is Longhu Mountain which is the birthplace of Taoism with unique Danxia landform and mysterious cliff tombs.
Yingtan Attractions - Things to Do

Some fascinating scenic spots on the mountain
Fairy Water Rock
: Consisting of 24 rock peaks, the Fairy Water Rock has numerous hang coffin groups scattered in caves on the precipitous crags. These cave tombs can be traced back to 2,600 year ago, leaving behind many enigmas to be exposed.
Shangqing Ancient Village:
With a thousand years of history, the ancient village is built along river surrounded by mountains. The two kilometers (1.2 miles) long old street is dotted by many sightseeings, including the Shangqing Palace and the Mansion of Celestial Master. Apart from these Taoism buildings, visitors can also admire the suspending buildings and wharfs of the locals.
| | |
| --- | --- |
| Admission Fee | CNY 10 |
| Transportation | Take special tourism bus from the Yingtan Railway Station to the ancient town. |
Bamboo raft is the principal way of touring Longhu Mountain. So the best time to visiting the mountain by water is during April to October. If traveling along the overland route, visitors can get there at any season during a year.
How to get to/around Yingtan
1. Getting in and out of Yingtan by air should have the aid of Nanchang Changbei International Airport which is a bit more than a hundred kilometers (62 miles) from Yingtan. Yingtan bus station is situated in the Tianjie Road, where visitors can take buses to Nanchang for two hours.

2. Longhu Mountain is 20 kilometers (12 miles) southwest of Yingtan. In the railway station or Yingtan bus station west of the railway station, there are regular buses running to the Fairy Water Rock and Shangqing Ancient Village, then visitors can have bamboo raft drifting along the Luxi River during the tour.



See more Shanghai - Yingtan Train
Weather
-
Enjoying a subtropical temperate and humid monsoon climate, Yingtan City is characterized by clear four seasons, moderate weather, abundant rainfall and long frost-free season. The weather in spring is inconstant and winter is relatively warmer. April to June is the flood season.

When to Go: all the year round
Yingtan Travel Tips

History: According to archeological discovery, this area became a vital center of ceramic production as early as the middle and late Shang Dynasty (16th - 11th century BC). It was called Yingtan Fang in the Tang Dynasty (618-907), just the eponymy of the city. In the late Qing Dynasty (1644-1911), it was only a town and ascended to be a city though more than a hundred years of development.



Physical Features: Yingtan belongs to the low mountainous and hilly area of northeast Jiangxi, having typical Danxia Landform. Within the city, over ninety percent of the plantation is paddy field.



Special Local product: early mature pear, tea (kuding tea, aloe tea), red stone
- Last updated on Jun. 17, 2020 -
Questions & Answers on Yingtan Travel
Asked by Tiffany from PHILIPPINES | Jun. 10, 2019 16:45

Reply
I am planning to move in Yingtan...what should I expect? any malls or big supermarkets?
Answers (1)
Answered by Amber from UNITED KINGDOM | Jun. 10, 2019 18:13

0

0

Reply
It is not a very large city. But you can surely find some malls and super markets. For example, the largest shopping mall Kaixiang Xintiandi is located at No.8 West Shengli Road, Yuehu District.
Asked by azza from TUNISIA | Mar. 19, 2018 11:42

Reply
muslim restaurents in yingtan
Is there a guide for foreiners who will spend ramadan there please? Thank you
Answers (2)
Answered by Hasan from SINGAPORE | Mar. 19, 2018 21:29

1

0

Reply
Hi, Azza! I remember there are many Halal Beef Noodles Restaurants near the People's Hospital, and you may have a check!
Answered by azza from TUNISIA | Mar. 22, 2018 13:49

0

0

Reply
Hi hassan.ok thank you so much
Asked by Pankaj Kamal from INDIA | May. 18, 2017 22:01

Reply
Hi, it's Pankaj. May you tell how to reach yingtan from Nanchang airport?
Which medium of transportation will be better to reach there and visit longhu mountain?
Answers (1)
Answered by Naomi from CHINA | May. 23, 2017 03:47

4

0

Reply
As I know, you can take the airport shuttle bus line 1 to Nanchang Railway Station. Then you can take a train to YT Railway Station. The ticket fare is CNY23.5/person. Upon arrival, you can take bus no.k2 to Longhu Mountain Bus Stop. When you get off the bus, you can see the scenic spot directly.
Asked by Wang from MALAYSIA | Apr. 08, 2017 10:21

Reply
May I know how far is North Railway station to Yingtan Railway station?
Which station is best to stay to visit LongHu Mt.?
How do I go from North Railway station to the main Railway station?
Thank & Regards
Answers (1)
Answered by Ann from NEW ZEALAND | Apr. 10, 2017 22:25

1

0

Reply
1. It's about 5.6 miles (9 kilometers) between two stations.
2. You can take bus no.23 at North Railway Station and get off at the Main Railway Station Bus Stop. Upon arrival, you may walk back along the West Xihai Road for about 110 yards (100 meters) to the destination.
3. The Main Railway Station is more convenient if you want to visit Longhu Mountain. You can take a shuttle bus to the mountain on the square left to the Main Railway Station.
Asked by Jose Vicente from SPAIN | Jul. 04, 2016 06:03

Reply
We are going to stay for 1 day in Yingtan this August.
I would like to know if it is possible to visit Longhu Mountain without any organised tour and how much is the entrance to the mountain?

How to get from Longhu Mountain to Shangqing Ancient Village, and from Shangqing to YT Again?

Thank you for your help.
Answers (3)
Answered by David from USA | Jul. 06, 2016 01:28

1

0

Reply
Yes, you can do that. The ticket price is CNY 260 per person, including admission fee, sightseeing bus, and cruise or raft.
Shangqing Ancient Village is inside the scenic area. You can take a sightseeing bus there. Back to the city, you can take bus line K2 from Tourist Service Center to Main Bus Station for CNY 3. :)
Answered by Jose Vicente from SPAIN | Jul. 06, 2016 07:16

0

0

Reply
Thank you for the information.

Do you know if it is possible to hike in the mountain without raft and sightseeing bus? How much would it be?

Is it possible from there go to Shangqing in a normal bus or some other mean of transport?
Thank you for your help.
Answered by David | Jul. 07, 2016 01:12

1

0

Reply
The admission fee is CNY 150. The scenic area is quite large, so you are strongly advised to buy the sightseeing bus ticket of CNY 50. The Shangqing Ancient Village is inside the mountain, so you need to take the sightseeing bus there. I hope my clarification can help you. :)