Ganzhou Travel Guide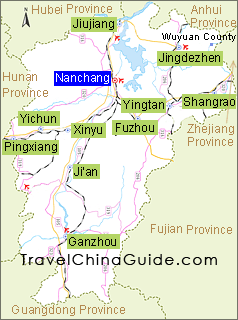 Ganzhou Facts
Chinese Name: 赣州 (gàn zhōu)
Population: 9,830,700
Area: 39,379.64 square kilometers (15,204.56 square miles)
Location: in the south of Jiangxi Province, east China
Administrative Division: 3 districts (Zhanggong, Nankang, Ganxian); 14 counties (Xinfeng, Dayu, Ningdu, Yudu, Xunwu, Anyuan, Shangyou, Chongyi, Longnan, Quannan, Dingnan, Xingguo, Huichang, Shicheng); 1 county-level city (Ruijin)
Area Code: 0797
Zip Code: 341000
GDP (2019): CNY 347.434 billion (USD 50.360 billion)
Hakka People's Largest Settlement in China
Located in the south of Jiangxi Province, Ganzhou covers the largest area with the largest popularity in Jiangxi. It is bordered by Sanming, Longyan, Fuzhou and Ji'an. It also shares a boundary with Guangdong to the south and Hunan to the west. Ganzhou is China's largest settlement of Hakka people which accounts for more than 95% of the city's population. There are more than 1,000 Hakka traditional round houses, mainly scattered in Longnan, Anyuan and Xinfeng Counties. The Hakka Culture City in the southeast of Ganxian District also shows many Hakka buildings including ancestral halls and a museum and introduces Hakka culture.

Ganzhou has a long history and Song Dynasty (960 - 1279) saw its most prosperous time when the city benefited a lot from the Southern Water Silk Road. Many cultural relics and sites had been preserved. For example, the 3.6 km (2.2 mi) long city wall built in the Song Dynasty still plays an important role in the flood control of Ganzhou. Tourists can also go to Meiguan Ancient Post Road to see the wonderful plum blossom. The stone cases and stone Buddhas carved on the Tongtian Cliff will also impress you.
Ganzhou Attractions - Things to Do
Tongtian Cliff
Located 10 kilometers (6.2 miles) northwest of the Ganzhou city proper, the Tongtian Cliff is reputed as the treasury of the ancient grotto art in South China. It holds the largest complex of cliff grottos of Jiangxi Province, with entirely 279 stone cases in the cliffsides and 359 stone Buddhas, most of which are engraved during the Tang and Song dynasties. Since the Song Dynasty, cliffside inscriptions of poets and scholars had existed over nine hundred years. Perfectly set off by the surrounding natural sceneries, Tongtian Cliff is an ever pleasant summer resort.
| | |
| --- | --- |
| Admission Fee | CNY 60 |
| Transportation | bus no.18, 107 or 109 |
Meiguan Ancient Post Road
In order to promote the trade communication, the Tang Court constructed the post road, the passage merchants of Jiangxi and Guangdong must take. Two thousand years later, it is still kept intact. December or January is the best time to Meiguan, as it is just the florescence of plum blossom all over the hill and dale. The ancient post road is superior choice for tourists fond of tranquility and something redolent of the past.
| | |
| --- | --- |
| Admission Fee | CNY 30 |
| Transportation | take regula bus from Ganzhou Bus Station to Dayu and change bus at the bus station for Meiling. |
1. Ganzhou Huangjin Airport is located at Emei Village, Fenggang Town, Jingkai District, Ganzhou City, Jiangxi Province, with a distance of about 16 kilometers (about 10 miles) from downtown Ganzhou. At present, it has opened flights to Guangzhou, Beijing, Xi'an, Nanchang, Chongqing, Nanning and Shanghai.

2. Ganzhou Bus Station lies in No.25, 814 Dadao, Zhanggong District, dispatching 600 buses a day. Here list some express bus routes from Ganzhou.
To Nanchang, about once an hour, 4.5-hour drive
To Guangzhou, about eight buses daily, 5.5-hour drive
To Shenzhen, about 4 buses daily, about 5-hour drive
Weather
-
Enjoying a subtropical humid monsoon climate, Ganzhou City has abundant rainfall. Intense precipitation usually begins in May. Boiling days in summer and chilly days in winter are relatively fewer. The annual average temperature is about 19°C (66°F).

When to Go: spring and autumn
Ganzhou Travel Tips

History: Human settlers moved to this region four or five thousand years ago. Before the Qin Dynasty (221BC-206BC) put it under the administration of Jiujiang Shire, Ganzhou was a part of the Chu Kingdom in the Warring States Period (476BC-221BC). By the Three Kingdoms Period (220-280), a city-level administrative apparatus had been established, which is said to be the initiation of city-level governing bodies in southern Jiangxi.



Physical Features: Mountains and hills are the predominant types of landform of Ganzhou City, covering a percentage of eighty of the city's territory. Surrounded by mountains, the area is higher in the circumference and lower in the central part which is made up of hills and river valleys.



Special Local Products: southern poplar mushroom, konjak, orange, tea, red melon seed
- Last updated on Jun. 15, 2020 -
Questions & Answers on Ganzhou Travel
Asked by SC Tan from SINGAPORE | Sep. 12, 2018 12:39

Reply
Where can I take a bus from Ganzhou to Shangrao and what is the bus fare per pax?
Thanks.
Answers (2)
Answered by Tanya from ROMANIA | Sep. 13, 2018 19:45

0

0

Reply
Yes, you can take a long-distance bus from Ganzhou Bus Station. The schedule is 08:50. The fare is about CNY150. But the bus station doesn't depart it every day.
You need to consult the staff at the bus station by yourself. Hope helpful!
Answered by SC Tan from SINGAPORE | Sep. 14, 2018 03:21

0

0

Reply
Thank you for your helpful response. Much appreciated.
Asked by Mary Ong from PHILIPPINES | Aug. 05, 2015 02:04

Reply
If tour in San Liao Chun, is there any clean hotel? Like Home Inn or stay in XingGuo County
Answers (1)
Answered by Coco from SINGAPORE | Aug. 08, 2015 01:28

1

0

Reply
Oh, you must refer to San Liao Village, right?
Compared with chain hotels, there are more local guest houses. The prices and living conditions don't have big differences. So you can choose one when you arriving at the village.
About the hotel in Xingguo County, many accommodations like Home Inn are there for you choose.
Home Inn Business Hotel is located at Xingguo Avenue (the east side of Coach Station). The price is about CNY 100 per night.
Asked by DOLLABI | Jan. 18, 2015 00:50

Reply
Hello friends i am seeking a interpreter in Ganzhou city.
any one can help to find.Thanks
Answers (2)
Answered by Dora from CHILE | Jan. 19, 2015 01:08

2

0

Reply
Will you stay in a hotel in that city? If so, ask your hotel to find a trustworthy one in advance. If not, try to search for any useful info on the community of Travel China Guide. Hope help!
Answered by DOLLABI | Jan. 20, 2015 00:07

0

0

Reply
Thanks a lot Dorra.
Asked by Alan | Aug. 01, 2012 11:38

Reply
Bus from Ganzhou to Yingtan
Where can I find a bus schedule for this route? Also, length of time and cost?
Answers (1)
Answered by Nina | Aug. 01, 2012 22:19

0

0

Reply
You can take a long-distance bus at Ganzhou Bus Station to Yingtan. Two buses are in oepration every day: at 10:10 and 11:50. It may take about 7 h to Yingtan and cost about CNY 150 or more.
Apart from the bus, you can also choose to take the train from Gangzhou to Yingtan. The train departing time is at 17:41, 19:07, 19:34, 20:55, 21:45, 23:38. It takes about 6.5-7 h and costs CNY 73 for hard seat, about CNY 130 for hard sleeper and about CNY 200 for soft sleeper.