Lijiang Travel Tips
Fast Facts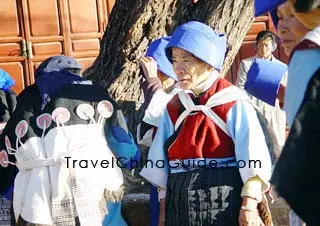 Naxi Nationality

Area: 20, 6000 square kilometers (about 7,953 square miles)

Location: to the southeast of Qing-Tibet Plateau and in the northwest of Yunnan Province

Population: about 1,150,000

Nationalities:
Naxi
, Mosuo,
Yi
,
Tibetan
,
Pumi
,
Bai
,
Dai
,
Miao
,
Hui
,
Zhuang
,
Lisu
and Han

Area Code: 0888

Zip Code: 674100

Useful Phone Numbers:
Tourist Complaint: 5123432
Lijiang Airport Inquiry Telephone: 5173081
Scheduled Flights and Ticket Inquiries: 5161289 5161291 5173079

Emergency Numbers:
Fire: 119
Ambulance: 120
Police: 110
Traffic: 122

Post Office: located at No.1, Minzhu Lu, Square Street, the Old Town, Lijiang

Communication: A number of public IC card telephones have been installed in the Old Town, and some stores in the Old Town provide public telephones. Visitors can make direct domestic and international calls. Also, mobile phones can be used freely within the area of the Old Town.

Toilet Facilities: A number of toilets with good facilities and service have been built in the Old Town. Usually, the charge is CNY0.5 per person.

Festivals
San Duo Festival
San Duo is the patron saint of the Naxi Group, so each year the local Naxi people will get together to hold a worshipping celebration on 8th February of the Chinese lunar calendar. It is considered to be the most important annual event for the Naxi Group. As well as the big communal ceremony, each Naxi family will hold its own sacred ceremony. On that day, the locals also have some outside entertainment and picnics.
Zhuanshan Festival (Walk Around Mountain Festival)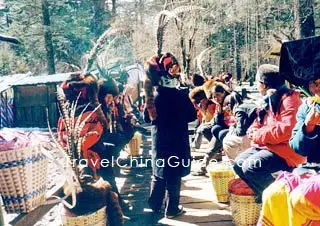 Local Ethnic Minorities Celebrating Festival
This is one of the very important festivals for those Mosuo people living along the charming Lugu Lake. On every 25th July of Chinese lunar calendar, the Mosuo people will wear their finest clothes, visiting the Lion Mountain beside Lugu Lake on foot or horseback. The Lion Mountain is said to be the embodiment of the Mosuo people's guardian goddess. People will burn joss sticks, hang up colorful prayer flags and offer tributes to their goddess on the mountain. They also hold a series of entertainments such as horse racing, wrestling and singing. At this time, young men and girls will look for their lovers, too.
Torch Festival
This is a famous festival of those of the Yi Group living in Ninglang County of Lijiang. Originally held on every 24th June of Chinese lunar calendar, this festival was supposed to use fire to protect crops from the destructive insect by fire. Now, it is a bustling trading fair in this region, also involving entertainments. By night, the locals will take torches with them, and gather for singing and dancing around a bonfire.
Bangbang Festival (Stick Festival)
Annually held by the Naxi Group on 15th January of the Chinese lunar calendar, this festival marks the end of the Spring Festival and the beginning of the agricultural production in a new year. Originally held in the local temples as an important religious fair, it was later moved into the Old Town. On that day, locals flock into the Square Street from far and near, selling or buying wooden and bamboo farm tools. In recent years, this festival has grown to be a large trading event, including farm tools, flowers and trees, commodities and toys for children. Now, not only the locals but also a large number of domestic and overseas travelers take part in the Bangbang Festival.
- Last updated on Jul. 19, 2022 -
Questions & Answers on Lijiang Travel Tips
Asked by Paul | Mar. 16, 2018 02:35

Reply
Motorbike rental in Lijiang
Hello,

I know that you need a chinese driving license in order to rent a car or motorbike in china. But is it generally possible to rent a small motorbike in LJ and to drive to shangri-la with it? I am currently in the process of applying for my chinese license.

Best regards
Answers (1)
Answered by Phill from ITALY | Mar. 18, 2018 19:49

1

0

Reply
Yes, it's possible and have a nice trip!
Asked by Vincent Lee from SINGAPORE | Apr. 24, 2016 04:11

Reply
Admission Fee in Lijiang Old Town ?
a.We will be staying at Three Wells Inn located at No:60 Wen Lin Xiang, Yishang Street. Is this Inn inside or just outside the Old Town?

b. Do hotel guests staying in the Old Town need to pay the Admission Fee?
Answers (1)
Answered by Peter from USA | Apr. 25, 2016 02:21

1

0

Reply
a. It is inside the Old Town.
b. You need to pay CNY 80 as the old town protection fee.
Asked by Bea from USA | Sep. 04, 2015 12:58

Reply
How should I spend 9 days in Lijiang and vicinity?
Answers (2)
Answered by Sarah from UNITED KINGDOM | Sep. 06, 2015 21:51

2

0

Reply
Here is an itinerary for reference:
Day 1: arrival, Lijiang Old Town
Day 2: Baisha Village
Day 3: Shuhe Ancient Town
Day 4: Jade Dragon Snow Mountain
Day 5: Tiger Leaping Gorge
Day 6: Tiger Leaping Gorge
Day 7: Lugu Lake
Day 8: First Bend of Yangtze River
Day 9: Depature
Answered by Bea from USA | Sep. 06, 2015 23:46

1

0

Reply
Thank you Sara. Sounds like a great plan. I have researched all the places except the First Bend of Yangtze River. Looking forward to your recommended plan. :)
Asked by Evelyn Lim from SINGAPORE | Jul. 27, 2015 02:25

Reply
Hi, may I know when is the best time to visit Lijiang and can I bring along my 82 years old mum.
Answers (1)
Answered by Nelson from BRAZIL | Jul. 27, 2015 03:46

0

0

Reply
The best timing to visit is May and Oct. It is fine to take your old mum. The Ancient Town, Impression LJ and sightseeing for Jade Dragon Snow Mountain are the must-sees.
Asked by Larry from USA | Sep. 17, 2014 21:02

Reply
Is this the Lion Mountain in Lijiang that is known for its unusual looking walking stiks?
Answers (1)
Answered by Ken from UNITED KINGDOM | Sep. 20, 2014 03:14

0

1

Reply
As I know, there is nothing special for the walking sticks.
The mountain is noted for its height. It is the highest place in the ancient town, and there you can have a panorama view of the whole town.