Lijiang Nightlife
At night, Lijiang will never disappoint her friends who have come from far away. When dawn arrives, various recreational activities will be played in the Old Town. As well as the exotic local scenery to be enjoyed during the day, the colorful nightlife in Quick Guide will give you a profound understanding of the mysterious cultures practiced by the local ethnic groups.



Bars and Café in Lijiang

Naxi Ancient Music and Dance Show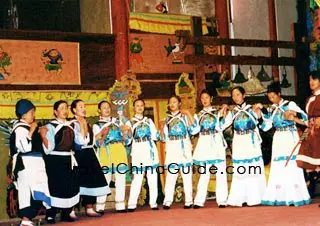 Naxi Dance and Music Show
The Naxi People, who have inhabited Lijiang for a long time, have created their unique and splendid Dongba Culture, while also absorbing the essence of the other groups. The same as other groups' civilizations in the world, Dongba Culture is a kind of religious culture, involving every aspect of the locals' daily life. Amongst them, the Naxi ancient music and dance are two pearls in the mysterious Dongba Culture.
Currently, the most appreciated tour itinerary among visitors from home and abroad in Lijiang is to admire the scenic spots by day and enjoy the Naxi ancient music and dance show by night. At present, there are two places for visitors to see the authentic Naxi music and dance show.

Naxi Concert Hall
Every night from 20:00 to 21:30 pm, there is a wonderful concert played in this hall, which is located at No.11 Jishan Valley,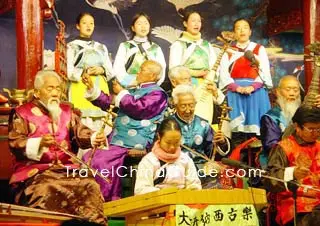 Naxi Concert Hall
Xinyi Street of the Old Town. The melodious Naxi music is performed by a group of local senior musicians whose are more than 60 years old on average. Because annually one or two of these great musicians pass away, it is reported that the rare art is already on the brink of being lost. The other highlight of this concert is the brilliant running commentary of Xuan Ke in fluent English and Chinese. He has made a great contribution to the restoration of Naxi music.
Ticket: The charge ranges from CNY80 to CNY120 per person (approximately $10 to $15 US).

The Dongba Palace
In comparison to the performances at the Concert Hall, the performance played in Dongba Palace attracts a great deal of audiences by its grand scenes, delicate production and intriguing theme.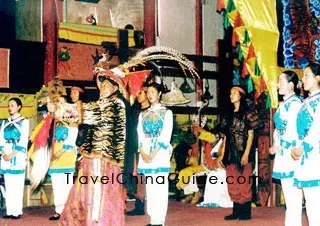 Cultural Show at Dongba Palace
It is a must to watch the gorgeous live theatre-Mountain and River Show, which involves the unique customs, daily life and fairy tails of Naxi People. Additionally, there are some other wonderful exotic performances acted in the palace from 20:00 daily.

Lijiang International Ethnic Cultural Exchange Center
The Mountain and River Show played in this center attracts a great number of travelers every night. This show is a comprehensive living theater, including not only the Naxi ancient music but also the traditional custom of those local ethnic minorities.
Time: 19:50-20:00 Naxi Ancient Music
20:00-21:00 Mountain and River Show
Ticket fare: 100/120/140

Ganhaizi Scenic Spot of Jade Dragon Snow Mountain
The living theater of Impressive Lijiang showed in the Ganhaizi (Dry Sea) Scenic Spot of Jade Dragon Snow Mountain is on the background of the gorgeous snow mountain. It is suggested that you watch the show when visiting the Jade Dragon Snow Mountain.
Time for reference: 13:00-14:30
- Last updated on Jul. 19, 2022 -
Questions & Answers on Lijiang Nightlife
Asked by Ms.audrey from HONG KONG | May. 28, 2009 20:11

Reply
any restauratnts and bars other than Stone and Crows rooftop bar that are a must try?
Answers (2)
Answered by Mr.Shan | Jun. 03, 2009 02:12

2

3

Reply
Hi Audrey, it seems that you could find a good recommendation at this page https://www.travelchinaguide.com/cityguides/yunnan/lijiang/when-to-go.htm
Answered by Mr.kennilsen from CANADA | Nov. 22, 2010 14:14

2

2

Reply
freshnam bar is a new western style bar thats boasts the best live music in town. good atmosphere.