Lijiang Shopping
From the Tang Dynasty (618-907), an important trade road, just as famous as the Silk Road was prosperous in southwestern China. Later to be known as the Tea-Horse Ancient Road, this road moved through Sichuan and Yunnan provinces and the Qinghai-Tibet Plateau Thousands of years of changes has resulted in the disappearance of the road. The exception is Lijiang Old Town, which was a vital commercial distributing center. The town including its original commercial pattern centering round the Square Street is in service to this day.
What to buy
Craftworks of Naxi People
In recent years, with its tourist industrial development, Quick Guide offers various kinds of souvenirs to its visitors. Of particular interest are the exotic handcrafts of the Naxi Group.
Local crafts are colorful and unique. Naxi bracelets and necklaces carved with ancient Dongba hieroglyphs seem popular with visitors. Individually designed T-shirts can be created as locals have the capacity to paint on the Dongba hieroglyphics required. Knitted shawls of the Naxi Group have been popular with female visitors for quite some time. All of these things can be easily found in Quick Guide Old Town at a reasonable price.
Other popular souvenirs include the Bunong Jixiang Bells and Naxi murals.
Bunong Bells
draw their inspiration from the bells of the horse caravans that once traveled the Tea-horse Ancient Road. Local handcrafts show the romantic horse caravan culture from years ago. The
Jixiang Bell
, known as the lucky bell, was a sacrificial utensil of the Naxi Group. The
Naxi Mural
is praised as the gem of Naxi culture reflecting the kind and intelligent aspect of Naxi people. A piece of Naxi mural, with its elaborate pictures and use of pastel colors provides a wonderful decorationt to family and friends.
Two kinds of mild wine produced in Lijiang are favored by visitors.
U Wine's
history can be traced back to the Ming Dynasty (1368-1644).
Sulima Wine
is specially brewed by Mosuo people who live in Ninglang Yi Autonomous County, northeast of Lijiang City. It is important to check your country's Customs restrictions prior to purchase if you intend taking these wines out of the country.
| | |
| --- | --- |
| Bunong Jixiang Bells | Knitted Shawls of the Naxi Group |
Where to buy
The most famous shopping center of Lijiang is Square Street, the most bustling area of the city. It provides another interesting experience to your trip. A large number of souvenir stores are located here, selling various kinds of decorations and handicrafts. Some shops are owned locals while others are opened by gold diggers from other places in China.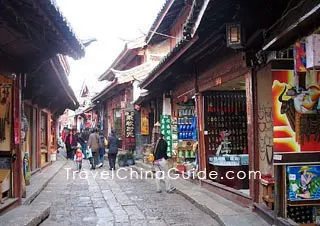 Shopping at the Square Street of Lijiang
Bu Nong Ling (Bunong Bell)
The best place to buy the exotic Bunong Bell. Belles sold here are completed designed and made by the shopkeeper.
Location: East of the big stone bridge of Lijiang Old Town.

Dongba Ji Xiang Ling (Dongba Lucky Bell)
Location: No.1, Xinyuan Alley, Guangyi Street, Square Street, the Old Town

Li Yin (Li's Silver)
A formal shop sells many kinds of hand-crafted silver ornaments.
Location: No.43, Guanyuan Alley, Guangyi Street, Square Street, the Old Town

Sun Wood-carvings
Location: Mishi Alley, Xinyi Street, Square Street, the Old Town
- Last updated on Jul. 19, 2022 -
Questions & Answers on Lijiang Shopping
Asked by Mandy Chan from CANADA | Apr. 24, 2019 21:16

Reply
Silver Bracelet in Lijiang
Where can I find a specialty silver bracelet with Chinese character engraved within the bracelet. Is shop No. 3 still there?
Answers (1)
Answered by Kevin from MALAYSIA | Apr. 25, 2019 20:27

0

0

Reply
I'm not sure if it is still there but there are many silver shops in Square Street.
Asked by Angela from MALAYSIA | Mar. 12, 2019 04:58

Reply
Please let me know whats good to buy in Lijiang. Whats the best tea there?
Answers (1)
Answered by Judith from FRANCE | Mar. 13, 2019 01:59

0

0

Reply
As I know, you can buy some Snow Tea (雪茶) there. In addtion, horn combs, ginseng, yak meat and tricholoma matsutake are nice local products.
Asked by Felix from SINGAPORE | Nov. 26, 2015 02:44

Reply
Where to buy Chinese Instrument Er-Hu in Lijiang shopping?
Answers (2)
Answered by Coco from FRANCE | Nov. 27, 2015 02:42

0

0

Reply
As I know, several instrument stores sell Er-Hu in this city. Haiyin Instrument Store is recommended. I heard that you can find good quality ones. It's located at 2, No.12, Xiangjiayuan, Weather Station, Gucheng District. You can go and see.
Answered by Felix from SINGAPORE | Nov. 29, 2015 17:22

0

0

Reply
Thanks for the information.
Asked by KateP from AUSTRALIA | Mar. 29, 2015 01:47

Reply
Outdoor Travel Clothing
We are visiting from Australia in October and were wondering if we could buy western style outdoor adventure clothing in Lijiang? We will need lightweight but warm coats and pants as we are travelling into Tibet. Thank you
Answers (1)
Answered by Molly from DENMARK | Mar. 29, 2015 03:03

1

0

Reply
I know TOREAD in the city. It has a branch in no. 339, Minzhu Road, LJ old town. And another one named as Xiniu Outdoor Supplies. It is located in no. 33, Shuangshi Section, Xinhua Street, LJ old town.
BTW, I heard that from Feb. 15, 2015, all the foreigners are not allowed to entry Tibet.

Asked by LC from SINGAPORE | Jul. 30, 2014 08:34

Reply
Where to buy wushu / martial arts products and books in lijiang?
Answers (2)
Answered by Andrew from USA | Jul. 31, 2014 02:12

0

0

Reply
I just heard such things can be found in LJ ancient town, but I am not sure if you can exactly find them. Just have a try there. Good luck.

And I heard the Intenational Traditional Martial Arts Cultural Festival will be held in the ancient town in the coming Aug. 15-25, when I believe the local stores may sell some relevant products.
Answered by LC from SINGAPORE | Aug. 01, 2014 07:53

0

0

Reply
Thanks for the tip, Andrew