China Embassy in Bangladesh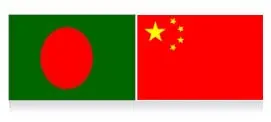 Ambassador: Mr. Li Jiming
Address: Plot 2&4, Embassy Road, Block-1, Baridara, Dhaka, Bangladesh
Tel: +88-02-9887923; 01760503035 (only available in holidays)
Fax: +88-02-9896878; 9880188
Office Hours: 09:00-12:30, 15:00-17:00, Sunday-Thursday (except holidays)
Email: chinaemb_bd@mfa.gov.cn
Website: http://bd.china-embassy.org/eng/
Consular Office of Chinese Embassy in Bangladesh
Tel: +88-02-8856064 (15:00-17:00 only)
Fax: +88-02-8858259
Office Hours: 09:00-12:00, Sunday - Thursday (except holidays).

Fees
Regular Fee per Person
| Types | Bangladeshis Citizens | American Citizens | Citizens of Other Countries |
| --- | --- | --- | --- |
| Single-Entry | 2050 Taka | 9800 Taka | 1460 Taka |
| Double-Entry | 2550 Taka | 9800 Taka | 2190 Taka |
| Multi-Entry with 6-month Validity | 3600 Taka | 9800 Taka | 2920 Taka |
| Multi-Entry with 12-month Validity | 6000 Taka | 9800 Taka | 4380 Taka |
| Hong Kong Visa/ Entry Permit | 1800 Taka | 1800 Taka | 1800 Taka |
Expedited Service Fee per Person
The regular processing time is 4 working days. For urgent cases, you can apply for the expedited service. Moreover, additional service fee will be paid as following:
| | |
| --- | --- |
| 2-3 working days processing | 1750 Taka |
Requirements for Application
Basic Requirements
1. Valid passport (at least 6 months before expiration) with blank pages and copy of the data pages and the photo page if it is separate;
2. One completed Visa Application Form with one passport photo.
3. Proof of legal stay or residence status (applicable to those who not applying in their country of citizenship)
Addtional Requirements

L visa for tourism:
For tourism, documents showing the itinerary including round-trip air ticket and proof of hotel reservation are required, or an invitation letter issued by individual/entity should be provided.

Applicants who wish to travel to Tibet, Original Tibet Entry Permit issued by Tibet Tourism Bureau (Tel: 0086-891-6834313, Fax: 0086-891-6834632) is required, applicants can contact a travel agency to get the Tibet Entry Permit for you.

F/M visa for business:
Original and copy of Invitation Letter issued by a relevant entity or individual; Invitation letter or Confirmation letter of invitation from Authorized Unit of China.

X visa for study:
Original and copy of the Admission Letter issued by a school or other entities;
Original and copy of Application Form for Study (JW201, JW202);



Z visa for employment:
Original and copy of Employment License for Foreigners issued by Ministry of Human Resources and Social Security of China, or Work Permit issued by the State Administration of Foreign Experts Affairs;
Original Invitation Letter or Confirmation Letter issued by authorized departments of Chinese Government;
A Physical Examination Report for Foreigner from local public hospitals.

G visa for transit:
An onward air (train or ship) ticket with confirmed date and seat to the destination country or region.

Hong Kong Special Administrative Region
1. According to the new arrangement made by the Immigration Department of the HKSAR, from December 11, 2006, nationals of Bangladesh must have a visa to enter the HKSAR for any purposes, such as direct transit (not go out of airport), ordinary transit (go out of airport) and visit, excluding following situations:

A. Diplomatic/service (official) passport holders are free for a stay up to 14 days.
B. United Nations Laissez Passport holders go to Hong Kong or transit Hong Kong to/from a third place for official purposes.
C. Operating aircrew and operating seaman in work go to Hong Kong.

3. The following Bangladeshis including their accompanying spouse and children can apply for visit visa for a stay up to 14 days and Single-Entry or Double-Entry for Transit with a stay up to 7 days.
A. Government officials holding ordinary passport
B. Celebrities in society and business circles
C. Employees of famous large-scale enterprise, including multinational companies, international airlines and shipping enterprises, financial entities, banks, insurance entities and foreign representative. Moreover, they are required to show the Certificate Letter (go to Hong Kong for Business) issued by their company.

4. The other Bangladeshi citizens should directly post their applications to the Immigration Department of the HKSAR. Its address is Floor 6, Immigration Tower, No.7 Gloucester Road, Wan Chai, Hong Kong.



Please contact Embassy of Bangladesh in China if Bangladeshis are in troubles there.



Related Chinese Embassies in Asia: Brunei, Cambodia, Georgia, New Delhi, India
- Last updated on May. 23, 2023 by Brenda Lian -
Questions & Answers on China Embassy in Bangladesh
Asked by MOHD.Shaheen Ahamed from BANGLADESH | May. 23, 2023 08:10

Reply
How to get port of entry Chinese family visit visa
Dear sir,
I'm Bangladeshis businessman & living in japan.My wife is Chinese & her mother is 88 years old who is hospitalized in china tianjin province.plz advise me how to get port of entry Chinese family visit visa.Awaiting.
Thank you.
Answers (1)
Answered by Clare | May. 23, 2023 23:48

0

0

Reply
You need an invitation letter from the family member residing in China to apply for a Q1 visa. A proof of family relationship is also needed for Q1 visa (no need for Q2), like your marriage certificate. If you plan to apply in Japan, then your residence permit in Japan is also necessary.

The invitation letter generally should contain the following information:
a. Information of the applicant, including full name, gender, date of birth, etc
b. Information about the visit, like purpose of visit, intended arrival date, place(s) of intended residence, intended duration of residence, arrival and departure dates, relation of the applicant to the inviting entity or individual, and financial source for expenditures.
c. Information regarding the inviting individual, including name, contact number, address, official stamp, signature of the inviting individual, etc.
Asked by Mir shaeek from CHINA | May. 12, 2023 07:29

Reply
I'm Bangladeshi citizen, I have a Chinese girlfriend. I want to bring her to Bangladesh
I'm Bangladeshi citizen, I have a Chinese girlfriend. I want to bring her to Bangladesh For traveling purposes. We will stay there for 2 weeks. What do i need to show for her to get the visa. What are the steps. And how to.
Answers (1)
Answered by James | May. 14, 2023 22:59

0

0

Reply
I'm afraid you need to consult the Bangadesh embassy in China who gives the visa.
Asked by Md Faruque Hossain from BANGLADESH | May. 10, 2023 05:02

Reply
For business visa one year valid need what kind of documents.
Answers (1)
Answered by James | May. 10, 2023 19:28

0

0

Reply
Generally, the business visa is only valid for about 1 month and at most 3 months. But you can apply for extension before it is expired. But the overall duration couldn't be over 1 year. Documents for M Visa China:

1. Valid passport

2. A completed typewritten application form with a color photo.

3. China Business Visa Invitation Letter
Asked by MD TAMIMUL ISLAM from BANGLADESH | Apr. 27, 2023 01:58

Reply
I'm a student in China. I want to bring my wife to China? Which visa should she take?
What documents are needed for her to obtain visa and enter China?
Answers (1)
Answered by Frank | Apr. 27, 2023 19:40

0

0

Reply
You can try to apply for S1 Visa or S2 Visa; Documents include:
1.Passport
- Applicant's passport with blank pages and at least six months validity left.
2.Application Form
- One truthfully completed China S Visa Application Form attached with a recent color photo.
3.Invitation Letter from the Foreigner Who Works or Studies in China
- The letter should contain:
a. Information on the applicant (full name, gender, date of birth, etc.)
b. Information on the visit (purpose of visit, arrival and departure dates, address of intended residence, relations between the applicant and the inviting individual, financial source of living expenditure, etc.)
c. Information on the inviting individual (name, contact number, address, signature, etc.)

4. The Inviter's Passport and Chinese Residence Permit
- A photocopy of the inviting individual's passport and residence permit of China.

5. Kinship Certification between the Inviter and Invitee
- Original and a photocopy of certification such as a marriage certificate, birth certificate, certification of kinship issued by the Public Security Bureau, or other notarized certification of kinship showing their family relationship.
Asked by Azizur Rahman from BANGALDESH | Mar. 07, 2023 02:21

Reply
for Business multi entry visa for one year,what should I need?Invitation letter frm Gvt authority?
Should I submit the application physically or online?
Answers (1)
Answered by Nina | Mar. 09, 2023 17:09

0

0

Reply
Yes, you need an official invitation letter. Submit the docuemnts online visa the app "China Consular Affairs".