China Embassy in Bangladesh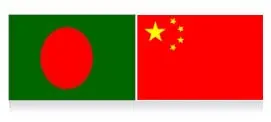 Visa Application Form of PRC

Ambassador: Mr. Ma Mingqiang
Address: Plot 2&4, Embassy Road, Block-1, Baridara, Dhaka, Bangladesh
Tel: +88-02-9887923; 01760503035 (only available in holidays)
Fax: +88-02-9896878; 9880188
Office Hours: 09:00-12:30, 15:00-17:00, Sunday-Thursday (except holidays)
Email: Chinaemb_bd@mfa.gov.cn
Website: http://bd.china-embassy.org/eng/
Consular Office of Chinese Embassy in Bangladesh
Tel: +88-02-8856064 (15:00-17:00 only)
Fax: +88-02-8858259
Office Hours: 09:00-12:00, Sunday - Thursday (except holidays).
Fees
Regular Fee per Person
| Types | Bangladeshis Citizens | American Citizens | Citizens of Other Countries |
| --- | --- | --- | --- |
| Single-Entry | 2050 Taka | 9800 Taka | 1460 Taka |
| Double-Entry | 2550 Taka | 9800 Taka | 2190 Taka |
| Multi-Entry with 6-month Validity | 3600 Taka | 9800 Taka | 2920 Taka |
| Multi-Entry with 12-month Validity | 6000 Taka | 9800 Taka | 4380 Taka |
| Hong Kong Visa/ Entry Permit | 1800 Taka | 1800 Taka | 1800 Taka |
Expedited Service Fee per Person
The regular processing time is 4 working days. For urgent cases, you can apply for the expedited service. Moreover, additional service fee will be paid as following:
| | |
| --- | --- |
| 2-3 working days processing | 1750 Taka |
Requirements for Application
Basic Requirements
1. Valid passport (at least 6 months before expiration) with blank pages and copy of the data pages and the photo page if it is separate;
2. One completed Visa Application Form with one passport photo.
3. Proof of legal stay or residence status (applicable to those who not applying in their country of citizenship)
Addtional Requirements

L visa for tourism:
For tourism, documents showing the itinerary including round-trip air ticket and proof of hotel reservation are required, or an invitation letter issued by individual/entity should be provided.

Applicants who wish to travel to Tibet, Original Tibet Entry Permit issued by Tibet Tourism Bureau (Tel: 0086-891-6834313, Fax: 0086-891-6834632) is required, applicants can contact a travel agency to get the Tibet Entry Permit for you.

F/M visa for business:
Original and copy of Invitation Letter issued by a relevant entity or individual; Invitation letter or Confirmation letter of invitation from Authorized Unit of China.

X visa for study:
Original and copy of the Admission Letter issued by a school or other entities;
Original and copy of Application Form for Study (JW201, JW202);



Z visa for employment:
Original and copy of Employment License for Foreigners issued by Ministry of Human Resources and Social Security of China, or Work Permit issued by the State Administration of Foreign Experts Affairs;
Original Invitation Letter or Confirmation Letter issued by authorized departments of Chinese Government;
A Physical Examination Report for Foreigner from local public hospitals.

G visa for transit:
An onward air (train or ship) ticket with confirmed date and seat to the destination country or region.
Hong Kong Special Administrative Region
1. According to the new arrangement made by the Immigration Department of the HKSAR, from December 11, 2006, nationals of Bangladesh must have a visa to enter the HKSAR for any purposes, such as direct transit (not go out of airport), ordinary transit (go out of airport) and visit, excluding following situations:

A. Diplomatic/service (official) passport holders are free for a stay up to 14 days.
B. United Nations Laissez Passport holders go to Hong Kong or transit Hong Kong to/from a third place for official purposes.
C. Operating aircrew and operating seaman in work go to Hong Kong.

3. The following Bangladeshis including their accompanying spouse and children can apply for visit visa for a stay up to 14 days and Single-Entry or Double-Entry for Transit with a stay up to 7 days.
A. Government officials holding ordinary passport
B. Celebrities in society and business circles
C. Employees of famous large-scale enterprise, including multinational companies, international airlines and shipping enterprises, financial entities, banks, insurance entities and foreign representative. Moreover, they are required to show the Certificate Letter (go to Hong Kong for Business) issued by their company.

4. The other Bangladeshi citizens should directly post their applications to the Immigration Department of the HKSAR. Its address is Floor 6, Immigration Tower, No.7 Gloucester Road, Wan Chai, Hong Kong.



Please contact Embassy of Bangladesh in China if Bangladeshis are in troubles there.



Related Chinese Embassies in Asia: Brunei, Cambodia, Georgia, New Delhi, India
- Last modified on Apr. 22, 2019 -
Questions & Answers on China Embassy in Bangladesh
Asked by Jhon(郭清) from BANGLADESH | Apr. 24, 2019 01:37

Reply
About "Z" Visa
I am studying in China and I'm from Bangladesh. I am doing internship in a company. My company is interested in joining me as a full-time employee. Now I am on a student visa. I will graduate in July. My student visa will expire on August 1. I can't stay in China after August 1. So I need an employee visa. How can I easily get a "Z" visa? What papers should I submit to the embassy? If I go back to Bangladesh and try to get a "Z" visa from the Chinese Embassy in Bangladesh, would it be easier? What kind of difficulties might be? please help me
Asked by ADVOCATE MAHMOOD H.R. from BANGLADESH | Apr. 20, 2019 06:52

Reply
Query about on arrival visa of china as tourist "L- visa"
I am an advocate practicing in the supreme court of Bangladesh since 1986.

i along with my only daughter (her mother died in 2008) (now she is studying in the University of Chittagong With Honours). Liķe to visit china & for this reason we need" l- visa. "
can we get on arrival visa ? If so, would you inform me about the procedure etc & oblige us.
Your kind co-oppera6tion will be highly appreciable.

Sincerely,
Advocate Mahmood, Hamdur Rahman
Supreme Couŕt Of Bangladesh
Answers (1)
Answered by Maria from CHINA | Apr. 22, 2019 01:22

0

0

Reply
Sorry but you cannot get the on arrival visa. It means you have to apply for a visa in your country before departure.
Asked by Mohammad Mojammel from BANGLADESH | Apr. 09, 2019 21:44

Reply
What type of documents is required to get on arrival visa
I have completed a registration for attending a fair in China. What type of documents is required to get on arrival visa.
Answers (1)
Answered by Ward from GERMANY | Apr. 10, 2019 19:02

0

0

Reply
Hi, you are advised to apply for a visa for mainland China beforehand.
Asked by Dr. Bulbul Ahmmed from BANGLADESH | Mar. 26, 2019 21:27

Reply
For "Z" VISA, medical check-ups are required?if yes, health screening center is recommended or not
Answers (1)
Answered by Glen | Mar. 26, 2019 23:15

0

0

Reply
If it's required, you should do that from the state-own public hospital designated by the embassy of China. You can call the embassy to check which one you should go.