Silk Road FAQs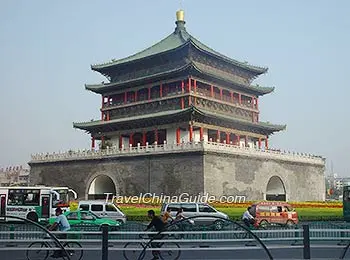 Xi'an Bell Tower

Question: What places of interest will we see along the famous Silk Road?

Answer: We have a detailed list of the cities and/or places you will visit, please click the link for further information: Silk Road Scenery
---

Question: When is the best time to visit these places along the Silk Road?

Answer: The Silk Road covers several provinces and regions in China, from Xi'an in the east to Gansu Province and Xinjiang Province in the west. Xi'an and Gansu is suitable to visit all-year round. May to early October is the best time to visit Xinjiang because the weather is mild. June to September is the harvest months where one could experience country life.
---

Question: What clothes should I bring when I visit Xinjiang?

Answer: Xinjiang has a sunny weather. The temperatures during daytime and nighttime vary greatly. The average difference is 12

C (53.6

F). Based on its dry, sandy and changeable climate, we suggest you bring the following items:
1) If you will visit Xinjiang during Summer, when it is hot, we suggest that you bring the following:
a) Enough clothes to keep you warm. Most of the time, you only need to wear short pants and shirts with short-sleeves. We suggest that you wear jeans in mountainous places where the weather might become a bit cool. It is always advisable that you bring extra clothes and a jacket just in case the weather becomes chilly.
b) Hats, sunglasses, sun block and lip balm are essential to protect you from sun and windburns.
c) Scarves, or some protective material, are a must when the weather becomes windy to protect you from sand (especially in desert areas).
d) Comfortable shoes are very important because you will be walking most of the time although there are some spots where camel rides are required. Sports shoes or low-heeled shoes are your best bet.
e) Enough water to avoid dehydration.

2) If you will visit Xinjiang in other seasons, bring:
a) Enough clothes to keep you warm. Sweaters, jeans and wind coats during spring and down jackets, hats and gloves are essentials during winter. Bring extra clothes you could put on just in case the weather becomes chilly especially during winter.
b) Things to protect you from strong ultraviolet radiation and strong sand storms when the weather becomes windy.
c) High-cut shoes with hard tread.
A backpack is a good choice to put all these necessities (other than clothes): rain gear, water, camera, electric torch, maps, medicines etc.
---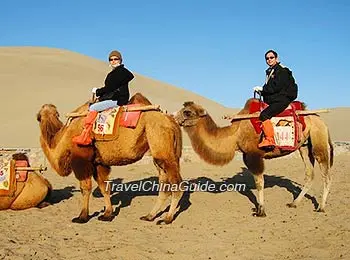 Camel Ride in Dunhuang, Gansu

Question: What medicines should I bring?

Answer: We suggest that you take some travel pill or anti-nausea medicine with you to make you feel comfortable from mountain sickness. Medicines for preventing sunstroke are essentials for summer travel. Medicines for colds, diarrhea, nausea, fever and carsickness are all necessary. Some nasal ointment and throat-moistening pills will greatly be of help for those who are sensitive to dry weather conditions. If you are going to remote places, anti-mosquito spray, cream or lotion is also necessary. Please consult your doctor prior to your travel.

One tip: do not drink tea after eating lots of fruits, otherwise you will easily get diarrhea.
---

Question: What itinerary would you recommend?

Answer: We have some elaborately designed itineraries for your reference. Kindly click on the link for your perusal: Silk Road Tours
---

Question: Someone told me that there is a time difference between Beijing and Xinjiang. Is this true?

Answer: Yes, this is true. Though Xinjiang uses the standard Beijing time, there is a two-hour time difference. Xinjiang time is two hours behind of Beijing time, which is GMT+6. Almost all local minorities use Xinjiang time instead of Beijing time.
---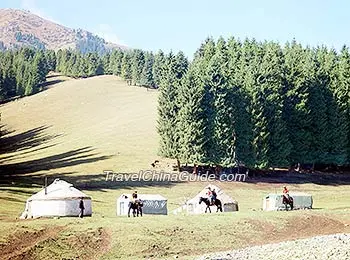 Southern Prairie in Xinjiang

Question: Should we join a FIT tour or an organized tour?

Answer: The vast territory, changeable weather and roads and many unexpected factors make it unsuitable for you to do fully independent travels in Xinjiang especially for first-time travelers.
---

Question: What are the do's and don'ts when traveling in Xinjiang?

Answer: Xinjiang is a region where several ethnic groups exist. All of these ethnic groups are devout followers of Islam. All travelers should respect their beliefs. People should not eat pork, dog's, donkey's or mule's meat in Muslim restaurants or even talk about it. This will cause (great) trouble. Other musts to be observed are the following: You should not enter Mosques without being properly dressed; Women or ladies are not allowed to enter some mosques in the south of Xinjiang; and, travelers should not gaze at Uigur or their staff in markets without buying anything.
There are some other things you need to pay attention to and our guide will give you more information when you are in Xinjiang.
---

Question: Some say people might get mountain sickness in Xinjiang, is this true? If yes, what preparation should I make?

Answer: Many places in Xinjiang are over 2,000 or 3,000 meters (6,561 or 9,800 feet) above sea level and it is quite possible for you to get mountain sickness. You may follow these suggestions to avoid mountain sickness
---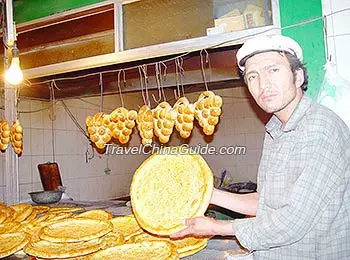 Nang, typical food
of Uygur Minority in Xinjiang

Question: What's the main means of transportation along the Silk Road? How about the condition?

Answer: There are only two cities that have international air connections among all cities along the road in China. These are Xi'an and Urumqi. To other cities, people need to take train and most of the time by land.
Xinjiang has a vast desert territory, the Gobi desert, marshy grasslands, valleys, forests, which makes road travel not so conducive. The roads in Xinjiang are just normal as in other cities; however in some remote areas, they are poorly maintained. The ride might become too bumpy in remote areas and driving takes relatively long between cities.
---

Question: What is the food in Xinjiang? Is it sanitary to eat in restaurants in Xinjiang?

Answer: In star-rated hotels or big restaurants you do not need to worry about sanitation. But if you love to taste local snacks or if you are traveling in remote areas, we would suggest that you have prior vaccination against hepatitis for the food preparation or handling in some restaurants in some of these remote areas may not be properly sanitized. Please consult your doctor before your trip starts.
- Last modified on Jan. 01, 2020 -
Questions & Answers on Silk Road FAQs
Asked by Ivy from MALAYSIA | Dec. 29, 2019 05:25

Reply
Is traveling to Silk Road from 26/10 to 8/11 recommended ? How is temperature? What cloths to wear.
Answers (1)
Answered by Sebastian from UKRAINE | Jan. 01, 2020 23:36

0

0

Reply
Yes, it will be ok for you to travel to Silk Road during that period of time. It will be cold during that period of time. You are suggested to prepare down jackets, sweaters, boots, pants and jeans.
Asked by Asad from PAKISTAN | Aug. 31, 2018 22:34

Reply
What cloth and shoes ,one should wear in September and October at Urumqi?
Answers (1)
Answered by Aba from USA | Sep. 02, 2018 20:11

0

0

Reply
The average daily temperature in September is 12C - 22C. At daytime, you can wear a shirt made of cotton and linen, thin dress and T-shirt. At night, you can wear wind coat, thin sweater to keep warm.

The average daily temperature in October is 3 - 14C and it is a little cold. you need to wear the warm clothes.
Asked by Teh Yean from MALAYSIA | Oct. 01, 2016 12:50

Reply
plan to travel the silk road this 12th till 22nd october, any advice on clothings will b useful...
Answers (1)
Answered by Adolph from NEW ZEALAND | Oct. 07, 2016 20:16

1

0

Reply
During that period, the temperature is going to be mild and comfortable of around 40~65F in western China. Sweaters, thin coats, and pants can be appropriate clothes.
Asked by ray from AUSTRALIA | Sep. 08, 2014 23:57

Reply
Prevailing wind direction on southern silk road in Xinjiang
I am considering riding a bicycle along the southern silk road. Commencing in April, what is the prevailing wind direction for this route please? This will influence whether I start my journey in Kashgar and travel east to Xi'an, or start my journey in Xi'an and travel west to Kashgar.

Regards
Ray
Answers (2)
Answered by Danny from HONDURAS | Sep. 09, 2014 01:57

0

0

Reply
Ray,north wind or north-west wind is popular in Xinjiang. Hope this is helpful.
Answered by Ong from MALAYSIA | Dec. 11, 2014 06:21

2

0

Reply
Hi Ray, can I join you? I will be in china mid march 2015.
Ong
Asked by LUlu from MALAYSIA | Feb. 11, 2014 07:22

Reply
what is the best month to visit silk road? Pls recommend the best route to take?
Answers (1)
Answered by Andy from MALAYSIA | Feb. 11, 2014 20:34

0

2

Reply
People usually set off in summer, especially July and August. You might start your journey from Xi'an and pass by Lanzhou, Xiahe, Dunhuang, Turpan and end in Urumqi. It's a frequent route most peole have taken.