Scenery along Silk Road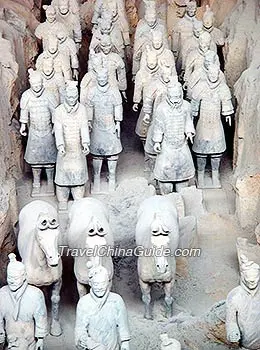 Xi'an Terra-cotta Warriors
The Silk Road is a significant international passage connecting the oriental and the occidental, and much notable scenery and historic relics are scattered along this historical museum and natural art corridor. There are lots of branches and sub-branches of the route, such as the Silk Road on the Sea, and the Southern Silk Road. The Silk Road usually mentioned in a common sense refers to the branch across the oasis, mainly traversing Shaanxi, Gansu, Hexi Corridor and Xinjiang Uygur Autonomous Region.
Xi'an
(called Chang'an in ancient time) was the starting point of the ancient Silk Road. Silk and
other commodities were gathered in this prosperous city from all parts of the country. Nowadays, this sparkling ancient capital still attracts numerous visitors with its Big Wild Goose Pagoda, Museum of Qin Terra-cotta Warriors and Horses, Shaanxi Provincial Historical Museum and many other famous attractions.
Climbing up the Loess Plateau and enter Gansu Province. Passing
Lanzhou
Binglingsi Monastery, Gansu Provincial Museum, Five Spring Mountain Park and visiting the famous Labrang Monastery of
Xiahe
, there comes the Hexi Corridor where
Jiayuguan
and
Dunhuang
are must go destinations. In addition to Wuwei Confucius Temple, Jiayuguan Pass, Maiji Mountain and over one-thousand-kilometer
Great Wall of Han Dynasty
and
Great Wall of Ming Dynasty
, grottoes art is the most striking part of traveling in Gansu. Mogao Cave, Binglingsi Grottoes, Maiji Mountain Grottoes and Yulin Grotto are four pearls of grotto art in the Silk Road in Gansu.
Mogao Caves,
Dunhuang

Camel Team of Tourists
on the Echoing-Sand Mountain
The Silk Road crosses Qinghai and is divided into three sectors after stretching into Xinjiang.
Urumqi
is an important tourist city in the north route. Lake Tianchi there must not be missed. Ancient City of Gaochang and Bizaklik Thousand-Buddha Caves make
Turpan
a frequently visited place in middle route of the road hot not only in summer weather but also in its exotic flavor. Marvelous Yardang Spectacle and Ancient City of Loulan in
Korla
are paradise for explores.
Kashgar
is the last stop on the central route and its busy Grand Bazaar show best the local customs. Jade and ancient cities of Niya, Yoktan and Malikawate make this unsophisticated stop on the southern route of Silk Road,
Hetian
, ever enchanting.
Among the lofty peaks of Kala Kunlun Mountain, the Khunherab Pass on the Pamirs is the west section of and the last stop of the ancient Silk Road in China. During 1966 and 1978, the most grand and beautiful highway on plateau was built there to Pakistan helped by Chinese government.
| | |
| --- | --- |
| Heavenly Lake, Xinjiang | Bazzar in Xinjiang |
- Last modified on Apr. 15, 2021 -
Questions & Answers on Scenery along Silk Road
Asked by kate from UNITED STATES | Feb. 02, 2017 19:14

Reply
what people and cultures would you see on the silk road?
Answers (1)
Answered by Cecilia from MEXICO | Feb. 02, 2017 20:47

0

0

Reply
Kate, as I know, in China, you can mainly see people and culture of Han and Uygur nationalities along the route.
Asked by Jaime from UNITED KINGDOM | Jan. 31, 2016 18:12

Reply
Is trekking and camping possible along the China route of Silk Road (Urumqi - Lanzhou)?
And How many days will that possibly take?
Thanks
Answers (2)
Answered by Drake from MALAYSIA | Jan. 31, 2016 23:59

1

1

Reply
I don't think it's a good idea. If possible, you should use train or other public transportation tools like bus. And you should know that there isn't any qualified camping base. It's too risky and unsafe.
Answered by leo from USA | Feb. 10, 2016 22:46

0

1

Reply
It should take more than a year walking:(
Asked by Alice from MALAYSIA | Sep. 02, 2015 10:24

Reply
12 days Silk Road, Would it be terribly cold then?
Planning to go late october from Urumqi, Turpan Hami, Dunhuang, Jiayuguan Zhangye, Tianshui ending in Xi'an.
Answers (1)
Answered by Kate from IRELAND | Sep. 04, 2015 01:15

5

2

Reply
Alice, it isn't the coldest time. The average temperatures in these places are from 3 to 20 Celsius Degrees. However, temperature difference between day and night is huge. Therefore, you should bring several warm clothes, such as sweater, overcoat and other clothes for cold weather. And it might be windy in Jiayuguan, Zhangye and Dunhuang. You know, there are sands. So you'd better bring a scarf to prevent the sands.
Asked by Terrymartinez from USA | Dec. 14, 2014 17:17

Reply
does the Silk Road lead to Damascus?
Answers (1)
Answered by Rita from IRAN | Dec. 14, 2014 20:47

3

1

Reply
Yes, it passes by Damascus, according to the material I read.