Silk Road Photos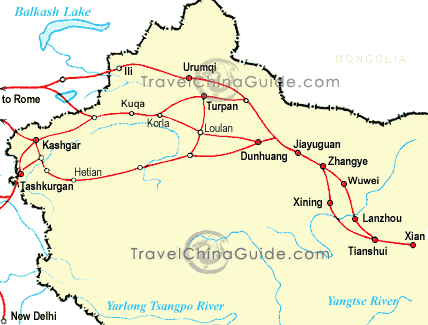 Note: Please click the cities in the map to view the pictures.
Some people think that several thousand years' Chinese ancient history refers to a story of West China and this story originates from the historical Silk Road. In 1877, the German geographer, Richthofen, gave the name Silk Road to the road from the ancient Chang'an City (today's Xian City) in China to the Mediterranean. It is a legendary overland trade route between China and the Mediterranean.

This ancient road begins at Xian, winds to Gansu Province along the Hexi Corridor and reaches Dunhuang , a desert oasis and an important communication hub on the Silk Road. The route then traverses the Xinjiang Uygur Autonomous Region , where the cultures of the East and West meet. It served as an important international trade route that linked China to India, Persia, Arabia, ancient Greece and Rome, thus greatly promoting economic and cultural exchanges between the East and the West.

Trips along the road are a feast to the eyes and it abounds with fascinating historical records and priceless relics. A famous Chinese literate Ji Xianlin said, "In this world, Greece, Iran, India and China have the most profound civilization and greatly brilliant history. These four great civilizations have a conflux in Dunhuang and Xinjiang regions. This conflux, actually, is at Dunhuang, the very elite section of the Silk Road."
Silk Road Photo Album
If you hope to learn more about this historical road, you can click the following photo albums of the cities.
Shaanxi (972)
From its beginning in the magnificent ancient city of Chang'an (now Xian) in, the Silk Road took traders westward to Gansu. Through this road, the profound Chinese culture and the Four Great Inventions (gunpowder, paper, compass, and printing press) were introduced into the west. And the religions of Christianity, Islam, and Buddhism were brought into China.
Terra Cotta Army, Xian

Big Wild Goose Pagoda, Xian

City Wall, Xian
Gansu (168)
The Silk Road runs to Gansu Province with a total length of over 1,600 kilometers (994 miles). In Gansu, the Silk Road crosses Lanzhou, Wuwei, Tianshui, Zhangye, and Jiuquan along the Hexi Corridor with its mountains and deserts where it reached Jiayuguan - the giant barrier of the Great Wall. Then, at Dunhuang, the key point along the route, it divides into three separate ways through Xinjiang, including the north, middle and south ways.
Crescent Lake, Dunhuang

Echoing-Sand Mountain,Dunhuang

Mogao Caves, Dunhuang
Xinjiang (598)
The Silk Road crosses Gansu and finally reaches Kashgar. In Xinjiang, you're suggested to visit mosques, Xinjiang Regional Museum and the ruins of the ancient kingdoms. Through the Xinjiang trip, you can have a better understanding of the Silk Road.
Heavenly Lake, Urumqi

Local Bazaar, Kashgar

Ancient City of Jiaohe, Turpan