Tips for Travelling along Silk Road

Planning the Trip:tells you the best time to travel and what to pack.

Special Tips:advice on visiting temples and families of ethnic groups, as well as money safety problem.

Silk Road FAQs: Frequently asked questions about travel on the road



Getting Acquainted
Traveling along the old Silk Road can be a quite interesting and rewarding experience. Here is some information that the visitor should consider when planning a possible travel on the road.



Language
While traveling along the road, the visitor can encounter about 20 different nationalities (ethnic groups) some of which, like the Uigur, Tibetan, and Mongolian speak their own language and have their own writing. Cultural exchange was considered very important during the development of the new unified national economy.

Some ethnic groups began learning Mandarin (the official Chinese language) and adopted the lifestyle of the Han people (the major ethnic group in China). Chinese became the official language in the autonomous regions. Today, Chinese can be easily used among these nationalities.



Accommodations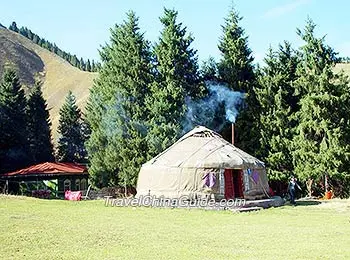 Tent, Southern Pasture in Xinjiang
The Silk Road spans most of China, from modern cities in the central China to isolated villages and towns in the remote west. Accordingly accommodations along the route range from high standard luxurious hotels to simple guesthouse.
In cities like Dunhuang, Turpan, Kashgar, Urumqi, Lanzhou, the visitor can enjoy high standard hotels named "Jiudian". They all provide excellent conditions, all-round services and they are quite safe. But this kind of hotels is also the most expensive. Visitors on a tight budget may consider the cheaper "Zhaodaisuo" (Guesthouse). With simpler facilities and basic service, these guesthouses are used by most Chinese travelers. In the remote villages only simple and rough lodgings are available. These locations offer nothing but a quite simple room.

Food and Drink
On the Silk Road travelers will easily notice the Islamic influence on eating habits in northwest China. Visitors more interested in traditional Chinese food will have no problem in finding restaurants specializing in Sichuan, Cantonese and Beijing or Shanghai cuisine.
In every city night markets (ye shi) and small restaurants (xiao chi) are the best places to taste local snacks. Before you enter, remember to check the sanitary appearance of the restaurant. If you are puzzled with the food names on the menu, remember that the best way to order is by pointing to what other patrons are having or by going into the kitchen and picking out various meat and vegetable combinations. Remember that pork is forbidden in Islamic food.
| | |
| --- | --- |
| Barbecue, Southern Pasture in Xinjiang | Nang, local snack in Xinjiang |
Moreover the various nationalities you can encounter along the road have their own typical drinks and food.
Unlike people in other parts of China, in northwest China people often drinks tea with their meals or even when snacking a piece of bread. In restaurant, popular refreshments like Coca-Cola, beer and fruit juice are always available. You should try local drinks like kumiss, frozen yogurt and tea with milk.

Transportation
Traveling along the Silk Road, is today much easier due to the recent developments of tourism and transportation infrastructure.

Travel by Air
Albeit the most expensive, air travel is the most efficient and comfortable way to travel to the main cities along the Silk Road. The main cities Xi'an and Urumqi have international airports that offer frequent flights to all major Chinese cities as well as some international destinations. Local scheduled flights connect all major cities inside Xinjiang. For airline reservations and tickets you can visit the major airlines agencies open in all major cities. Moreover some large hotel can also book tickets for their guests.

Travel by Train
For its convenience and inexpensiveness, trains are the favorite way to travel on the Silk Road. You can travel by train to Urumqi from Beijing, Xi'an, Lanzhou, Zhengzhou, Shanghai and Chengdu. Regular tickets are easy to buy while sleepers' tickets can only be bought in termini or major stations. Travelers making long journeys on train should carry with them enough food and drinks to cover the whole trip since, quite often, these items are sold out from Gansu westwards. Moreover toiletry items like towel, toothbrush, toilet paper etc. must be carried by the traveler since they cannot be bought on the train.
| | |
| --- | --- |
| Travel by Train | Travel by Bus |

Travel by Road
Buses are the most inexpensive method of transport along the Silk Road but, unfortunately, they are very slow. The three-day bus ride from Urumqi to Kashgar (with overnights in Korla and Aksu) is highly recommended for very active travelers, offering spectacular views of the Heavenly Mountains and glimpses of the oasis towns along the northern rim of the Taklamakan Desert.
Cars or mini-vans are offered by some travel agencies and hotels. A travel by car can be the only way to visit sites far from cities or towns that would otherwise be inaccessible. Rental prices are based on the number of days and kilometers traveled, and sometimes they can be negotiated.

Time
The Beijing standard time, which is eight hours ahead of Greenwich Mean Time (London) and 13 hours ahead of Eastern Standard Time (New York), is the standard time used in China.
The visitor must know though that in Xinjiang, locals often use the Xinjiang time, which is two hours behind the standard Beijing time

Recommended Reading
Judy Bonavia, The Silk Road - from Xi'an to Kashgar, Odyssey, Hong Kong
This book introduces the history, natural conditions, remains, cultures and other facts about the road to visitors.

Getting to know more tips for travel in China, please visit
China Travel Advice
.
- Last updated on May. 31, 2023 by Catherine He -
Questions & Answers on Tips for Travelling along Silk Road
Asked by Kuhan from CANADA | Nov. 01, 2017 20:58

Reply
Is it possible to travel by bus along southern xinjiang?
Hello,

I was wondering if there is bus service along southern xinjiang? Specifically from Hotan along G315 highway (or something equivalent) back to Qinghai? I am looking to go to Kashgar but would prefer not to have to double back to Urumqi and the Gansi corridor.

Thank You,

Kuhan
Answers (5)
Answered by Parker from CANADA | Nov. 02, 2017 00:56

0

0

Reply
As I know, there is no direct bus from Hotan to Qinghai because of the long-distance. If you wanna know the bus from Hotan to Kashgar, the direct bus schedules are 09:30, 10:30, 12:00, 14:00, 17:30, 20:00 and 21:00 from Hotan Bus Station.
Answered by Kuhan from CANADA | Nov. 02, 2017 22:30

0

0

Reply
Hi Parker,

Thanks the reply, is there a way to find out what the destination that the buses from Hotan goto are?

Cheers,

Kuhan
Answered by Parker | Nov. 03, 2017 01:16

0

0

Reply
Oh, the website of Hotan Bus Station only have Chinese version. And the links are not allowed to put here. The destinations of this bus station mainly are Turpan, Yining, Korla, Kashgar, Urumqi and Aksu.
Answered by Kuhan from CANADA | Nov. 06, 2017 21:22

0

0

Reply
After looking into this some more and scouring the internet it looks like the method is to go to Hotan and take the bus to fengmin or qiemo (I am not sure which yet) and from there take another bus to ruoqiang. From ruoqiang one can either go north to kuerche or it looks like it's possible to go further east by another bus or two eventually to huatugou and then golmud.

I will be going to Hotan the day after tomorrow and try to figure this out.

Cheers,

Kuhan
Answered by Parker | Nov. 07, 2017 00:21

0

0

Reply
Yes, you can take a coach from Hotan to Qiemo first. And then transfer to a coach to Ruoqiang.

There is no direct coach that operates between Ruoqiang and Golmud. You are advised to go to Huatugou first. Then transfer to a long-distance bus to Golmud.

But I cannot find the latest bus schedules on the Internet. You need to see it when you arriving at the bus station.

Hope helpful!