Top Beijing Attractions
More Things to Do
Top 10 City Tours
Code: BJ-T09
Beijing 1-Day Tour: Family Tour to Zoo & Aquarium
Tour Route: Beijing Zoo - Beijing Aquarium - Beijing Planetarium - Paleozoological Museum of China

Stop 1: Beijing Zoo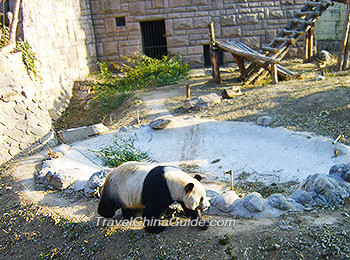 Beijing Zoo
Having a close contact with lovely giant pandas must be the dream of most visitors to China, especially children. In the capital of China,
Beijing Zoo
is the best place to see this lovely creature. Besides, there are more than 500 species of rare animals from both China and other countries in the world, such as golden monkeys, Siberian tigers, chimpanzees, and saltwater crocodiles.
How to get there:

By subway:
You can take
subway line 4
and get off at Dongwuyuan (Zoo) Station; leave from Exit B or C1 and you will find the entrance of the zoo immediately.

By bus:
Take bus 27, 87, 105, 107, 111, 129 (Te 19), 305, 332, 347, 360, 362, 534, 563, 604, 632 to the Dongwuyuan stop; walk east for a few meters to find the entrance on the north side of the road.
Or take bus 7, 15, 16, 19, 56, 65, 102, 103, 334, 695 to the bus stop Dongwuyuan Shuniuzhan (Zoo Terminal), which is just opposite the zoo entrance.
How to enter:
Book the ticket in advance, through its official WeChat account or the website of TravelChinaGuide. Passport is needed for ticket booking and entry admission.
You should notice that the admission fee of Giant Panda Hall is not included in the entrance ticket of Beijing Zoo, which is CNY 15/10 per adult for the peak/low season. To see the pandas, you'd better buy a combo ticket of the zoo and the Giant Panda Hall, at CNY 19/14 for the peak/low season. Children between 7-18 years old enjoy half-price ticket.
Stop 2: Beijing Aquarium
Beijing Aquarium
is in the northeast corner of the Beijing Zoo, so you may visit them together. Inside, you'll encounter colorful tropical fish, sea animals, arctic animals, as well as Chinese sturgeons. You can also enjoy brilliant shows performed by dolphins, sea lions, and seals in the last hall.
How to enter:
To book the ticket, you can login in its official website or the WeChat account; and the ticket fee is CNY 175 per adult. Kids between 1.2 meters and 18 years old can enjoy half-price ticket.
Kind Reminders
Aquarium
It needs 6-10 hours to visit Beijing Zoo well. If you just want to see the pandas and have a quick visit of other animals, 2-3 hours are quite sufficient.
The visit to Beijing Aquarium needs 3-4 hours.
If there is some time left, you may also visit the
Beijing Planetarium
and
Paleozoological Museum of China
, which are adjacent to each other and diagonally across the street from the south gate of Beijing Zoo.
After visits to the two more sites, you can walk back to Dongwuyuan subway station, and take the subway line 4 back to your accommodation.
Stop 3: Beijing Planetarium
You can get to know the unfamiliar outer space by viewing vivid documentaries as well as 3D and 4D movies. The vast universe is represented in the dome-cinemas, making you feel like standing among shining stars and planets.
How to enter:
Book the ticket on its official WeChat account. The ticket price for the planetarium in Building A charges CNY45 per person; those for several theaters in Building B will cost you CNY 30 or 45 separately; and for the exhibition halls, CNY 10. 7-18 years old kids can enjoy the half-price ticket of the exhibition halls; and for the planetarium and theater shows, they can also enjoy a CNY10 discount.
Make sure you don't visit it on Mondays or Tuesdays when the planetarium is closed.
Stop 4: Paleozoological Museum of China
It houses thousands of precious fossils of ancient animals, such as dinosaurs, mammoths, and Confuciusornis, samples of stone tools used millions of years ago, as well as documentaries dragging you back to that remote age to learn a lively lesson of this mysterious world.
How to enter:
Book the ticket via its official WeChat account, and the ticket fee is CNY20. Kids between 1.3 meters and 18 years old can get the half-price ticket. The 3D movie ticket charges CNY10 per person. Take your passport to enter. Don't go there on Mondays as it's closed.

Recommended Guided Tours:
Beijing One-Day Tours
from $59 per person

Other Independent Beijing 1-Day Tours:
Wandering around Tiananmen Square
: to National Museum, Tiananmen Square, Forbidden City, Jingshan Park...
Royal Cultural Sites
: to Yonghe Lamasery, Guozijian Street, Temple of Confucius & Imperial Academy