Top Xian Attractions
More Things to Do
Top 10 City Tours
Code: XA26
3 Days to Experience Xi'an History and Culture
Day 1
Terracotta Warrior and Horses Museum - Huaqing Hot Springs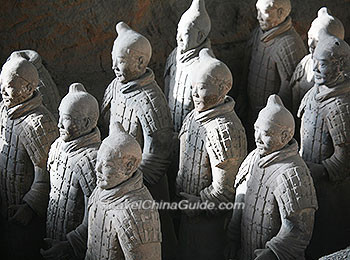 Terracotta Warriors
The Terracotta Warrior and Horses Museum is always on top priority for visitors who travel to Xi'an. Our suggested itinerary today starts with this unique sightseeing spot. It is suggested that you get up early this morning and make your own way to Metro Line 1 bound for Fangzhicheng. Leaving from the Exit A of Fangzhicheng Station and walking north about 100 meters you will arrive at a bus station called Fangzhicheng Shuniu (which refers to junction in Chinese) to take the white Tourist Bus No. 5 (306). Alternatively, you may also take bus 307 from the south gate of Tang Paradise if your hotel is in the southeast of the city. Bing Ma Yong (Terracotta Warriors) Station is the terminal of both the two buses. Ticket costs CNY 5 per person for the former and CNY 8 per person for the latter. Besides, the ride of the two buses takes about 50 minutes and 100 minutes, respectively. From the parking lot, you still need to walk for about 5 minutes to arrive at the ticket office of the Terracotta Warrior and Horses Museum. There is a fair amount of information in English catering to tourists. The entrance ticket is CNY120 per person. If you want to get a better understanding of the site, you may hire a regular guide at a cost of CNY200 on site. A normal visit usually takes about 2.5 to 3 hours. After your visit, you may choose to have lunch at KFC, Subway, Starbucks or Dicos outside the museum as the food at some local eateries is unsanitary.
On your way back to Xi'an, we suggest you visit the Huaqing Palace, which includes Huaqing Hot Springs and Mt. Lishan. You can take either tourist Bus No. 5 (306) at CNY2 or 307 at CNY3 to arrive this site. The bus ride will take about 40 minutes. Taxi is also a choice as it only takes about 20 minutes, but it costs about CNY 25. With traditional Chinese buildings, nice views and touching loving story, Huaqing Palace is quite popular among history lovers. You can learn about the Tang Dynasty thousands of years ago at Huangqing Hot Springs and also the modern Chinese history at Mt. Lishan. Again, you may hire a regular guide on site. The guide service is available in Chinese, English, French, Korean, and Japanese. Generally speaking, two to three hours are enough for your visit here. Afterwards, return to Fangzhicheng Station by taking tourist Bus No. 5 (306) or 307. There you will find many buses to your hotel or take the Metro Line 1.
Admission Fee for sightseeing spots today:
Day 2
Banpo Museum - Banpo Art District - Great Mosque - Muslim Quarter
City Wall
We recommend Banpo Museum as the first stop of your independent exploration today. Take Metro Line 1, get off at Banpo Station and then get out from Exit A. Walk 490 meters west along Changle East Road, turn left and continue to walk for 370 meters, you will arrive at Banpo Museum. Built right on the amazing archaeological site, this museum displays many artifacts, burial goods, as well as a prehistoric village dating back to some 6,000 years ago. After that, you may hail a taxi at a cost of CNY9 to arrive at the Banpo International Art Zone, a tranquil place to enjoy some handmade articles and crafts. Or you may walk back to Banpo Subway Station. From here you just walk about 20 meters northeast, turn right to Fangzhicheng West Road, and continue walking along this road for 690 meters, you will get to the Art Zone. There are also some fancy restaurants and cafes for lunch at its entrance.
Your next destination is the Great Mosque. Please return to Banpo Station to take Metro Line 1 to Beidajie Station. Here you can transfer to subway line 2, and then get off at Zhonglou (Bell Tower) Station. Leave from the exit B, walk southward for 60 meters, turn right and walk towards the Bell Tower, where you can easily find direction to the Great Mosque in Huajue Lane. Take your time to appreciate the ancient buildings and architectures in the serene mosque. Before getting back to your hotel, you can try some local food when exploring the nearby bustling Muslim Quarter. It is highly-recommended to sample the following local snacks: Suanmeitang, a sour and sweet juice made of plum, dired tangerien peel, hawthorn, and other ingredients. It is a famous local drink popular among both locals and tourists. And Zenggao, commonly called Jinggao among the locals, a steamed sticky rice cake made of smashed red date, red beans, and sticky rice. It tastes soft and sticky and is sour and sweet in flavor.
Admission Fee for sightseeing spots today:
Day 3
City Wall - Small Wild Goose Pagoda - Shaanxi History Museum
Small Wild Goose Pagoda
Today we suggest you visit the ancient City Wall, Small Wild Goose Pagoda and Shaanxi History Museum.
Visitors can ascend the City Wall from the South Gate (Yongningmen), East Gate, North Gate (Anyuanmen), West Gate, Wenchang Gate, Heping Gate, Shangde Gate or Hanguang Gate. You may just choose the nearest gate to begin your trip today. The South Gate is generally recommended since it is the most time-honored and beautifully decorated one. Take Metro Line 2 and get off at Yongningmen Station, you will find the South Gate easily. Also, there are many buses near the South Gate. The most conveint bus stops are Nanmenli and Nanmenwai Stations. This more than 600 years old City Wall is the world's most completed and best preserved one of its kind. You can get nice views of the city when standing on the wall. Riding a bicycle is a very interesting and fun way to enjoy your visit. You can hire a bicycle at a cost of CNY45 for two hours on the site.
Leaving from the South Gate Bus Station inside the city wall, you can take bus No. 46 at Nanmenwai for two stops, get off at the Small Wild Goose Pagoda Station, and then you'll find the site across the road. You may also take a taxi at a cost of CNY9 instead. It is free for entry if you show your valid passport. But due to the COVID-19 pandemic, it is required to reserve the free ticket online before. Please feel free to contact us if you need a reservation service. Set in a beautiful and serene garden, this pagoda is a good example of ancient Chinese architecture in Tang Dynasty. One hour or so is enough to visit this sightseeing spot.
Return to the entrance of the Small Wild Goose Pagoda, walk eastward for a few minutes, you will find the Nanshaomen bus station. Take tourist bus No. 8 or bus No. 610 from here, get off at Shaanxi History Museum (Shaanxi Lishi Bowuguan in Pinyin) after 5 stops after 5 stops, move forward for 10 meters, turn left and continue walking for 30 meters, you will get to the ticket office of Shaanxi History Museum. There are awesome amount of exhibits including artifacts, bronze ware, pottery ware, statues, calligraphy and painting works, and so on. To make the visit interesting, you can rent an audio guide device. You may spend 2-3 hours at this wonderful museum. Now this three-day independent Xian tour comes to an end.
Admission Fee for sightseeing spots today:
City Wall
CNY 54 (It does not apply to the yearly Xian City Wall Lantern Fair.)
Small Wild Goose Pagoda
Free of Charge. It is not open to tourists on every Tuesday.
CNY 30 for visitors who would like to ascend the Pagoda.
Shaanxi History Museum
There are 9,000 free tickets for individual travelers a day except every Monday when it is not open to tourists. You can get one with the valid ID card or passport. To avoid the long queues, you can pay CNY 30 for the Exhibition Hall for Treasures of Great Tang Dynasty to enter the Museum.
Audio Guide Device: Deposit: CNY 100; Rent: CNY 30

More Related Packages: