Southern Silk Road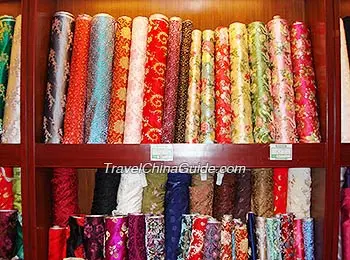 Fine Silk
More than 2,000 years ago, people in the southwest of China had traded between Chengdu, China with India. The trade route, about 2,000 kilometers (1,243 miles) long, well-known for its silk trade, was dubbed the 'Southern Silk Road' by historians. Similar to the Silk Road, the Southern Silk Road contributed much to the cultural change between China and the West.

Zhang Qian, an important explorer in the Han Dynasty, opened up the historically important Silk Road during the reign of Han Emperor Wudi (141BC–87BC). When he set out on his first journey to the Western Regions, he found bamboo staffs of Qiongshan (Yingjing County of Sichuan Province) and delaines of Sichuan Province in Daxia (Balkh) in 128 BC. Merchants told him that these goods were bought from Juandu (now India); therefore, Zhang Qian guessed that there was a trade road between Sichuan Province and India.

The Southern Silk Road was mainly composed of West Route (Maoniu Route) and East Route (Wuchi Route). The West Route originated from Chengdu, wandered through Sichuan Province via Ya'an City, Maoniu (Hanyuan), Qiongdu (Xichang), and took traders to Myanmar (Burma) by way of Dali, Baoshan and Tengchong. Then its ancient trade route extended through to Juandu (India), Bangladesh and even Middle East. The East Route was very narrow and had only five-feet wide, so it was also called 'Wuchi Route'. It began from Chengdu, passed through Yibin, Zhaotong, Qujing and reached Kunming, where one branched road went to Vietnam and the other one wound to Dali, joining the West Route.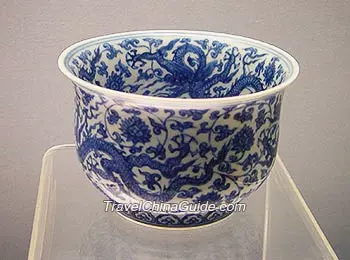 Blue and White P

orcelain
Traders found steep and high mountains in the southwest region of China extremely challenging to negotiate. In order to overcome difficulties, clever ancient people built characteristic bridges and plank roads along cliffs by perforating holes on mountains. Even now people can found the holes left on the sheer cliffs.

Various goods like silks, bullions, irons, ivories, cubiloses, pearls, seashells and ambers traversed the route regularly. Many boomtowns sprang up like mushrooms and some cities became important commercial centers. In the eighth century AD, Dali was not only the political, economic and cultural center of Yunnan Province, but also the largest trade crossroad on the Southern Silk Road. In addition, the road built a bridge for cultural exchanges between China and India. Buddhism from India had a long-lasting influence on southwest regions of China by gaining many local converts.
- Last modified on May. 17, 2019 -
Questions & Answers on Southern Silk Road
Asked by Dalida from CHINA | Apr. 12, 2016 01:38

Reply
Is there a road connecting China and India that is open now?
Answers (1)
Answered by Cook from SPAIN | Apr. 12, 2016 21:24

0

0

Reply
Do you mean the Southern Silk Road? It has been deserted for years and is not open right now.
Asked by Heraa from PAKISTAN | May. 21, 2015 01:11

Reply
Hi, can i travel to Chengdu via silk road from Pakistan?
Answers (1)
Answered by Heidi from ISRAEL | May. 22, 2015 02:13

1

2

Reply
Heraa, I am afraid that you can not finish this trip. According to what I know, individual Pakistanis are required to join group tours to visit PRC. If you plan to travel alone, you will not be able to acquire the entry permit let alone enter the road in Xinjiang by road.
Asked by Yasmin Ali | Apr. 21, 2015 01:55

Reply
Can I rent a car in Shanghai and then drive along the Silk Road to Kashgarh?
Are Americans allowed to drive if they have International driving license?
Answers (1)
Answered by Vera from INDONESIA | Apr. 22, 2015 03:11

0

1

Reply
Yasmin, I am afraid you can't because you don't have the Chinese driver license. You know, China doesn't admit Vienna Convention on Road Traffic. If you plan to drive in PRC, you need to pass the exams to acquire a Chinese driver license.
Asked by P.georgacopulo from ITALY | Sep. 13, 2014 04:57

Reply
How is the route from Dunhuang to Khotan? Is it feasible by car?
Answers (1)
Answered by Gloria from HONDURAS | Sep. 15, 2014 04:54

0

2

Reply
Hey, it's possible to drive a car from Dunhuang to Khotan. It's about 2200 kilometers.