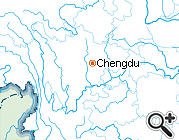 PD01: 2 Days Private Chengdu Panda Tour excluding Hotel
From
$227
per person
Free Inquiry


Day 1
Visit the Panda Base, the Broad and Narrow Alley and the Jinsha Site Museum
Cuddly Pandas
This morning, your private guide and driver will pick you up from the lobby of your hotel at the appointed time, and then your 2 days Chengdu tour will start with a visit to the
Chengdu Research Base of Giant Panda Breeding
, which is located in a large forest with magnificent scenery. The pandas are more active in the morning till about 10:00 and after that some of them will go to sleep, therefore, we will set off early today. Upon arrival, you will have two to three hours to visit the research base under the company of your guide. According to the ages, the pandas are assigned to different enclosures (babies, teenagers, adults) and you will have opportunity to see them closely and take fantastic photos of them munching on bamboos, playing with each other or even climbing the trees.
Then let's turn to the
Broad and Narrow Alley
, an ancient street lined with many old houses and some newly-built ones in traditional styles. It is really fun to stroll along the street and find many interesting shops and authentic local restaurants. You may have your own lunch here and your guide is ready to offer you some advice, no matter what you want to eat, local speciality or western-style food.
After that, we will transfer you to visit the
Jinsha Site Museum
, which is a huge site museum combining history and archeology. There are total five exhibition halls displaying the culture of the ancient Shu Kingdom during the Shang and Zhou periods (17th century BC - 256 BC). The key highlights are the Golden Sun Bird, which is also the logo of Chengdu as well as the Golden Mask. Afterwards, we will transfer you back to your hotel.
Day 2
Visit the Leshan Giant Buddha
After picking you up from the hotel, we will drive to the
Leshan Giant Buddha
scenic area, which takes about two and a half hours on the way. The highlight today is to visit the 71-meter high Giant Buddha, which is the largest carving in the world. It was built through the efforts of three generations of the carvers from the year of 713 to 803 AD during the Tang Dynasty (618 - 907 AD). As the Buddha is carved on a cliff facing by the river bed, a boat tour will also be arranged to get the best view of this amazing statue. After finishing the Chengdu 2 days tour itinerary here, we will drive you back to your hotel in Chengdu.
Prices (US$ Per Person)
1 person

$515

2 persons

$305

3 persons

$265

4 persons

$227

5 persons

$225

6 persons

$199

7 persons

$183

8 persons

$172

9 persons

$163

10+

$141
Remark: We can also assist you to book the hotel and offer you a preferential price.

Price Includes
Private English-speaking guide(s)
Private driver(s) & air-conditioned vehicle(s)
Entrance fees to tourist sites
Price Excludes
Hotel accommodation with breakfasts
Lunches and dinners
Tips or gratuities for guide and driver
Itineraries you may also like:
The above routes do not meet your requirements? Please click
Tailor My Trip