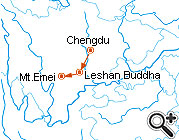 Three Days Chengdu without Hotel
PD04: 3 Days Private Tour of Chengdu

Leshan Giant Buddha

Mt. Emei
From
$369
per person
Free Inquiry


Our clients visiting the Giant Buddha in Leshan
We will pick you up at your hotel and take you to visit
Chengdu Research Base of Giant Panda Breeding
. It is a perfect place to see pandas. The best visiting time is around 08:00 to 10:00 as the pandas are more active in the morning. The breeding base boasts of the largest collection of the pandas in the world. You will see many pandas of all ages. Some are in the natural enclosures and some are in glass enclosures. Each enclosure has the vantage point to capture photos and videos. Don't miss the cute baby pandas. If you are hoping to hug a panda to take photos, you must book it with your travel operator prior to your visit. Extra fee will be charged by the breeding center.
After that, you will have a stroll on the Broad and Narrow Alleys, a place with many well maintained old houses, nice restaurants, unique booths, shops and cafes. It is a good place to feel the nice atmosphere and experience the local customs. You can relax in a courtyard cafe or having your own lunch in one of the many very good restaurants. The last stop today is
Jinsha Site Museum
, where displays many mind-blowing relics showing civilization about 3000 years ago. Among them, the holly Golden Sunbird is truly captivating. Afterwards, we return you to your hotel.
Meals: No meals, advice freely available
Day 2
Chengdu - Leshan - Mt. Emei
After about 2.5 hours driving, we arrive at Leshan to see the
Giant Buddha
, the biggest carving in the world. The Buddha stands at 71 meters (about 233 feet) high and was carved on a rock face of Lingyun Hill by the river bed. It is astonishing that such huge masterpiece was created over 1300 years ago. We will arrange you to take a boat to view this amazing statue and you can snap a full size photo of the huge Buddha. Later, we will continue to drive to Mountain Emei. Stay overnight at the foot of the mountain. Hotel is not included, but our guide will help you check in at your hotel. If you need us to arrange hotel, we are pleased to offer the service for you.
Meals: No meals, advice freely available
A cute Giant Panda
Mt. Emei
has significant religious meaning in Buddhism and there are a few dozen Buddhist temples and monasteries dotting the mountain. Today we focus on two famous temples, Baoguo Temple and Wannian Temple. First, start with Baoguo Temple as it is at the foot of mountain Emei with an easy access. It is also the largest temple in Mountain Emei. Wannian Temple is located in the middle way up to the summit. As the oldest temple in the mountain, Wannian Temple is well maintained and a place of serene atmosphere. The architecture is very nice and there is a statue of a golden Buddha on a white marble elephant. In front of this statue people bow, kneel and pray. In addition to those various temples and statues, there are also large rocks, deep valleys, waterfalls, sea cloud, bamboos and verdant forests in the mountain. After finishing sightseeing in the mountain, we will transfer you back to your hotel in Chengdu. Your private three days trip comes to the end.
Meals: No meals, advice freely available
Attention: According to the official news, the Wannian Cable Car running between the parking lot to the Wannian Temple in Mt. Emei is under renovating from Oct 28, 2017 to Apr 10, 2018. During this period, travelers have to make an average hike around one hour up to the temple. You may also choose to visit the Golden Summit instead to avoid the hiking. Your travel consultant will make the relevant arrangement according to your preference.
Prices (US$ Per Person)
1 person

$795

2 persons

$489

3 persons

$426

4 persons

$369

5 persons

$367

6 persons

$328

7 persons

$306

8 persons

$293

9 persons

$280

10+

$246
Remark: We can also assist you to book the hotel and offer you a preferential price.

Price Includes
Private English-speaking guide(s)
Private driver(s) & air-conditioned vehicle(s)
Entrance fees to tourist sites
Price Excludes
Hotel accommodation with breakfasts
Lunches and dinners
Tips or gratuities for guide and driver
Itineraries you may also like:
The above routes do not meet your requirements? Please click
Tailor My Trip