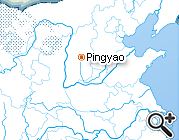 Shots of Pingyao Ancient City
PT03: 3 Days Pingyao Tours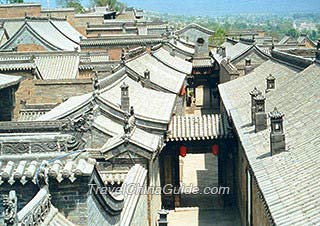 Panoramic view of Pingyao Old Town
Upon arrival at Pingyao Railway Station, your private guide will greet and transfer you to the distinctive courtyard hotel inside the ancient city.
After a short break, we will take you to visit the
Wang's Compound
, which is a photographically, architecturally and historically fascinating place. With a total area of more than 250,000 square meters and a history of over 250 years, the Wang's Compound is known as the largest ancient Chinese family compound still in existence. Although only about a quarter of its area is open to the public, it is still sufficient for one to imagine the former grandeur of the place. Those delicate brick carvings, wooden carvings and stone carvings, the three essences of the compound, dotted everywhere in the yards are worthy of your careful appreciation. You can also get very close to many other antique items and easily find something great to capture with your camera. Return to your hotel by evening.
Meals: No meals, advice freely available
Accommodation:
Yide Guesthouse
Traditional Ming-Qing Street
We will spend most of the day exploring Pingyao Ancient City, a World Heritage site listed by UNESCO. The whole city exudes an ancient charm with its intact
city wall
, dwelling houses, shops, thriving banks and so on, which were built in the Ming and Qing dynasties (1368-1911). Its historic ambience and wonderful structures attract large numbers of shutterbugs, who also come to the Pingyao International Photography Festival that has been held each September since 2001. You'll find wherever you look there is inspiration to snap an excellent picture. We recommend the following favored photo-stop locations that you may wish to try.
You can ascend the city wall from the South Gate and take a panorama of the city's most prosperous area. The God of Literature Tower standing on the wall gives you a great perspective of the city roof tops and life-scenes in below. Walking along the
traditional Ming-Qing Street
, you will be dazzled by the many antique buildings, some of which are attraction sites and museums and all maintained in their original condition. The women who do needlework or paper cutting and people dressed in ancestral clothes frequently become the camera targets. The perfectly preserved County Government Office on Zhengfu Street also provides many good subjects to shoot. The three-hundred year old
Ri Sheng Chang Exchange Shop
, China's first exchange shop and also the founder of modern Chinese banks, showcases a series of interesting exhibits. The exhibition rooms have low light, so you may increase the ISO a little bit in your digital camera and add flash and the white balance to make the best of the situation. You can also drop in to Tong Xing Gong, where there is a wide collection of old style weapons used by the guards of the exchange shops and by armed escorts during gold or valuables transits.
We conclude the private day tour by visiting the
Shuanglin Monastery
. It houses 2052 sculptures made of painted clay, which are of high artistic value. Visitors are permitted to take photographs of the sculptures in the corridors. You can further explore Pingyao ancient city on your own in the evening when the lights of the towers and red lanterns below the roofs are all lit up.
Meals: Breakfast, Lunch
Day 3
Departure from Pingyao
Our client visiting Pingyao Old Town
After breakfast, check out hotel and you will be transferred to Taiyuan. We will show you the
Jinci Temple
on the way. Combining ancient architecture designed for sacrificial rites, sculptures, murals, inscriptions and set in a beautiful landscape, this ancestral temple is indeed a rare historical cultural legacy. Afterwards, we will see you off at Taiyuan Railway Station or Airport for your onward journey.
Meals: Breakfast, Lunch