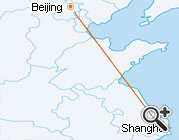 Beijing Shanghai Express
B-BJ08:
8 Days China Tour from Stockholm Sweden to Beijing

Shanghai
When mentioning China, the first impression on overseas backpacking travelers is definitely Beijing. As the capital city, Beijing is always the first stop for most people traveling to China, especially for the first-time visitors. The regular direct flights between Stockholm and Beijing make it convenient to take China tours from Sweden. Today, you will go to Arlanda Airport to take flight Air China CA912 1910/0945+1 from Stockholm to Beijing. The flight takes 8 hours and 35 minutes. You will get to Beijing the next morning due to the six-hour time difference. If you start independent China tours from Goteborg, Malmo, Uppsala, Kiruna or other places of Northern Europe, you can make connecting flight at Stockholm to Beijing.
As two of the most-visited cities, Beijing and Shanghai boast rich tourism resources and unique oriental charm. The convenient transportation and English-friendly signposts make your self-exploration easier and safer. You can travel around the city by using a variety of methods of transport, including subway, public bus and taxi.
This page
provides more information about China's transportation for your guidance.
Our Client Visiting the Great Wall
After arriving at Beijing Capital Airport, you need to find your way to the pre-booked hotel. We recommend Days Inn Forbidden City, a 3-star hotel near Tiananmen Square and Forbidden City. It also has easy access to Wangfujing Commercial Street for shopping and dining. A direct taxi ride from the airport to the hotel may cost you about CNY120. For an economical travel mode, you can take airport shuttle bus line 13 to Jinyu Hutong Novotel Peace Hotel with a fare of CNY24, and then hail a taxi to your hotel at a cost of CNY13.

After check-in, you may have a good rest for jet lag recovery, or walk around to get an idea of the surrounding roads, avenues, bus stops, subway stations and restaurants.

Accommodation Suggestion: Days Inn Forbidden City Hotel
Your China tour from Stockholm Sweden starts today. After the buffet breakfast in the hotel, you can make your way to
Tiananmen Square
, which is about 800 yards from the hotel. Wander south along the Nanheyan Street to its end, and turn west onto East Chang'an Street to reach the square. Tiananmen Square is the heart of Beijing and also the world's largest square in the city proper, where most national ceremonies are held.
After that, you can stroll north to the
Forbidden City
across the street, which was the palace for 24 emperors in the Ming and Qing Dynasties (1368 - 1911). The well-preserved palace complex fully shows the glamour of traditional Chinese architectures. Strolling along the central axis, you are able to discover the hierarchy of the feudal dynasties.
Leave from the North Gate, the Gate of Devine Prowess, and walk west to take bus No. 685 from Gugong Stop to Fahuasi. After getting off the bus, walk south for 180 yards to the East Gate of the
Temple of Heaven
. It was the imperial sacred site for royal families to worship heaven and ancestors as well as pray for a good harvest. The Echoing Wall in the temple is ingenious: when you tap the wall slightly, you will hear the echo three times. Today's sightseeing comes to an end, you may walk back to Fahuasi bus stop to take bus No. 60 to Nanheyan and walk back to your hotel. Or, you may take a taxi back to the hotel at a cost of CNY20.
A whole day will be given to explore the world's wonder, Great Wall. Located about 45 miles from downtown Beijing,
Mutianyu Great Wall
is characterized by its unique structure and design. The watch towers are denser than other sections, with crenel on both sides of the tower, which makes Mutianyu a unique section of the Great Wall.
The abrupt wall winds along rolling hills, creating a splendid natural and majestic vigor. Climbing the wall gives a sense of triumph and relaxation. Particularly in autumn, when all the plants become red or yellow, you will be stunned by the picturesque scene. Cable cars and slideway make it simple for tourists to go uphill or downhill.
Transportation: Please take a taxi at a cost of CNY25 to Dongzhimen Transport Hub, from where you can take bus No. 916 Express to Huairou Beidajie first, and then carpool with other passengers to the scenic area, which may cost CNY15-20 per person. After the visit, reverse the trip back to your hotel.
Forbidden City
The itinerary for today is
Summer Palace
,
Shichahai Area
and
hutong
tour. From the hotel, you can walk to Tiananmen East Station near the Tiananmen Square to take subway line 1 to Xidan, and transfer to subway line 4 to Beigongmen Station. Take Exit D and proceed west for 200 yards, you will reach the north entrance of the palace.
The Summer Palace is one of the largest and best-preserved imperial gardens in China, which used to be the summer resort for the royal families. Based on Longevity Hill and Kunming Lake, the palace shows the most typical features of traditional Chinese architectures, including corridors, pavilions, a marble boat, galleries and bridges.
At Beigongmen Station, you can take subway line 4 to Haidian Huangzhuang Station, where you can transfer to line 10 to Beitucheng Station. Then change to subway line 8 to Shichahai Station. Taking Exit A2, you will reach the most bustling area in Shichahai. Apart from an enchanting lake view, there are also many hutongs, courtyards and temples, which make it an attraction with authentic Beijing culture. The bar street at Houhai is popular among young people, which adds more modern glamour to the old dwellings.
To explore old Beijing further, you can extend your tour to the nearby hutongs, such as
Mao'er Hutong
and
Skewed Tobacco Pouch Street
, where you can enjoy a cup of tea or taste some local food. If interested, you can hire a man-powered rickshaw to have a memorable hutong tour. At last, take a taxi to return to the hotel, which costs about CNY20.
Today your China holiday tours continue to the modern metropolis, Shanghai. Check out of the hotel before 12:00, and take a high speed train to Shanghai. In peak season, the train tickets may be difficult to obtain, so you are advised to book tickets with TravelChinaGuide as early as possible. With unbeatable low service fee, we also provide a mail service.

The high speed train will depart from Beijing South Railway Station. To reach the station, you can walk to Tiananmen East station to take subway line 1 to Xidan, and then transfer to line 4 to the train station. You are supposed to reach the railway station about 1 hour prior to the train's departure. The train ride is about 5 - 6 hours, but the seats on the high speed trains are comfy. The food provided onboard is also acceptable, so you may give it a try for your supper.

The train will finally arrive at Shanghai Hongqiao Railway Station. Upon arrival, take bus or taxi to the hotel you booked before. We recommend the Holiday Inn Express Zhabei, a 3-star hotel on the north square of Shanghai Railway Station, which can be easily reached by subway line 1, line 3 and line 4.

From Hongqiao Railway Station, you can take subway line 2 to Zhongshan Park, and then transfer to line 3 or line 4 to Shanghai Railway Station. Take Exit 4 and stroll west for 500 yards to the hotel. Afterwards, have a good rest in the hotel before tomorrow's independent Shanghai tour from Stockholm Sweden.

Accommodation Suggestion: Holiday Inn Express Zhabei
The Bund, Shanghai
After the buffet breakfast in the hotel, you are suggested to visit
Shanghai Museum
to have a general view about the city. The museum is located at the south side of People's Square, and you can travel by subway line 1 from the railway station to the square; take Exit 1 of People's Square subway station and walk south to find the museum. Shanghai Museum is a Chinese ancient art museum with abundant exhibits, including bronze ware, ceramics, calligraphy work, traditional paintings, ancient coins, jade ware, sculptures and seals, giving a general understanding of Chinese history and culture.
Afterwards, take a taxi to Yuyuan Garden with a fare of CNY20.
Yuyuan Garden
, a relic of Chinese classic architecture, used to be a private dwelling garden of a celebrity in the Ming Dynasty (1368 - 1644). Every tile, pillar or corridor is worthy of attention. Afterwards, you can wander around the Old City God Temple Snack Street, where you get a chance to taste the most authentic Shanghai cuisine for your lunch.
Then walk westwards to find Yuyuan Subway Station to take line 10 to East Nanjing Road. Take Exit 1 and start the exploration along the famous
Nanjing Road
. It is one of the most prosperous commercial streets in modern Shanghai, which is clustered with shopping malls, bars, cafés, restaurants and shops for crafts. Afterwards, you are suggested to stroll eastwards to
the Bund
, which is a one-mile long corridor along the Huangpu River. There you can view the unique building complex across the river, which is the most stunning skyline of Shanghai. Wandering along the Bund, you can enjoy the soft breeze and lively night view. Take a taxi back to the hotel, and the fare is about CNY25.
Check out of the hotel before 12:00, and find your own way to the airport. There are two airports in Shanghai, which you can choose according to your homebound flight.

There is no direct flight from Shanghai to Stockholm. You need to make a transfer in cities like Beijing, Moscow, Paris or Bangkok. The flight CA1858 0755/1010 or CA1590 0855/1110 to Beijing leaves from Shanghai Hongqiao Airport. Upon arrival in Beijing, transfer to the flight CA911 1350/1720 to Stockholm. It takes 14h25m to 15h25m for the whole journey. Travelers who plan to make their transfer at Moscow, Paris or Bangkok need to catch a flight from Shanghai Pudong Airport.

To Hongqiao Airport:
Walk to the railway station to take subway line 4 to Hongqiao Road Station, where you can transfer to subway line 10 to Terminal 1 of Hongqiao Airport.

To Pudong Airport:
You can take subway line 4 from the railway station to Century Avenue, and then transfer to subway line 2 to the airport. You need get off at Guanglan Road in the midway and take the extensional line 2 on the opposite platform to the airport. Or you can take the shuttle bus line 5 in front of the southern square of Shanghai Railway Station to the airport in 1.5 hours.
Need detailed infomation on train, flight or bus/ metro schedule? Use the search tool below.
If the above route does not meet your requirements, you could DIY an itinerary by choosing daily guided tours, free days, hotels, trains and/or flights freely. Our estimated quotation can be a reference for your independent travel.