Why is the Forbidden City Important?
As the imperial palace, center of politics and seat of power in
Ming Dynasty
(1368 - 1644 AD) and
Qing Dynasty
(1644 - 1911 AD),
Forbidden City
is an epitome of Chinese history and culture. It is also a rare and well protected historical and cultural heritage as well as a museum built on the original palace site for the purposes of protection and displaying arts, architecture, history, and court culture at the same time. It has always been of vital importance and irreplaceable cultural significance in both ancient and modern times.
1. In early Ming Dynasty, it helped to stabilize the emperor's ruling over the country.
In the early Ming Dynasty, the capital city was Nanjing in south China instead of Beijing in north. Given the threat of northern nomads that had always been there, the third emperor of Ming Dynasty Zhu Di relocated the capital in Beijing and built the Forbidden City, moving the political center to the north to better guard the northern border. Thus he can ensure the safety of his country and stability of imperial power.

What's more, Zhu Di usurped the throne. In the old capital Nanjing, there were quite a lot of ministers unwilling to work for him even opposed publicly to him. On the contrary, Beijing was his former fief with many his supporters. Relocating the capital in Beijing would make him get rid of some obstructionists to rule the country with high proficiency.



See more: Why was the Forbidden City built?

2. It is the only existing imperial architectural complex in China.
As the only living and best example of the imperial palace in China, Forbidden City is a representative of China's ancient official architecture, showing the supreme techniques and craftsmanship on construction. It is a treasure in China's architectural history.



See more: Forbidden City Architecture

3. Its collections are from all ages of Chinese civilization, second to none.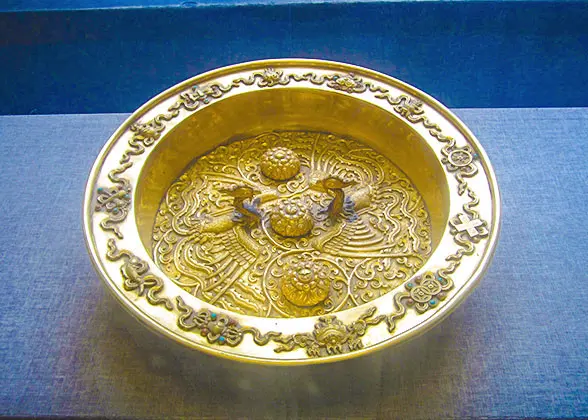 Delicate Collection in Forbidden City
The relics preserved in Forbidden City are not only from Ming and Qing Dynasties as you image. There are more than 1.8 million pieces of relics now in Forbidden City from the Neolithic Age to the Qing Dynasty even to modern time. These relics cover the best ones of both Han and ethnic nationalities. They can be classified into 25 big categorizes and 69 small categories. They are the tangible evidence of five-thousand years' history and civilization of China.

The precious porcelains include Blue and White Porcelain Bowl with Arabic and Persian Calligraphy, Famille Rose Dish with Antique Motifs on Yellow Ground, and Tricolor Pottery Figurine of a Central Asian Man Riding a Camel; representative calligraphic works are Coral (Shanhu tie) by Mi Fu, and Thousand-Character Essay in Cursive Script by Zhao Mengfu. In addition to the various palaces, there is a special Treasure Gallery displaying these treasures.

4. It promotes cultural exchanges between China and other countries.
Forbidden City is a must when foreign visitors come to Beijing, showing Chinese culture to the world, therefore it plays an important role in promoting Sino-foreign cultural communication. Besides, in the Meridian Gate or Gate of Divine Prowess, aperiodic displays are held now and then to show China's top relics as well as precious art works of other countries, such as the Cartier Craftsmanship and Restoration Exhibition held in June and July in 2019
- Last modified on Sep. 18, 2019 -