What is the Forbidden City famous for? - 6 Signatures
1. Super Large Ancient Chinese Imperial Palace Complex
Forbidden City is the only existing imperial palace complex that has been well-persevered in China, covering a rectangle area of total 0.72 million square meters (178 acres) with the architecture area of about 0.15 million square meters (37 acres). There are 9,371 rooms in total in more than 70 palaces with the axisymmetric layout. You can feel its layered aesthetic sense. Meanwhile, the unique decorations, including various brackets, color paintings, animals on eaves, etc., also make Forbidden City marvelous.

See more:
How big is the Forbidden City?
How Many Rooms are there in the Forbidden City?
| | |
| --- | --- |
| Grand Forbidden City | A Delicate Collection in Forbidden City |
2. Fantastic Treasure House of Thousands Years of Antiques
Forbidden City owns more than 1.8 million antiques now, including ceramics, paintings, calligraphy works, bronze wares, seals, textiles, ancient furniture, timepieces and instruments, enamels, lacquers, sculptures, gold and silver works, jades and precious stones, glass wares, court religious wares, jewelries, ancient coins, overseas artworks, and so on. All these are the top treasures in China, not only from Ming and Qing Dynasties (1368-1911 AD), but also from Neolithic Age to modern times, which take visitors to travel through the five-thousand-year history of China.

3. Historical Anecdotes of Emperors and Imperial Harem
In recent years, many TV series about palace intrigue and harem fight become very popular. The complex relationships between the emperor and his ministers, the emperor and his concubines, among concubines, concubines and ministers, and emperor and his children were shown to everyone. Their loves and hatreds appeal to attentions of people, making Forbidden City more and more popular, in particular among young generations. The most popular and most widely spread one is Legend of Concubine Zhen Huan.

4. Spectacular Sights for Shutterbugs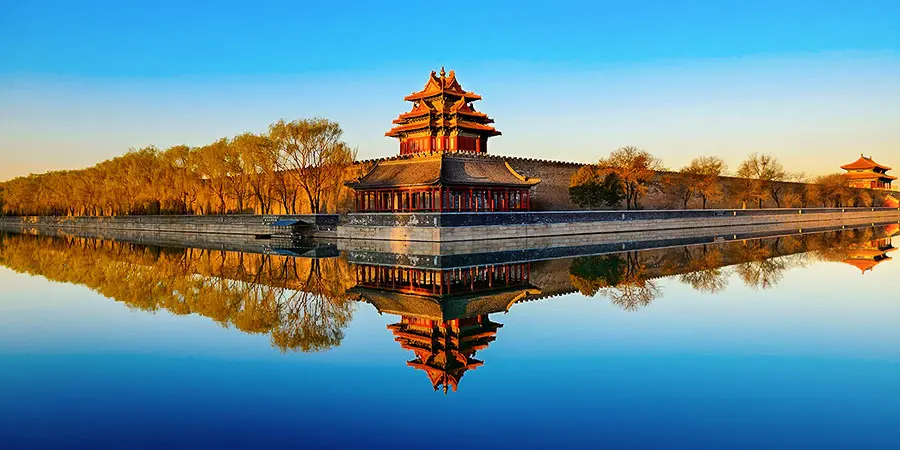 Southwest Corner Tower
As the imperial palace, the sights in Forbidden City is very grand. Any press of the shutter can be a great picture, hence attracting many photographers and shutterbugs to take photos there. The best time for photo-taking is sunny days, sunset time and after snow. The best spots are the central axis, corner towers, especially the southwest corner tower, and the top of the Jingshan Mountain. On the Jingshan Mountain, one can take the panoramic pictures of Forbidden City. In the future, light shows may be hold at night in Forbidden City, which would become another spectacular sight.

5. Mystery and supernatural tales make the Forbidden City more famous.
The imperial life has been far away from common people, so Forbidden City is mysterious and not a few tales arose. It is said there are many imperial concubines were persecuted to death, thus Forbidden City is full of resentful energy. Therefore, those supernatural things appeared at night. The most popular tale says, you can meet imperial maids in a line walking by a red palace wall on thundery rainy days' night. They carry lanterns wearing costumes in Qing Dynasty (1644-1911 AD). Many people were sure that they once witnessed the scene. There are many other supernatural stories that were said happened in Forbidden City, which were mostly from the imagination, because the imperial palaces has been unearthly in people's eyes. These occult tales just made Forbidden City more famous.

6. Creative souvenirs make it popular among youngsters.
Forbidden City launches a lot of interesting and creative products, making itself more and more closer to common people's life. Those products are in particular popular among young generations, including hats, eye masks, key chains, folding fans, umbrellas, calendars, toys, and the latterly launched lipsticks with multiple colors.

In the meanwhile, Forbidden City applied a series of measures to popularize its souvenirs together with Chinese traditional culture. They launched a promotional H5 to make Zhu Di, the first emperor in Forbidden City as your tour guide. The great emperor came from 600 years ago wears sunglasses, dances with hip-hop, shares his selfies to WeChat Moments and QQ groups all the way in Forbidden City, which is very cute. There are also several APPs to learn traditional culture and some little-known knowledge about Forbidden City while playing games.
- Last updated on Jun. 01, 2021 -